Od of Whole Food Market
Remember! This is just a sample.
You can get your custom paper by one of our expert writers.
Get custom essay
92 writers online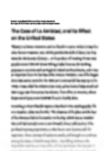 Introduction
Organizational behavior and structure are key factors in leading a company to be efficient and successful. Organizational diagnosis models have been created to allow companies to audit themselves to be sure that they are utilizing these key factors correctly. When a firm conducts an organizational diagnosis it is performed to identify strengths and weaknesses in its systems thus developing measures to improve the organizations performance. Knowing which model to use is crucial because misusing models could lead to inaccurate findings. In the following pages I will discuss and compare numerous models to include the 7S Model, the Congruence Model, and the Burke-Litwin Model. After discussing a few issues that Whole Foods Market (WFM) is facing I will recommend which model is best suited for them and explain why. Force Field Analysis
This model uses an organizational diagnosis to identify driving forces affecting a company (Falletta, 2005). Force Field analysis enables a company to identify what causes change and what hinders change within a certain organization. This will allow an organization to develop measures that will allow the organizations driving forces to be maximized while the restraining forces are at the same time limited to allow the organization to be more efficient. The drawback to this model is that it is extremely simple and is not the best model for defining specific problems it more or less will allow a company to reach a desired state of affairs and nothing else. Leavitt's Model
This model has task variables, technological variables, structure variables and human variables. The model can be used to evaluate how to change in one of the variables will affect the others, and is best applied in analysis concerning organizational structure and human resources. The strength in this model lays in its simplicity but this can also be viewed as a weakness because the output from the model cannot provide direct causal statements relating to the variables. Likert System Analysis
This analysis is best applied in an organization to examine issues relating to motivation, communication, interaction, goal setting, decision making, control and performance. The Likert System is important in analyzing management systems within an organization and how they affect performance (Falletta, 2005). This model evaluates employee perceptions and how they affect individual and group performance. The main strength of this model is that is uses determined scales which make assessment more qualitative and easier. The drawback of this model is that it is really only good for examining the social aspect affecting an organization and doesn't consider what affects that processes, structure and the environment have on an organization. McKinsey 7S Framework
Variables that are examined in this model include style, staff, systems, skills, strategy, structure, and shared values. This model is applied in an organization to investigate whether or not their inputs such as structure, skills, and strategy align with company objectives (Falletta, 2005). A change in any of the variables will eventually cause changes in the other variables. The model has strength in the form of being able to analyze essential variables that affect an organizations performance and it is simpler to use than some of the other models. However, the model does not take into consideration environmental effects on a company's effectiveness and operations. Burke-Litwin Model
This model includes the following variables; management practices work unit climate, mission and strategy, organizational structure, leadership, task requirements and individual skills, individual needs and values, culture, systems, motivation, and finally individual and organizational performance. The Burke-Litwin Model can be used to investigate not only internal but external factors that influence an organization and further goes to show how the factors interact (Martins & Coetzee, 2009). Most believe this to be one of the most robust and overall better OD models to use for analysis because it provides the nature and direction of influence of organizational variables. This model also provides a difference between transformational and transactional dynamics. The strength of this model is that it is able to analyze organizational structure, task requirements, individual skills, and the external environment all at the same time. Congruence Model
This model contains inputs, throughputs, and outputs and is best used in an organization to identify the degree to which the needs, objectives and structures of one part of an organization are congruent to the needs, objectives and structure of another part (Falletta, 2005). Its strength is in the obvious ability it has to show organizations how to improve efficiency and effectiveness. The model's main weakness is that it does not evaluate effect of demands made by the environment (Nadler & Tushman, 1980). Current Issues WFM is Facing
Perhaps the largest issue that WFM faces is the price of their goods. The fact of the matter is not everyone who wants natural and organic foods can enjoy the WFM experience. There is no surprise in the fact that organic and natural food is more expensive than other groceries and in times of economic downtown if customers don't feel they are getting a good deal then they will most likely seek cheaper alternatives. What this means is when someone's budget shrinks they won't be able to purchase as much at WFM vs. one of their competitors.
Another issue that is just as important to WFM is new entrants to the organic and natural foods market with companies like Wal Mart, Kroger and other larger, cheaper supermarkets. These big name companies are starting to create their own private label brands to compete with WFM but since a majority of their business is derived from products that aren't natural and organic they can cut prices in this segment of the market to attract customers to their store while not taking a huge loss in profits.
The final issue facing WFM is the threat of substitute products and services. One major competitor of WFM is Trader Joe's Co. who also offers upscale groceries such as health foods and organic produce. One strength of WFM over Wal Mart and Kroger are their unique store atmospheres that most big box stores lack but companies like Trader Joe's threaten WFM with their own "Mom and Pop" substitute atmosphere. Another company like this was Wild Oats which WFM was able to acquire to lessen some of their competition. What Model is Best for WFM?
Given the set of organizational diagnosis models from Falletta, I believe the most useful one for analyzing Whole Foods Market will be the Burke-Litwin Model. According to Falletta, and many others in the realm of OD say that this model provides a strong approach for analyzing relationships among leadership an d strategy, financial decisions and operational issues. All three of the issues that WFM is facing I believe could benefit from some changes via this OD model. The fact that this model investigates internal and external factors influencing an organization and further helps show how factors interact sets this model ahead of many of the earlier OD models that exist and some even discussed above.
For example an external factor like how the economy is doing largely affects WFM because customers know there are cheaper alternatives and early OD models like the Force Field Model would not be able to use this factor to help better situate the company. The Burke-Litwin Model however will take the external environment into consideration during its diagnosis. In fact all three issues listed above that WFM is facing can be categorized as dealing mostly with external environment issues. Something that only an open systems model could handle.
Another reason I believe that The B-L Model should be used by WFM is the fact that it can distinguish between the culture and climate of an organization and also between transformational and transactional dynamics (Falletta, 2005). Obviously in the big picture this fact is important because almost no other model does this. This is important for WFM because their brand, image, store atmosphere are crucial in keeping their customers and getting new customers so not being able to diagnose these areas correctly could be traumatic for them. I think transformational and transactional leadership principles can largely affect an organization . Specifically I think that if a good transformational leadership principle is enacted throughout an organization it is visible to the outside through things such as employees motivation and personality towards customers. This is important for WFM because of the type of atmosphere they are trying to create inside their stores. Using this model could help diagnose this variable and give another reason to customers to shop at WFM and not at one of its competitors who is offering a substitute product.
I believe the same principle applies to the variables of climate and culture. Most of the other models combine these two variables but as we know now these two variables need to be set apart and the B-L model is the model that allows for that. As already mentioned above the companies climate and culture are two things that can be controlled and if used effectively cannot only help the business for obvious reasons but I believe these are two variables that would especially help WFM because these are variables that outsiders can pick up on when things are going good or even wrong. Take Apple for example, the climate and culture of this company create a mysterious phenomenon that brings its customers closer to the company. You can't say this for Microsoft or Samsung. This is something that WFM could use more of to again out compete with Trader Joe's. Conclusion
In closing, since the 50's there have been numerous OD models created and each one building upon the last. Organizations today now have many options when it comes to OD and which model to use but knowing which model to use is just as important as getting an accurate OD. By comparing all the models and identifying the issues an organization currently has one can better diagnose the situation. For WFM I believe the Burke-Litwin Model would best suit them and solve the issues described above.