Online vs traditional classrooms
Remember! This is just a sample.
You can get your custom paper by one of our expert writers.
Get custom essay
90 writers online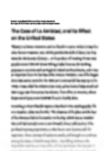 Online classes and traditional classes are both great options for obtaining a college education. They have a common goal of helping students reach their educational goals. Either path the student decides to take has its positive and negative aspects. The three biggest areas to consider when making the decision between online or traditional classes are the expenses, convenience or ease of accessibility, and the communication between students and instructors. Both online and traditional classes offer students an education, which is very important part of being successful in life. Expense is one of the biggest aspects of both online classes and traditional classes that should be considered when continuing your education. Online classes cost considerably less in tuition when a student completes a degree that is only online. However, online classes require you to have access to a computer and the internet at all times. There is no housing included, such as a room in a dormitory, so the student has to pay rent or mortgage and all the utilities. Books are available in a hardback or e-book, which cost about the same. Traditional classes can have an extremely high tuition, especially if it is at a university instead of a community college. In a traditional classes the student either pays to live on campus in a dormitory, or you rent off campus.
If the student lives off campus, you spend money on gas, driving back and forth to campus. The car then has to have more maintenance which in turn cost more money. Depending on the students financial situation cost should be considered when choosing between online or traditional classes.Online and traditional classes are very different when it comes to convenience or the ease of accessibility. Online classes have twenty-four hour availability. A student can schedule the school work needed around their personal life, whether it's a job, family, or personal time. This convenience can make life easier to balance, or it can make things harder. If the student procrastinates they will get behind in their school work. The work load for online classes can be more spread out, and they have the option to take test inline as long as they are submitted by the due date. The online school system can offer instant feedback on a test because the computer grades it when you submit it.
Online degrees can usually be completed in a shorter amount of time because the online classrooms can admit more students at one time. Students also have a chance to obtain a degree in a program that may not be available in a school in their area. Traditional classes offer the stability of a more structured schedule. In a traditional class you may have a larger work load because of homework due daily instead of weekly. In traditional classes attendance is mandatory which can be difficult for a student working a full time job, or having other matters they have to attend to. Accessibility is an important aspect a student should consider when choosing between the two types of classes. Whether in an online or traditional classes, communication between the student and instructor is important. Online classes require students to communicate with the instructor and other students by e-mail or in an online forum. In order to be successful the student has to have working knowledge of a computer and know how to search for answers. When a student has to ask a question they may not be able to get the answer quickly, which may cause them to fall behind. Having to rely on e-mails to communicate doesn't give the student a chance to have personal contact. When a student is confused or having a hard time the personal contact with an instructor can be the best way to get help. Students also have more interaction with other students in a traditional classroom which teaches better communication skills.A college degree can be obtained by taking traditional or online classes.
Some students take a combination of both to get the degree. Students have to consider their lifestyles and personalities when considering what type of classes to take. Some important things to look at when deciding what kind of classes to take are expense, convenience, and communication. Since every student is different there really isn't an easy answer, both offers great ways to continue somebodies education.