Organizational behavior of HK Disneyland
Remember! This is just a sample.
You can get your custom paper by one of our expert writers.
Get custom essay
102 writers online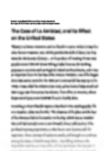 Introduction
Hong Kong Disneyland, opened to visitors in 2005, is one of the two largest theme parks in Hong Kong. It successfully brings magical experience of Walt Disney to all the visitors just like other Disneyland around the world.
Hong Kong Disneyland has created a culture for their employees with open communication with their managers and subordinates, professional training, and rewards. This philosophy of treating employees well has long been adopted by Walt Disney for many years. The belief of Walt Disney is that you can have joyful guests as long as you have employees who enjoy working for Disneyland and bringing happiness to visitors.
With the comprehensive training for each employee, they make all visitors experience a memorable magical moment. No matter the cast of Disney characters, or the people working in Disneyland's restaurants or hotels, all of them receive comprehensive training. This training can ensure that every Disney employee can work together as a team, and provide excellent customer services to cater for their customers' needs.
In this report, we will illustrate how Disneyland incorporates organizational behavior concepts to create a culture for their employees where they feel satisfactory for their work environment and feel that they are important to the team. Motivation and learning are two main focuses in our research. We will also provide suggestions on how Disneyland can further improve in terms of organizational culture.
Motivation
Hong Kong Disneyland has many ways to motivate its employees to work. Our team is going to apply Theory X and Theory Y, Herzberg's two-factor theory, and Maslow's Hierarchy of Need these three theories to analyze the employee motivation methods of Hong Kong Disneyland
Theory X and Theory Y
Here is a brief introduction on the Theory X before the application on Disneyland. Theory X based on pessimistic assumptions. It is impediment to employee morale and productivity. For example, it assumed that labors are inherently lazy and avoid to work, only interested in money and in need of close supervision. Also, they would have little ambition without incentive programs, avoid responsibility and need to be driven through control systems. So, once the manager adopting this theory, they will end everything in blame without evaluating the situation, structure the work, energize the employees and also in authoritarian style based on the threat of punishment.
Here comes to the application on theory X. According to the spokesperson of Disneyland, Angela Bliss, Disney employees have to adhere to strict guidelines and rules for their behavior and appearance. Once hired, they have to maintain the "Disney Look, and the Disney look is a fresh, clean and approachable look, ensuring that every guest feels comfortable with our entire cast. Therefore, "Cast members," Disney's way of referring to their employees, receive a "Disney look book" that details all of the requirements, emphasizing a natural look with natural hair color and makeup. The purpose in doing this is to keep the focus on the 'show' and not on the individual cast member. Besides, a cast member with purple hair may not appear approachable to all of their guests.
According to Disney rules, anytime a cast member confronts a guest who appears lost or frazzled, the employee must offer their help and point them in the right direction. Pointing must always be done with either two fingers or the full hand. So, the above showed that the workers in Disney are suffered serious and high intensive instructions and rules by the theory X style managers.
What's more, with reference to the article by Jason Garcia, Orlando Sentinel on November 16, 2010, The Walt Disney Co. has issued a new policy banning employees from texting while driving on the job. The ban applies to all of the Burbank, Calif.-based entertainment giant's worldwide employees — including its roughly 60,000 workers at Walt Disney World. The policy, which recently took effect, also prohibits employees from making or receiving phone calls while driving on the job unless they use a single earpiece. It applies to workers who are either driving company vehicles or using their own vehicles while on the job. Disney punishments for workers caught violating the driving policy will be decided on case-by-case basis. The policy does not apply to employees during their drives to or from work.
In short, the evidences above status that the management of theory X style, use to set up regulations and punishments to motivate their ''actors''.
On the other hand, here comes to the theory Y. On the contrary, it based on positive assumptions, and also more positive view of workers and the possibilities that create. For instance, they assumed that employees are ambitious, self-motivated and anxious to accept greater responsibility. Employees exercise self-control, self-direction, autonomy and empowerment, also exercise creativity and become forward looking. So, once the managers are adopted this theory, they believes that people want to do well at work, have a pool of unused creativity and that the satisfaction of doing a job is in itself motivating.
Here comes to the application on theory Y. The Walt Disney Co focuses on creating a culture in which employees can flourish and find meaning in their work. Together with more than 10,000 online reference materials and resources, instructor-led classes, performance support systems, and education reimbursement for job-related degree programs, The Walt Disney Company offers an array of tools. From the website of The Walt Disney Co., they claimed that 'It takes a special kind of person to work at The Walt Disney Company. Our employees and cast members contribute to the success of our many brands in a way no other company can match. That is why our employees and cast members are the most valuable part of our organization. But we know your life isn't just about work. You have additional things going on – family, friends, personal interests, education and more. The Walt Disney Company offers a comprehensive total rewards package that helps you live your best life, grow personally and professionally, and get rewarded for the results you deliver. The programs, benefits and perks you receive as an employee or cast member may vary based on where you live and work. But when you add it all up, the total package provides the same results: your total rewards support you throughout all stages of your life and career.'
Herzberg's two-factor theory
The two-factor theory states that there are certain factors in the workplace that cause job satisfaction, while a separate set of factors cause dissatisfaction. The theory suggests that to improve job attitudes and productivity, administrators must recognize and attend to both sets of characteristics and not assume that an increase in satisfaction leads to decrease in not pleasurable dissatisfaction.
Two-factor theory distinguishes between motivators and hygiene factors based on the notion that the presence of one set of job characteristics or incentives leads to worker satisfaction at work, while another and separate set of job characteristics leads to dissatisfaction at work. Therefore, satisfaction and dissatisfaction are not on a continuum with one increasing as the other diminishes, but are independent phenomena.
Motivators such as challenging work, achievements, recognition, responsibility, or anything else that given positive satisfaction, arising from intrinsic conditions of the job itself, which is based on the long lasting working environment but not short-lasting achievement.
The Walt Disney Company offers a comprehensive total rewards package that helps employee live better life, grow personally and professionally, and get rewarded for the results they deliver, for example, there are incentive and special recognition programs which includes quality of work, length of service, community volunteerism and employee of the month recognition. Reward will be varied by company, job status, location and/or the terms of any applicable collective bargaining agreement. The company have a diverse workforce is critical to the business. Variety of opinions, ideas and perspectives to ensure staff and their managers continue to top the performance and represent the company's global marketplace. When employee reflects the communities, it can enhance the way for them connect to guests, audiences and consumers. Employee can feel that they work toward an inclusive environment that fosters creativity, innovation and camaraderie across all of the Disney companies. The culture can also inspire the workers. For instance, they are committed to a tradition of innovation and technology. Employee can be easily given job satisfaction from setting a high standard of excellence and maintain high-quality standards across all product categories. Apart from that, working in The Walt Disney Company can always enjoy in the joyful atmosphere as the entertainment is about hope, aspiration and positive outcomes, they can create positive and inclusive ideas about families and provide entertainment experiences for all generations to share. The rewarding, inclusive and supportive work environment is committed by the company. Thus, the staffs are able to gain satisfaction from working in Disney.
Hygiene factors, for example, status, job security, salary, work conditions, the benefits for employee, that do not give positive satisfaction, though dissatisfaction results from their absence. The Walt Disney Company provides employee base salaries with the total compensation opportunity and health and wellness benefits which includes medical, Disney Health Pursuits Wellness resources, Employee Assistance Program (EAP), behavioral health, prescription drug coverage, dental, healthcare and dependent day care flexible spending accounts, accident and disability Insurance, long-term care insurance. Besides, the employee can have enough time off working in Disney. They can have 11 paid holidays per year, vacation, sick pay and short-term disability, leaves of absence, bereavement and jury duty, personal life resources, group legal plan, adoption assistance program and onsite childcare centers. Moreover, they can also enjoy the retirement and financial benefits. 401(k) savings plan with company match, retirement savings plan for salaried employees and employee stock purchase program would be included.
Also, they can enjoy special extras which are complimentary theme park admissions, employee discounts, merchandise discounts at Disney-owned stores, company-sponsored events and services, Disney employee matching gifts, commuter assistance program and many other unique advantages. Last but not least, some world-class training programs are customizable for employee to join such as professional development, management and leadership development, computer skills, business immersion programs and individual career development as the company encourages staff to learn and reach their goals. To sum up, the Herzberg's two-factor theory can be applied into The Walt Disney Company as motivators and hygiene factors can be found in the policy of the company and working environment. It can satisfy both motivators and hygiene factors of employee and that is the reason staffs enjoy to work there.
Maslow's Hierarchy of Need
Maslow's theory relates motivation to a hierarchy of needs. At the bottom are essential physiological needs such as air, food, shelter and clothing. As individuals satisfy one level of need, their motivations change as they aspire to reach the higher order needs. Therefore, to motivate an individual Maslow suggests that it is necessary to know where within the hierarchy each employee is placed so that these factors can be taken into account.
Physiological needs – Hong Kong Disneyland offers competitive salaries. This gives employees the means to acquire the basic needs for living. Also, provide benefits programme to employees which suit them. These benefits and competitive salaries help workers' pay go further and so motivate them to be loyal to the company. In Hong Kong Disneyland, empolyees can earn more than just a pay-check and will receive a total rewards package that consists of different types of compensation and benefits, such as: Cast exclusive MTR discount scheme
Comprehensive group medical insurance, including outpatient, hospitalisation, specialist, Chinese herbalist and dental services Group life and group personal accident insurance
Discretionary gratuity
Paid annual leave, maternity leave, marriage leave and examination leave Overtime payment for frontline overtime eligible positions
Overnight shift premium
Laundry services for uniforms and costume
Safety needs – Hong Kong Disneyland values the safety of all employees. It is committed to providing a safe and healthy work environment to prevent accidents. Hong Kong Disneyland provides a clear rule and regulation to employees. For example, how to access the control of the machines; therefore employees are accountable to create a safe working environment too – that means they have to take responsibility for observing the health and safety rules and practices. Hong Kong Disnetland also offers employees a range of working patterns. For example, it provide a flexible working schedule, some employees may want to work as a part-time, they can choose among the schedule. This helps employees to choose the best option for a healthy work-life balance.
Social needs – These are associated with a feeling of belonging. These provide informal opportunities for employees to get along with each other. This helps strengthen teams and enhances workers' sense of belonging. Having an open approach to communication keeps everybody focused on the Hong Kong
Disneyland's aims helps individuals contribute to the company.
In Hong Kong Disneyland, there is a RACE Club which provides a variety of interest programs, instructor-led courses and outdoor recreational activities for cast members and their family and friends. The RACE Club strives to promote diversity and work-life balance for cast members. It is also a platform for passionate and talented cast members to unleash their potential by being program instructors.
Esteem – All employees in Hong Kong Disneyland have a need to be respected and to respect themselves. Esteem is the normal employees desire to be accepted and valued by others. Employees need to engage themselves in activities, to gain recognition and a sense of contribution. Esteem needs can intersect with motivation in the Hong Kong Disneyland too.
For example, employees' voice will be heard at the Hong Kong Disneyland Resort. Cast members are welcome to share any feedback employees may have with the Cast Advisory Council (CAC). The CAC meets regularly to listen to cast member feedback and make suggestions to improve the working environment.
Self-actualisation – Hong Kong Disneyland provides employees with the opportunity to take on challenging and stimulating responsibilities. This enables them to develop and improve. Hong Kong Disneyland offers more than 100 instructor-led programs to all cast members, including the Operations and Professional Teams. As a full time cast member, Employees can receive an average of 35 training hours per year to help them excel in their career. Typical instructor-led training courses include: Classes for All Cast Members:
Disney Traditions Training
Communicating Effectively in the Workplace
Giving and Receiving Feedback in Disney Style
Influencing Team Members as a Role Model
Good Show Begins with Me
Classes for All Managers:
Coaching for Win-Win Outcome
Problem Solving & Decision Making Skills
Time Management
Seminars and conferences hosted by Guest Speakers
Learning
Organizational Learning in Disneyland
Learning in Disneyland take parts in three aspects, it includes Disney University, DU Learningland and Emerging Leader Program.
1. Disney University
The Disney University (DU) offers more than 100 instructor-led programs to all cast members, including the Operations and Professional Teams. As a full time cast member, people can receive an average of 35 training hours per year to help them excel in their career. This also acts as a guide to providing world-class service to our guests. Typical instructor-led training courses include: Classes for All Cast Members:
-Disney Traditions Training
-Communicating Effectively in the Workplace
-Giving and Receiving Feedback in Disney Style
-Influencing Team Members as a Role Model
Classes for All Managers:
-Coaching for Win-Win Outcome
-Problem Solving & Decision Making Skills
-Time Management
-Seminars and conferences hosted by Guest Speakers
2. DU Learningland
The DU Learningland provides a wide variety of self-learning materials to study at workers own pace. There are about 1,000 collections including Disney feature films and books on career development as well as personal growth.
3. Emerging Leaders Program
Hong Kong Disneyland Emerging Leaders Program can help workers develop for future leadership roles at the Hong Kong Disneyland Resort. The six-month program focuses on developing your core leadership competencies. During the training, workers and other cast members work on group projects, attend classroom training and do on-the-job shadowing with a Guest Service Manager. Current situation of learning aspects in Hong Kong Disneyland 1. Explicit knowledge
Explicit knowledge is Knowledge that is articulated through language, such as documents. Hong Kong Disneyland provides training to its workers. With the aim to progress along a steep learning curve, Disneyland offers learning opportunities for the trainees, including classroom training that give workers guidelines of the way workers should behave.
2. Tacit knowledge
Tacit knowledge refers to knowledge acquired through observation and direct experience. From the recruitment post of Hong Kong Disneyland, it suggests that previous work experience at Hong Kong Disneyland Resort (e.g. Part Time Host / Internship) or any other Disney theme parks will be considered as an added advantage. This proves the workers are likely to have some experience of welcoming guest before they enter the firm. Moreover, abundant mentorship and mentoring workshops are offered to colleagues so that that new workers can have deeper understanding about Hong Kong Disneyland more easily.
3. Skills
Most of the job offered in Hong Kong Disneyland requires that applicants should have excellent command of English and Chinese, including spoken Cantonese and Mandarin. Despite the language requirement, Hong Kong Disneyland further requires candidates have the ability to demonstrate strong computer proficiency with Microsoft Office applications, including Microsoft Word, Excel, PowerPoint and Outlook, familiarity with Apple presentation products, and willingness to learn new software programs Generally, Language skills and computer skills are the two fundamental skills that Hong Kong Disneyland is looking for.
4. Attitude
Hong Kong Disneyland demands that workers should demonstrate outgoing personality with good communication skill. Moreover, applicants should be those that are energetic, strong team-players and passionate about Disney. That is to say, Hong Kong Disneyland tries to let co-workers to imagine working for an organization that brings smiles to millions every year, or working with people whose passion for what they do is simply indescribable.
Problems of Disney Learning Style
From the above description, we find that Disneyland provide extensive training program to their employees. These training programs have equipped their employees with basic knowledge on facilitating daily operation of Disneyland; however, these training programs do not equip employees with creativity on how to make their service better. In other word, the training programs of Disneyland do not give enough reinforcement to their employees. Reinforcement is classified into two categories: positive reinforcement and negative reinforcement. Positive reinforcement occurs when positive consequence is presented to a desired behavior while negative reinforcement refers to the presentation of negative consequence to undesired behavior. Both operant conditioning and classical conditioning state that extinction of particular behavior will occurs if reinforcement is no longer presented upon the completion of behavior which is previously reinforced. Moreover, social learning theory also suggested that human will learn though observing because of self-reinforcement.
In other words, reinforcement has played a very important role in every types of learning. Without reinforcement of desirable behavior and severe punishment of misbehavior, employees may not have any incentive to perform better. Some of them may even lose their incentive to maintain their expected performance and withdraw from Disneyland. This may lead to severe consequences Disneyland in a few aspects. First, with employee losing their work incentives, there will be a reduction of average customer service quality. As Disneyland aims to bring the greatest experience to its customer, their reputation as the world most famous theme park may be harmed. Moreover, if employees resign from Disneyland frequently, the turnover rate of staff is high. In this case, not only the cost of training newly join staff will increase, the time of training new staff will also be boost as every Disneyland staff needs to receive sufficient training before they become available to work. With the total cost increase in a great proportion, this will lead to a loss of comparative advantage of Disneyland. To solve the problems mentioned above, Disneyland may need to provide enough external reinforcement and self-reinforcement to their employees.
Suggestions
1) Since Disneyland is a service industry, their staffs are required to provide high-quality customer services. And this kind of customer service is not only an explicit knowledge, but also a tacit knowledge. That is, knowledge acquired through observation and direct experience, it cannot be obtained directly through knowledge, such as document. Explicit knowledge is provided by Disney University, while tacit knowledge can be learnt from on-job training, new worker are asked to observe their mentor and learn. At the same time, employees are required to deal with different scenarios to obtain customer satisfaction, and they can only learn through real-time experience since there are many unexpected situations happened in reality.
So, extensive training can just provide the existing and past experience to their employees and after they obtained the explicit knowledge from Disney University, they can apply it to customers and make a change to satisfy customers with different needs. And this implies practice makes perfect, only through dealing with actual cases with continuing improvement to obtain a high-quality customer service and that is a tacit knowledge.
2) Positive reinforcement can be used since it occurs when a positive outcome follows a desired behavior. In this case, desired behavior will be the high quality service provided by employees, positive outcome can be bonus and commissions. It is the common way for manager to create learning among their employees, and it becomes the motivator for employees to provide a better service in order to achieve the target set by Disneyland. Before the positive outcome launched, employees will less be motivated since they think there is no problem to work as usual. But after having this positive outcome, it will motivate employees to provide a better customer service as they want to get the bonus based on the checkpoint set by Disneyland which is related to themselves, the monetary benefit. So, it can create a win-win outcome that Disneyland can continue to have a positive reputation and a continuing improvement on customer relationship through the effort provided by employees, at the same time employees can receive bonus as rewards to affirm their effort directly.
Employees can learn from social learning theory. First, behavioral modeling and learning behavior consequences are observing and modeling behavior of others and its consequences afterwards; Since one department have lots of employees who have their own method to deal with customer matters, like the ways to deliver customer service when dealing with customers with different tempers, so everyone can be a role model towards the others. For example, for a host at Chef Mickey (Food and Beverage), there are many staff to serve customers, such as ordering, serving, and cleaning up. They can first observe how the other staffs perform their job responsibilities to get customers' satisfaction, and then the consequence is they can improve themselves to provide a smoother customer service after observation and modeling.
For self-reinforcement, it is a conclusion that employees should reinforce their behavior with consequences within their control after the learning from observation. Disneyland can carry out the performance management through defining the criteria: define what is high-quality customer service by the management department, items may include customer preferences, establishing rapport, dealing with complaints, promoting and up-selling; measuring and appraising employees' performance: how often to carry out quality assessment and when will have appraisals based on the needs with the current situation, like the peak season for Christmas or The Lunar New Year; providing them either positive or negative feedback: using face-to-face approach in order to deliver their feedback directly: self-reinforcement will occur if the feedback is positive, employees can accumulate a higher marks for the overall performance in order to get the bonus and rewards from achieving the checkpoint set by Disneyland. And their performance can be improved through providing a better service to achieve the bonus and rewards, learning from colleagues, personal development, such as the goals and schedule set by an individual to provide a better customer service.
3) Using a reward allocation decisions can shape ones behavior in Disneyland. Which people to reward: who meet the requirement of providing high-quality customer service, how to reward them: whether using monetary or non-monetary term. When to reward them, depending when will the appraisals be released.
Since Disneyland is a service industry, using team reward systems will be more appropriate as employees should have a good interpersonal and communication quality, and this reward approach can emphasize cooperation and joint efforts, also employees can share their experience to others in order to achieve a better performance and gain a higher reward through cooperation.
At the same time, competency-based reward should be used as a financial reward practice as it is the fundamental part of employment relationship. The pay has multiple meanings, such as symbol of success which provides high-quality customer service performance, reinforcement and motivator, reducing anxiety that the worries about how is their own customer service providing performance.
Competency-based reward is a pay increases with competencies acquired and demonstrated. It is a skill-based pay which means how well is the customer service provided, pay will be increased with skill modules learned. The advantages is having flexibility on the workload with a better quality, since different employees will provide different customer service, they can learn from dealing with real-time cases in order to adjust how can the customer service be delivered better. Not only is this reward focusing on individual rewards: commissions, but also team rewards: gain sharing and the most important part – organizational rewards: profit sharing, stock options, balanced scorecard.
4) It is suitable to use the job rotation in Disneyland. The existing one is called the Internal Transfer Process, which is eligible to regular full time cast members who have been employed at Hong Kong Disneyland Resort and held their current position for at least six months. And the purpose is to provide Cast Members with cross-functional transfer opportunities and equip them to be multi-functional and multi-tasked.
Cast members can first have six-months experience in their department, after being familiar with its job responsibilities and they feel it is time for them to experience the different challenges, they can submit the application for internal transfer without getting a supervisor's approval. They can transfer within a Single Team, across different teams or between Operations Team and Professional Team with the same career path. And they can have job rotation after their demonstrated performance, education background, as well as work experience being assessed.
Undoubtedly, it has a slightly difference with the job rotation approach since cast members need to submit their application and be assessed. However, the goal is actually similar that offers their employees a chance to have internal transfer. It can minimize repetitive strain injury and reduce the job boredom after staying as the same position for a long time; it is good for employees to experience different customers' needs through working in different department and it is the only way for them to obtain a real experience through working by their own but not on books or documents. At the same time, there will be some drawbacks that cannot be ignored, such as the extra resources on training as some employees may only work for six months and have internal transfer, that means they need another training which lead to an extra cost on training, the extra training cost will be much higher for employees transferring between Operations Team and Professional Team because the training criteria are totally different; also employees may not be an expert in all fields, this problem may occur frequently also in the case of transferring between Operations Team and Professional Team, since the job requirement will be totally different and they need more theoretical knowledge to manage employees or work out for a win-win outcome and also have decision making which will have a significant influence of Disneyland's market share or status.
Conclusion
Hong Kong Disneyland has demonstrated how a world class theme park creates a working atmosphere for its employees. As motivation and learning are always two most important aspects of employee management, so our team has taken these two factors for study.
In motivation aspect, we have introduced Herzberg's two-factor theory and Maslow's Hierarchy of Need to explain the motivation of employees. The two factor theory and the hygiene factors can be applied in the ways that how Hong Kong Disneyland motivates its employees. The Maslow's Hierarchy of Need explains how Hong Kong Disneyland motivates its employees according to the five stages of needs, that is, physiological needs, safety needs, social needs, esteem, and self-actualization. In learning aspect, currently, Hong Kong Disneyland provides Disneyland University and mentoring sections for its employees to acquire both explicit and tacit knowledge. Its problem is that is does not give enough reinforcement to the employees on bettering the services, resulting in lower incentives and even job resignation. Therefore, we have suggested Hong Kong Disneyland to provide positive reinforcement such as bonus and team reward to boost their motivation and arrange job rotation to keep the employees' passion about the company as well as their job.
In a nutshell, Hong Kong Disneyland is an international level organization hiring thousands of employees for operation. Its employee management method is a great model for studying but there are still rooms for improvement.