Organizational Change and Theory Paper
Published:
17 October 2015
Remember! This is just a sample.
You can get your custom paper by one of our expert writers.
Get custom essay
73 writers online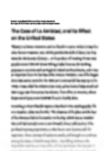 Organizational Change and Theory Paper
Introduction
            The aspect of managing organizational change is very crucial to any given organization. Organizational change is the execution of new technologies and procedures with an aim of realigning the organization to the changing demands of the firm or benefit from on the business opportunities. The purpose of this paper is to analyze how implementation of new technology of computerized charting was effectively managed in the hospital.
            Nurses have to deal with the new change of computerized charting though it is hardly a new technology. However, several PC-challenged healthcare experts have taken keen interest to become conversant with this new method to patient information management. Taking interest to increase personal skills and marketability as well as being proactive is likely to influence the nursing career in a positive manner. Recent research findings indicate that more institutions are investing in capturing data by electronic means. The keys to computerized charting in modern market, there are various software vendors and alternatives to choose from. In the office I use epic computer software. The use of electronic means is overwhelming at first, but an individual becomes used to with time. It is much better compared to paper charting (Richards & Keogh, 2008).
            Many health professionals leaned how to work with epic software in their first day of orientation. There is a lot of improvement since most nurses are able to enter their orders themselves. The epic software will enable all the nurses in the institution to use the system from the basic triage to discharge from inpatient. However, there are some resentment about the system since some nurses find it inefficient claiming that the system crashes down frequently for several hours. Others find it very difficult to use especially to the nurses working on the rapid response departments and it's a challenge to work on a patients without their medical histories, allergies, procedures and meds. The hospital copes with this problem by having backup system. There are also computer hubs where all nurses can print up their chart, though it is also a sticky situation to be used by the entire hospital (Retrieved from http://www.medscape.com/viewarticle/810573).
            The epic program is very effective when it is working since nurses can enter their progress notes and orders. The other problem that the hospital has to deal with is that there is high probability of nurses clicking the wrong orders. The other problem is that sometimes the system is too slow. The nurses are asked to been with the system and have specific way of entering individual orders for easy identification since one click on the system shows very many orders. However, nurses are given opportunity to access any patient's order from anywhere at any given time since they can use epic system at the same time (Retrieved from http://allnurses.com/nursing-informatics/epic-computer-program-280071.html).
            The hospital's IT department has provided enough memory and large servers which is a very significant move. This enables the nurses to make their own orders effectively without the system breakdown or becoming too slow. The epic system might be complicated at first since some nurses find it difficult to locate their flow sheets. The nurses who became used to the system are able to program their favorite flow sheets which make it effortless for the nurse to remember to fill them later. The institution has managed this change also by adjusting the system according to their needs. In the epic software many flow sheets are linked such that if nurse document important orders in one place, they will appear in every relevant flow sheet where those orders are required (Retrieved from http://www.medscape.com/viewarticle/810573).
мNumerous cases reveal that it is not always easy to manage effective organizational change, thus organizations should find out the possible causes of the failure. There are a lot of changes occurring across the globe. The changes range from increase in competition, changes in customer preferences as well as changes in technology. Organizations are required to create new advantages, serve customers better and cope with stiff competition. To stay competitive, organizations are required to abandon the work and processes that are not fruitful or those that do not add value to the company. As the nurse head I encourage and offer assistance to the nurses who are not used to the epic software (Richards & Keogh, 2008).
            The epic software has various definite advantages. The system can be made effective by frequent training of the nurses on how to program their flow sheets, the IT department should also ensure that there is enough memory and large server; the institution should also adjust the epic software according to the needs of our patients. I would also propose that the flow sheets should be organized in an appropriate manner; the colors might be used to organize the flow sheets in a superior manner. These options will make the epic system to be user friendly (Richards & Keogh, 2008).
            In conclusion, change management is very crucial in every institution. The nurses will benefit from various advantages linked to epic software since they will be able to enter their own orders. Computerized charting is better as compared to paper charting. Institutions are called upon to give training and orientation to the nurses so that they can become conversant with this new change. Enough memory and large servers enable the system to be fast and avoid system breakdown.
References
Charting made incredibly easy! (4th ed.). (2010). Philadelphia: Wolters Kluwer Health/Lippincott Williams & Wilkins.
EPIC Computer Program. (n.d.). Answers Articles and Jobs for Nurses and Nursing Students RSS. Retrieved June 18, 2014, from http://allnurses.com/nursing-informatics/epic-computer-program-280071.html
Medscape Log In. (n.d.). Medscape Log In. Retrieved June 18, 2014, from http://www.medscape.com/viewarticle/810573
Richards, J., & Keogh, J. E. (2008). Medical charting demystified. New York: McGraw-Hill.