ORGANIZATIONAL SUCCESS
Remember! This is just a sample.
You can get your custom paper by one of our expert writers.
Get custom essay
97 writers online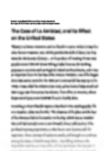 Inadequate skills is present if the problem is the employee's lack of certain skills, a supervisor should see that the employee gets the necessary training. Talent management is the automated end-to-end process of planning, recruiting, developing, managing, and compensating employees throughout the organization. Lisa needs to set up a mentoring and coaching programs that will advises, counsels, and guides her current employees. Both coaching and mentoring skills are needed for appraising employees, but appraising and assessing refer to rating an employee. While employers have long "managed their talent" without computerized systems, talent management today is usually information technology–based. Several software providers offer specialized talent management suites. The suites include and integrate underlying talent management components such as e-recruiting, e-training, performance reviews, and rewards. For example, talent management software includes e-recruiting software, employee performance management, a learning management system, and compensation management. Among other things, this program relieves the stress of writing employee performance reviews by automating the task and ensures "that all levels of the organization are aligned—all working for the same goals (Dessler, 2011)."
Lisa and the CFO have sufficiently investigated whether training is really called for through the control process. A manager should continuously gather information about each employee's performance. This is an ongoing activity, not something the supervisor saves to do when filling out appraisal forms. Ways to gather information include keeping regular performance records (such as a work team's output or the customer calls handled by each employee), saving customer notes of complaint or praise, writing a summary whenever an employee is observed doing something exceptional, and encouraging employees to keep track of their accomplishments.
This record keeping may seem time-consuming, but it is essential. Lisa and other supervisors need to make sure employees know and understand what is expected of them. To do this, they should make sure that objectives for the employees are clear, and he or she should communicate them effectively. Employees are most likely to understand and be committed to objectives when they have a say in developing them. More and more firms now require that supervisors and employees together set mutually acceptable performance goals.
Hospitality Skills/Training Guide for Valet Attendant
Set your property apart from the competition with this excellent job-specific training program for valet attendants. This binder is divided into 6 tabbed sections: This guide provides the basis of a six-day training course for new employees and current employees. The Employee Knowledge tab includes:
•Quality Guest Service
•Bloodborne Pathogens
•Personal Appearance
•Emergency Situations
•Lost and Found
•Recycling Procedures
•Safe Work Habits
•Manager on Duty
•Your Property's Fact Sheet
•Employee Policies
•The Americans with Disabilities Act
Employee Skill tab contains:
•Follow the Property's Valet Posting Positions
•Maintain Clear Drive-up/Drop-off Area
•Welcome Guests and Offer Assistance
•Load and Transport Luggage Using Luggage Cart
•Valet Park Guest Vehicles
•Retrieve Vehicles That Have Been Valet Parked
•Provide Storage for Guest Luggage
•Assist With Luggage for Group Arrivals and Departures
•Use the Guest Information Directory
•Prepare Maps and Provide Directions
•Arrange for Services Requested by Guests
•Handle Guest Service Problems
•Arrange for or hail Taxis for Guests
•Arrange Limousine Services
•Provide Courtesy Transportation
•Report Vehicle Accidents
•Clean the Drive-up, Entrance, Valet Stand, and Luggage Carts •Assist Guests at Check-out
•Respond to Situations Requiring First Aid
•Handle Cash Payment and Tips
•Assist in Rooming Guests
•Assist Guests During Room Changes
The Hotel Paris's competitive strategy is "To use superior guest service to differentiate the Hotel Paris properties, and to thereby increase the length of stay and return rate of guests, and thus boost revenues and profitability." HR manager Lisa Cruz must now formulate functional policies and activities that support this competitive strategy by eliciting the required employee behaviors and competencies.
References:
Dessler, G. (2011). Human Resource Management. (13 Ed.).Upper Saddle River,NJ: Prentice Hall