Panera Bread Case Study
Remember! This is just a sample.
You can get your custom paper by one of our expert writers.
Get custom essay
93 writers online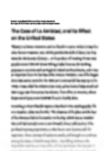 All companies must have a strategic plan. How well the strategy succeeds is based on the competitive strategy plan. A competitive strategy is defined as the "specifics of management's game plan for competing successfully and securing a competitive advantage over rivals in the marketplace." (Peteraf-Gamble-Thompson, 2013). In addition, a competitive strategy helps the company provide its position and advantage in the marketplace by determining two important factors: a) a broad or narrow market focus and b) low cost or product differentiation. Case study number two is focused on Panera Bread. It was established in 1981 by entrepreneur Ronald Shaich. The company's mission is "a load of bread in every arm. Panera has been successful with its competitive strategy that has given it an advantage over its competitors. The Competitive Strategies
There are five generic competitive strategies: 1) overall low-cost provider strategy, 2) focused low-cost strategy, 3) broad differentiation strategy, 4) focused differentiation strategy and 5) best-cost strategy. Panera has been successful through the "Broad Differentiation Strategy". What has contributed to its success has been its ability to stay focused and not deviate from its original strategy. It set long-term strategic plans to be "unique, competitive and successful". 1 Panera has been able to achieve success through its ability to see the holistic picture. Ronald, the CEO & founder, has a clear vision which has been communicated throughout the company from top to bottom. This allows all the employees to remain focused on its goals. Customer feedback is a core value for the company. They hold a strong "commitment to excellence' as a core competence. Panera values their employees and believes in the philosophy "people work for people".
They view their intangible assets with high regard; from hiring quality workers to building trusting and good relationships; to creating a positive atmosphere and experience for the customer. Panera remains successful because they remain focused on their vision statement. It is the original statement that was written in 1994 when the bread company was established. The vision statement has become their platform and provides the roadmap on how they are going to compete in the marketplace. It allows management to focus on where they are and where they want to be long-term. It has become their tool which allows them to modify their strategic plan when it was warranted. The Challenges
Panera's management team recognized there were challenges that came with the territory of being a high growth company. They recognize that size and scale are counterproductive. During the period of recession, while other companies were cutting costs, Panera was continuing to grow and invest. They conduct SWOT analysis to help management understand the challenges that warrant attention. They believe they have been successful because they have been willing to take risks on opportunities when their rivals pulled back. Panera is committed to staying within the country; it is not looking to venture to international markets. They're continuously re-evaluating the market to ensure they're connected with the customer; selective with partners and believe in joining with local communities. Financial Performance
Panera's financial performance has been strong. In 1996, Panera revaluated their plans by adding "bagels" to their menu and grew the business by 25%. One year later, they added another segment to their business and grew 30% or $1,750,000 that year. Forward thinking, the company recognized they were spreading themselves thin and at risk of weakening their competitive position; so they sold all their businesses and focused all their efforts into "Panera". Today they have 700 stores. They continue to do regular SWOT analysis to keep Panera on a guided path. They have increased their gross profit margin four years straight from 2007-2010. Each year's increase reflects an upward trend. This is important because it reflects the company's profit before accounting for overhead expenses.
Panera's liquidity ratios show the company is in a good position to pay their liabilities. The current ratio should be higher than 1.0. Their working capital reflects they have internal funds to pay the current liabilities as well as invest in operations without the need to borrow or raise additional equity capital.
Conclusion
Panera's biggest rivals appear to be Starbucks and Einstein bagels. Both offer fresh baked pastries, bagels, and a variety of beverages; while select Starbuck locations offer sandwiches and salads, all Einstein locations offer soups, salads and luncheon sandwiches. However, I found it difficult to pin which restaurant I viewed as a competitor for dinner services. If I think about my own personal experience, Noodles & Company offers an enjoyable ambience. They currently have 260+ locations in 22 states. Their financial data was not available so I was not able to state figures to support my analysis. Overall, Panera is a solid company.
They have proven to have a solid vision, strong strategic plan, a direct mission statement and the management team to align with all of these from top to bottom. This is a company that "walks the talk" and feel I have a new found respect for Panera. This is truly a company that values the customer and it definitely is reflected in each of their locations. References
Gamble, Thompson, Peteraf. (2013). Essential of Strategic Management. New York, NY: McGraw-Hill Irwin BloombergBusinessWeek
http://www.businessweek.com/investor/content/nov2010/pi2010118_183529.htm