Paradox of Samsung's rise
Published:
19 February 2016
Remember! This is just a sample.
You can get your custom paper by one of our expert writers.
Get custom essay
87 writers online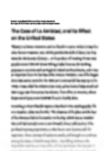 Summary
Samsung has been grown up to the one of the world giant company. Thus, Samsung faces the challenge of moving beyond their home markets. As the company growing abroad, the CEO Gunhee Lee needed to reinvent the strategy. Thus, Samsung tried to follow the strategies of developed Multi National Corporation. Samsung multiplied Japanese management system and Western management system at the same time into the new Samsung's Hybrid System. This system continuously improves the organizational process. It also creates the culture focusing on the innovation. Thus, the president Lee decided that sending the people abroad and hiring people who were non-Korean. That way, Samsung can openly experience lots of culture and systems and find what are the best suitable for the company. Samsung also provides the sufficient competition for talent, combined with a strong confusion tradition of respect for elders, through changing into performance based-pay system form seniority-based compensation and promotion system. These several factors especially Samsung's Hybrid system and Mix and match strategy led the Samsung to become a global company.
Arguments
1. The purpose of hiring employees from outside is very ideal, but it is hard to headhunt talented people especially hunting the entry-level employees from outside. It works for high position (Samsung even uses their chartered plane to scout the competent people). However, what Samsung is trying to do is spreading whole company with new-thinkers and sending insiders abroad. How do they attract some big innovators from abroad for even relatively low position? Although it is clear that Samsung itself is internationally competitive enough, it will be very difficult to entice talented outsiders who want to work for their own countries.
2. In terms of Global Strategy Group (GSG), in this article, they are trying to dilute their geodraphical repatriation in Samsung. In reality, they are not many board members from outside. Most external employees are likely to go abroad after working Samsung for only few years. It tells that Samsung seems hard time to make their company global. There is still existed strong hierarchy culture inside. Also, high-pressured membership training in every summer is one of the important reason to lead new-thinkers go back to outside. Samsung's strong confusion tradition of respect for elders and seniority-based compensation and promotion system are still existed. Thus, it seems to stand in the way of outsider's loyalty towards Samsung.