Pearson Custom Business Resources
Published:
1 September 2015
Remember! This is just a sample.
You can get your custom paper by one of our expert writers.
Get custom essay
92 writers online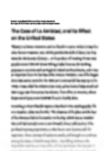 Carrefour is global brand whose market edge is ideal. The supermarket chain is revered across the world. It is keeping this in mind that such a brand should always seek to have and maintain this success; key aspect would be to ensure that all their potential customers are reached wherever they are in the globe. One of the ways to ensure this is achieved would be the indulgence of information systems or information technology. Carrefour prides itself in provision of quality products at convenient prices. (Caneja, n.p.)Company overview
Carrefour is known to be among the leading supermarket chains in the globe. The supermarket chain is believed to have emanated from France. They have about eleven thousand outlets across the globe; these outlets serve about two billion customers worldwide. This business operates under a number of banners; there are supermarkets, hypermarkets as well as some stores that operate as cash and carry outlets. (Caneja, n.p.)
Products offered by Carrefour Company and its target market
Carrefour is a business that thrives mostly on the sale of consumer products. The items are the common ones used from day to day within households. Products by this outlet are set at prices that are within the range of the common citizen. At times they also offer their goods at good discounted rates which is a welcome relief to many. Carrefour targets the emerging markets that are found within Asia as well as the Latin American region. (Caneja, n.p.)The two regions offer a prudent growth and untapped area where the large populations favor the retail business set up. Asia offers an exposure to about almost one and a half billion people cumulatively while Latin America offers almost half a billion. Such untapped areas are worth the consideration for expansion; but for now they seem to be working on consolidating their existing market share before venturing out to these areas. (Caneja, n.p.)
Marketing plan
Carrefour is working on improving their information systems and the corresponding infrastructure. Employees especially those who are coming into contact with the customers directly seem to be the probable individuals to kick off the exercise. Improving and polishing up customer relations is another aspect that has to be worked on. Systems would have to be set out that favor the real-time and constant communication between employees and management when it comes to service delivery to customers. (Salmons, p.125)Technology is also employed when it comes to the monitoring of operations that go around the firm. For effective service delivery; their systems around the globe would have to be re-evaluated with the sole purpose of phasing out redundant ones to be replaced by functional technology. Example of Bluetooth beacons which may be set up on shopping carts is one way; this would help them in making out shopping tendencies of customers. (Swedberg, p.17)The data collected would be of use when creating future business strategies.
Milestones achieved by Carrefour
In 2014 Carrefour did manage post revenue collections of about one and two billion dollars; with net profit of about two billion dollars. The total asset base rose to about sixty one billion dollars. However revenues decreased by about five percent but profitability rose by close to six percent. Around the same period the retail chain had about ten thousand two hundred stores globally. This number cuts across various types of stores; about four types. (Fortune, n.p.)The financial plan
Carrefour would have to post about fifteen billion dollars in sales monthly; in order to post about one hundred and eighty billion dollars as overall collection. Such revenue collection would translate into about a net profit margin of about two and half billion dollars; this would eventually be a step past the grey area they were in 2014. (Salmons, 127)For this to be achieved ICT usage and diversification within the firm would have to be enhanced. Customer relations management and well calculated expansion regime is crucial. Personnel would have to be trained and drilled in line with the future aspiration of the company. (Salmons, p.137)
References
BIBLIOGRAPHY Caneja, Ana-Diaz. Pearson Custom Business Resources. London: Pearson Plc , 2011.
Salmons, Janet. "Global e-business and collaboration." Salmons, Janet. Handbook of Research on Electronic Collaboration and Organizational Synergy. Hershey, Pennsylvania : IGI Global , 2012. 122-142.
Swedberg, Claire. "Carrefour To Use Bluetooth Beacons to Track Carts, Baskets ." RFID Journal (2014): 17-18.
Fortune,. 'Global 500'. N.p., 2015. Web. 27 Jan. 2015.