Performance pay for MGOA Physicians (A)
Remember! This is just a sample.
You can get your custom paper by one of our expert writers.
Get custom essay
102 writers online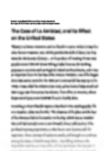 On a warm day in June of 1998, Dr. Harry Rubash stood in front of a bookshelf in his new office arranging photographs of his family and former colleagues in Pittsburgh. He looked out his window to the profusion of hospital buildings and tangled Boston streets below. It was a good picture, he thought, of the problems that faced him in his new position at the Massachusetts General Hospital (MGH). Dr. James Herndon, his former colleague at the hospital system of the University of Pittsburgh, had brought him to MGH to take over as chief of orthopaedics at Massachusetts General Orthopaedic Associates (MGOA). Herndon himself was new to MGH, having recently taken over as chairman of Partners Orthopaedics.1 Rubash and Herndon faced the ominous challenge of restoring the financial health of the ailing MGOA.
The Hospital's History
In service since 1811, MGH was the third hospital founded in the United States and included the first orthopaedic service in the country, founded in 1899 by Dr. Joel E. Goldthwait, a pioneer in the field. The department had a long history of providing outstanding clinical care, in addition to making significant contributions to medical research and teaching. It was an MGH doctor who first made the discovery of a herniated disc. In fact, the annals of orthopaedic literature were filled with disorders that bore the names of the MGH doctors who discovered them. The prestige of both MGH and the orthopaedic department was well-deserved.
In 1998, the year Rubash and Herndon arrived, the 12 surgeons at MGOA performed over 2,000 surgeries (see Table A for the number of surgeries performed from 1997 to 1999).2 The range of procedures performed covered
everything from knee arthroscopy to hip replacements, to spinal surgery. The group also had a history of providing services to a wide array of patients across the socio-economic spectrum. Table B shows the group received revenues from patients with private insurance companies, patients on Medicare (government insurance for the elderly) and Medicaid (government insurance for low-income individuals and families), those covered by worker's compensation, and self-pay patients (those without insurance). 1 Partners Healthcare was the parent company of the Massachusetts General Hospital. 2 MGOA surgeons had 252 days of surgical time per year.
________________________________________________________________________________________________________________ Professor Jason R. Barro, Kevin J. Bozic, MD (MBA 2001), and Research Associate Aaron M. G. Zimmerman prepared the original version of this case, Performance Pay for MGOA Physicians (A), HBS No. 902-159 which is being replaced by this version prepared by the same authors. Some names in the case have been changed. HBS cases are developed solely as the basis for class discussion. Cases are not intended to serve as endorsements, sources of primary data, or illustrations of effective or ineffective management. Copyright © 2003 President and Fellows of Harvard College. To order copies or request permission to reproduce materials, call 1-800-545-7685, write Harvard Business School Publishing, Boston, MA 02163, or go to http://www.hbsp.harvard.edu. No part of this publication may be reproduced, stored in a retrieval system, used in a spreadsheet, or transmitted in any form or by any means—electronic, mechanical, photocopying, recording, or otherwise—without the permission of Harvard Business School.
This document is authorized for use only in Human Resources Management – MMHA 6220 by Angela Montgomery at Laureate Education – Baltimore from February 2014 to February 2015.