Person centred planning
Remember! This is just a sample.
You can get your custom paper by one of our expert writers.
Get custom essay
70 writers online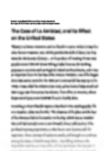 It is important that a person is always the centre of planning there decisions and wishes for the future and you should always use a person centred approach when dealing with an individual. For example if a doctor was explaining a course of treatment to a certain individual and you could see that the individual did not understand what the doctor was telling them but the carer assumed it would be OK to let the doctor carry on and just explain the the individual later on. Where in fact you should of stopped to ask that individual if the understood and if not then ask the doctor to explain himself in a different way were they may understand more.
This then includes the individual and gives them the ability to ask questions and decided what decisions they may want because they would be in the centre of their own care. If you was to wait until the individual was home to explain what the doctor was saying then they may of made the wrong choices in which path they wanted to go in simply because they did not realise what the doctor was saying and could therefore become distressed by this. For example if the individual was to agree to a type of treatment which goes against there values and beliefs but because the carer did not explain what the doctor meant they may not of known what they were agreeing to. where as by getting the doctor the explain in a understanding form for them means that they could find out all the information they need to make decisions and come away happy knowing that they fully understand what they have chosen to do.
This is why person centred planning is so important because it means the individual is in charged of what they want and it makes them less distress knowing that they can make their own choices and they are being listened too and they are valued as a person.