Personal Philosophy of Teaching
Remember! This is just a sample.
You can get your custom paper by one of our expert writers.
Get custom essay
88 writers online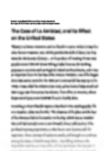 "Give a man a fish and you feed him for a day, Teach a man to fish and you feed him for a lifetime." – Chinese Proverb
I came across this quote back in secondary school when I was bringing the books to my Chinese teacher's desk. Never would I have thought it would relate to me so closely. As an early childhood educator, our aim is to provide quality education and care to the preschoolers in our care. Children are the future of our country, therefore comes the importance of education. I believe that children are born a "blank slate" (Locke, 1704) , and they behave like sponges, therefore they will retain and retrieve as much information that are passed to them. There is a pre set standard that is set for each educator for each level, but beyond that , my main goal as an educator is to provide an environment for constant learning and discovery for both the children and myself. Through instilling a love of learning in every student, i hope to ignite their love for learning both in and beyond the classrooms.
Building relationships is the first step to everything. Not only can I gain the trust of the children, but the parents as well. When I gain the trust of the child and the parents, not only will it allows me insights of their family environment and beliefs, it also opens a window of conversation with the child. I can get to know more about the child's hobbies, likes and dislikes and learning styles. This would allow me to approach the child in a more appropriate manner or revise the curriculum to cater to his/her needs. When a child is comfortable in the classroom because they know that they are in safe hands, they would in turn open up more and share more ideas. This also makes the child feel respected.
Parental involvement is an important aspect building relationships. Having an idea of what are the parents expectations and addressing a clear stand of my expectations of the children, yet being open to their thoughts and feedbacks would be crucial especially to a new teacher like me. Also, updates, newsletters and calls help the parents to have an idea of the child's performance in school, and these are usually doubles as record of the development of the child.
Literacy and language are skills that I feel are essential to everyone. The ability to achieve the different levels of reading and writing not only helps indicates the child's developmental milestone, but also contributes to the child's social skill. Social skills are life skills that the children take with them out of the classrooms and into society.
Experimental learning is another vital life skills that I believe all children should possess. Therefore I strive to make all the learning in my classrooms as relatable to real life as possible. The authentic learning allows the children to have hands on experience with the subjects as they grow and learn to engage themselves in the real world. Being able to make connections by linking the things they learn in the class to the society is important, but making the classroom a conducive place for their classmates is too. Such social and emotional skills are difficult to impart as they are rarely textbook based but rather being felt, therefore cooperative play is highly encouraged in the classroom as well.
Meaningful learning experiences cannot happen without a properly equipped classroom. Excellent classroom managements like the inclusion of routines, procedures and also the use of positive reinforcements not only help to maintain order in the classrooms but allow children to feel safe and valued. Indeed, teaching a man to fish an last him for a life time. Likewise, instilling the love of learning within the children will inspire them to continue the lifelong pursuit of wisdom and knowledge even after the educational process has been completed. Though these beliefs are the essence of my philosophy as an early childhood educator, but to cater to the constant change and ever-evolving of the needs of society, the philosophies are reviewed from time to time to help better evaluate personal progress and achieve goals.
References
Mouner. M (2013) http://www.quotationspage.com/quote/2279.html
Burns,M.S, Johnson R,T & Assaf M,M (2011) Preschool education in today's world: teaching children with diverse backgrounds and abilities(USA, Baltimore)
Meggitt, C (2012) Teach Yourself , Understanding Child Development (London)
Feeney, S, Christensen,D & Moravcik, E (2006) 7th Edition – Who am I in the lives of children: An introduction to early childhood education.(Upper Saddle River, New Jersey) Pearson Education Inc.
Ministry of Education (2012) Nurturing early learners, A curriculum framework for kindergartens in Singapore.(Singapore, Singpore)
Asian International College (2011) Principles and practices in early childhood care and education : ECE 101
The Gale Groups (2008) Encyclopaedia of children and childhood in history and society: John Locke ( http://www.faqs.org/childhood/Ke-Me/Locke-John-1632-1704.html)