Persuasive Speech on Social Networking
Remember! This is just a sample.
You can get your custom paper by one of our expert writers.
Get custom essay
96 writers online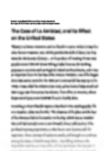 Since the Internet has rapidly propagated, social media has progressed rapidly. The widespread use of mobile devices to access the internet gradually transformed the nature of our social interactions. Most people use smart phones, iPhone or mobile internet devices to easily access social network. Since the function that people can interact online through social media, chat or share information with each other. It helps us contact friends, family, and other people even if they live far away. The service they can receive by using it are very impressive, most of people have their own account for participating. Although social media leads people to have more interaction and promotes long-distance relationships, it has a lot of bad things that make us out of control.
Many of social media users are addicted and they became more isolated by using social media. Social media has many advantages; nevertheless, it can be abused in moments by young children if we are not careful, because they can easily access social media. We need to understand and regulate the use of social media by young children. My own view is that we should understand and regulating the use of social media by young children, because overusing social media can create strong addictions, develop mental or physical disorders, and waste our time.
First of all, social media, such as Facebook, are very addictive. Especially, people who are lonely can become easily addicts. Human is social animal, so they want to make relationship with others. People would say drug or alcohol is more addictive and harmful for children than social media; social media addiction is not a big problem. Unfortunately, it is not true. Social media can lead to compulsive behavior. A report of the social media addiction by University of Chicago's Booth School of Business says: "There is evidence to show as well that social behaviors like hugs and smiles are associated with dopamine release … it's possible that social media is pleasurable and becomes addictive via the dopamine mechanism just as drugs or alcohol can." In the light of these facts, surely social media can make addicts, and it is hard to escape.
The problem is most people who have an addiction to social media and do not even realize it. Children, also, can easily get mental and physical disorders through using social media. People might think social media does not contribute to disorders. They argue that social media is good for mental diseases because it help them express their feelings or thought easily. Also, through social media, they can be more connected with each other. However, as stated above, if children become addicts, naturally we could think they have emotional instability. Social media offers limited real interaction, through online contact. On the Mental Health Blog, psychologist, Aric Sigman claimed "Spending too much time online could lead to social isolation, loneliness and a negative outlook. These types of psychological symptoms could eventually lead to more serious health concerns, such as heart disease, cancer and dementia. (Sigman)" Using social media disturbs make deep relationship with others. When they are using social media they do not need to move or be active. As a result, it leads to mental and physical disorders.
Social media can become handicap in our life. In this sense, social media can hinder people to improve their talents. People think social media is good place to show their talents or works what they did. For example, they argue people can share video clip what they playing the instruments or dancing or singing. However, if you are not good at those things and if you spend time to do social media, it would be hard to improve your talents. Using social media steals your time what really want to do. If you do not pay attention, your time would go very fast, and it could not be returned. If you read books, or study, exercise, or practice something that you want to do instead of using social media, it would be much better for you and your future life.
I conducted surveys about relationships between using social media and studying last semester. Most students answered using social media is not helpful for studying. Also, students who got good grades spent just a little time to use social media. These results can be adjusted to young children because they are more easily influenced by social media.
Especially, the young generation and children are easy to be exposed to environments which using social media. Social media are favorite not only along with teens or youngsters; it is growing among working people and also adults. Social media is regarded as an addiction and many people are becoming addicts every day. It can occur mentally and physically and make you waste time. As you can see, we need to understand and regulate the use of social media by young children. The most famous social networks, YouTube, Facebook and Skype are included. It is important to know why people have to use social media carefully and need some restrictions when using it. Many people love social media because of its wide connectivity and functions that people can receive it for free; it does not require money to make an account and use it.
Facebook is the most visible among various social media. First thing that people get impressed is, Facebook makes possible to create a deep networking between users. Since each user has a right to accept or refuse the friend request, the interest by people is high enough. Moreover people tend to allow the other's friend request who have same thoughts and characteristics, by this reason it is able to maintain an intimate relationship. Not only users can leave comment on other's post and the other user reply to that comment, by doing this continuing communication can be accomplished. So, it is a same response of users that deep networking can be made naturally. The second benefit is, it is good in long distance relationship. The survey from the "Telegraph" which is a famous newspaper in United Kingdom, tells that Social networks such as Facebook are helping to inspire a boom in long distance relationships. The number of people who have a partner that lives more than two hours away increased about twice in the last 10years.
Three quarters of them say that by using social network such as Facebook and MySpace where everything can be shared, they were able to maintain their long-distance relationship. In my case, I am not living with my family. I live in Utah and my family live in Korea. It is hard to contact each other and I cannot know what my family is doing their country and also they do not know what I am doing in this country. But after we started to use Skype, we can check each other what we daily do. If I want to see my family's face, I can see by using videophone. Even though I and my family live far away about 5500miles, we can check each other' status whenever we want because of development of social media. Even if Facebook and MySpace, those kinds of social media have various advantages, it receives less attention than the bad effects of social media. The most serious problem of social media is addiction. One reporter described that "Text messaging is no longer the biggest teenage obsession, and long gone are the days where the biggest worries for parents were celebrity crushes, massive phone bills from ridiculously long phone calls and chocolate overloads.
These teenage obsessions still exist, but in today's day and age, and in comparison to the Facebook craze, they seem rather insignificant This huge issue also applied to me and my friends. When I came to Utah first, I had a hard time conversing with the people in this country. For learning English I decided to do Facebook rather than reading books or watching television, which is effective but not fun method. Because of Facebook's worldwide connection, I was able to have more time and chance to communicate with my school friends. Soon, I could talk with Utah friends about private things and school work. As my relationship gets stronger, the time I spent doing Facebook extended, chat on-line and do applications already took a place in my life. I felt logging on Facebook was the best time ever in Utah since it helps me to learn language, to make friends, and to escape from boring life on abroad. But, the problem began with doing Facebook actively. My primary work of the day was doing Facebook.
I preferred doing Facebook more than any other important work, including doing homework, exercising, sleeping, and even going to school. When I realized there was a problem, it was after I was addicted to Facebook. With my cousin's help I could get away from Facebook, the dangerous social network. But some of my friends are still suffering from a Facebook with addiction. Another thing is that some person becomes lonelier after using social media. Most people might think that because social media have a benefit that give more opportunity to people to have more interactions through social network, people can strengthen relationship with their friends by chatting and leaving comments on each other's wall and even people could make new friends by online meeting.
Opposed to their thoughts, it is not. According to interview with Dr. John Cacioppo, who is a professor in neuroscience at the University of Chicago, tells that ""You can end up online so much that you end up sacrificing face-to-face contact. Having 4000 friends on Facebook might make you feel that you have lots of friends, but you have no face-to-face contact. In that case, loneliness INCREASES (Johnson)." It is not possible to make real relationship if people do not meet face to face. The people who were not talkative and social would be worse. One of my friends could example of this. He was poor at interacting with friends, he could not participate in our conversation and if we initiated a conversation, he stepped behind and went to his place.
After he started using social media, the number of interaction with friends decreased. And he even did not make new friends through social media and he became less social. It led him to feel more loneness and seriously he tried to suicide once. It was one of happening events around me result of using social media. It is a really serious problem in this society. It is related to human's life. This big problem is not facing to us. In conclusion, although social media has lots of benefits that are attractive and helpful to us, it usually gives more harmful influences than good effects. Like an addiction and fraud advertising, it is not anymore a small problem that can be ignored. To make better future, it is really important to use social media carefully. All things are depended on you.