PEST analysis of Vietnam
Remember! This is just a sample.
You can get your custom paper by one of our expert writers.
Get custom essay
94 writers online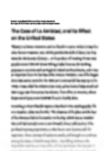 ·Political factors:
· government type: Vietnam is known as a Socialist Republic. · freedom on economy: Vietnam has not high economic freedom, which score is 51.0. Even though the index of Vietnam can not compare with western developed countries', however since 1986 the government implement open-door to the outsider world policy, making Vietnam becoming to an open country and attracting increasingly investors' attention and opportunities.
· Political Stability: Vietnam is an independent, socialist republic country, governed by the only power: Communist party of Vietnam—-contribute to the stable and safe environment. · Taxation on inflation: As inflation in Vietnam has been rising recent years, however the first quarter in 2013 the index take a turn for the better, lower the before inflation index. And at the same time, Vietnam government has come up with several measures to compensate for the increase in inflation.
· Trade regulations and tariffs: Vietnam has joined the Association of Southeast Asian Nations(ASEAN) in 1995, Vietnam's trade policy is the same as other members' of the ASEAN. · Pricing Regulations: Generally there are no control on prices in Vietnam before 2006, however in 2006, Vietnam introduced a set of relatively comprehensive transfer pricing regulations effective and made revisions in 2010. In 2012, the National Assembly approved the Amended Tax Administration Law, effective July 1,2013. In addition, Vietnamese tax authorities are also putting considerable effort into "capacity building", including providing training for its tax officers. · Economic factors:
· The economy of Vietnam has been through a transformation the last 30 years, Vietnam has evolved from a disorder and poverty society to an efficient agricultural economy and recently focus more attentions on developing industrial and service sectors, rapid development on trade and investment.
· Vietnam is a member of the ASEAN, and all members commitment is to further intensifying regional cooperation in East Asia and building a regional architecture that is open, transparent and inclusive, which means that cooperation and win-win policy could be taken into account. Recently more countries such as China and Japan had signed Free trade Area Agreement, providing increased opportunities.
· Vietnam has a large number of 87.375 million people and an unemployment rate is 4.64% in city during 2007, in 2006, the growth rate of population of Vietnam is 12.1%, and average revenue is $1498, a large number of inexpensive labor force attract more international investors focus and lower their cost. Social factors:
· Vietnam possesses completion education system, general education contain 12 years and from 2001 started to popularize 9-year compulsory education, government focus more attentions on education and the crowd's quality increase by years.
· Agriculture is one of the most important sectors of the Vietnamese, which occupied nearly 75% of the total population, and agricultural acreage accounting for a total area nearly 60%, Vietnam is the second rice export country in the world, and it is agricultural exports in the leading position.
· The official language of Vietnam is Vietnamese, nearly 97% population in Vietnam speak it, however most people not actually used English, so the foreign investors are not convenient when they visit the Vietnam.
·The main religion is Buddhism, and others contain Catholicism and Protestantism. There are nearly no any issues of violence between people of different beliefs, compared stable religion environment than other countries. · Vietnam has emerged as a ideal immigration place due to its attractive environment and friendly reputation, every year millions of tourists go to the beauty spot and live in local. · The majority of the population 10.2% are over 60 years old, and nearly 39% of the aged still work in the field, which means there is enough labor force are full of Vietnam market. Technological factors:
· Vietnam has seven international airports and fifteen civil airports, basic transportation systems such as railways, road, waterway system are more intact then before, even through after several years development and received economic benefit, transportation still limited the development of Vietnam. · After Vietnam joined the ASEAN, on account of the geographic advantages and its opening policy, Vietnam gain more opportunities to cooperate with the first rate company and to reform the inside industrial structure, such as accelerate energy technology and digitalization process.
Beyond any question Vietnam make a progress than before, however a huge difference still exist, Vietnam still remains one of the lowest technology country, much behind than adjacent region countries. Specific on technological innovation, scientific research input. More assembly lines in the high-tech park rather than technology or innovation. Conclusions:
With the PEST analysis above, it can be concluded that the PEST environment of Vietnam has definitely improved its international business activities in the past 10 years, 1996 the government come up with striving to develop the industry and modernization, on the basis of market economy, from 1990-2008 the GDP of Vietnam grows robustly with average 7.7% increase, with a rate of about 6.18% in 2009, and 6.9% in 2010, and 5.89% in 2011.(graph 1 in Appendix) Economic aggregate continuously extend, formed the state-owned economy as the leading factor, a variety of economic elements common development pattern. Even though per capita GDP still situates in low level compared to other countries, however the economic transformation significantly enhanced people's living quality compared with the past. The investment environment analysis in Vietnam:
· First of all, there are abundant natural resources in Vietnam that one third land could plant, suiting for developing agricultural production and export-oriented agriculture, and there are also abundant ore resources in Vietnam such as petroleum, gas, coal and metal production, Vietnam has a long coastline that contains rich and varied aquatic product.
· Secondly, manpower resource rich and cheap, the population of Vietnam is 84 millions, and 73.8% of the people come from rural area, two-thirds people were born after 1975, recent years even though the government advocated to increase minimum wage, still remaining around $60-$80 per month, therefore the labor force in Vietnam is the most cheapest, due to the government focus more attention on education, so that the cultural quality and technical quality is higher than other areas.
· What's more, political and legislation environment stable and well, Vietnam implements one-party system governed by the Communist Party, democratic atmosphere increases the lofty prestige of the government, which perfects legal system and emphasizes rule by law. People are masters of the country. Security environment attracts more investment opportunities. The main export in Vietnam:
The export of agricultural, forest, aquatic products of Vietnam in 2011 reached to 25 billions dollars (which accounted for 22% of total merchandise exports). The main force of farming export in Vietnam is rice and coffee, and shoes manufacturing industry export occupied about 25%, textile occupied about 13%. Most of the export merchandises are centralized on manual products and primary commodity, which is the distinguish feature of the economy of Vietnam. (table 1 in Appendix) The government plays an important role to speed up the economic development and adjust inflation. Provide a platform to enhance the competitiveness of the industries.
References
1. Country Profile: Vietnam, ASEAN Commission, http://ec.asean.eu/ invest-in-research/pdf/download_en/psi_countryprofile_Vietnam.pdf 2. Economy of the Vietnam, Wikipedia, http://en.wikipedia.org/wiki/ Economy_of Viernam. 3. Vietnam, The World Factbook, https://www.cia.gov/library/publications/ the-world-factbook/geos/ei.html#Econ 4. Vietnamese Agricultural Land Research, Stewart Brand, King, 2008-10-08. 5. List of companies of Vietnam, Wikipedia, http://en.wikipedia.org/wiki/ List_of_companies_of_Vietnam. 6. Exporters in Vietnam, Vietnam Exporters Association, 2011-06-01
View as multi-pages