Pets.com Case Analysis
Remember! This is just a sample.
You can get your custom paper by one of our expert writers.
Get custom essay
76 writers online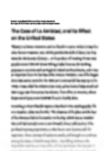 INTRODUCTION
In this report I will analyse Pets.com's short lived success as America's number one online supplier of pet foods supplies and accessories. I will also identify what actually went wrong and present a refreshed offensive marketing strategy to the board of the company. It was unbelievable how a public listed company led by some of the world's best business executives, draped by all the funds that any company in the world would envy, partnered with the world's number one e-commerce company and became America's pet industry icon can lose everything in less than two years after its first introduction.
In my opinion some of the major factors that contributed to Pets.com failure were: 1. Bad strategic decisions made by the previous leadership including underestimating the cost of operations and overspending on marketing. The management was so obsessed grabbing the market share but at the same time losing their focus altogether on their actual goal and objectives, which is generating revenue for the company and become profitable to ensure sustainability.
2. Despite its success in building brand recognition, Pets.com overestimated the market trend and power of the internet. They were also overconfident in estimating the market real potential and risk due very shallow and weak market research. When everyone was rushing to jump onto the internet e-commerce guaranteed-for-success bandwagon, Pets.com did not realize pet business was not that simple but in fact more complicated compared to selling books and clothes online. After all the costly marketing promotions and advertisements, overnight popularity, having the most complete online product offerings and latest technology at their disposal, still in the end Pets.com failed to show much added value and differentiators in the eyes of the customers.
3. Completely ignored the power of traditional brick and mortar business model. Pets.com failed to understand their rivals strengths and weaknesses well. Better customer care, satisfying personal shopping experience and fast delivery are some of the advantages physical stores had over online pet portals. Pet owners appreciation of these traditional values affected typical pet-owners' readiness and willingness to completely abandon their friendly and trusted around-the-corner neighbourhood pet store.
COMPETITOR ANALYSIS
The previous company did not bring up a good proposal in opposing its competitors. It was so obvious that they ignored the fact that traditional pet store was very much controlling the pet food and supplies market. Underestimating the strengths and advantage of their more traditional brickand-mortar based rivals like Petstore, Petsmart and Petopia was the first biggest mistake they had done.
Competitor Analysis Petopia.com
1. Heavily funded by Petco, market leader in pets accessories and supplies industry 2. Well established physical stores plus e-commerce business model 3. Leverage on Petco's good and well known reputation as supplier of quality pet products and its commitment to animal care.
4. Petopia will gain invaluable access to Petco's extensive network of chain stores which both companies can cross-promote each other:
a. Have nationwide coverage with 465 chain stores all over US b. Strong international presence with 100 stores globally
5. Potential Pes.com future international expansion thru strategic alliance with another major investor Groupe Arnault (linked to renowned LVHM Moet Henessey Loius Vuitton) PetSmart.com
1. Already a successful brick and mortar business on its own right. Considered as Petco's main brick and mortar competitor
2. Joint venture with e-commerce entrepreneur Bill Gross of Idealab become direct competition to Pets.com-Amazon's team up.
3. Well established physical stores plus e-commerce business model 4. Strong back-end warehouse and delivery systems with already 500 stores nationwide and 100 outside US.
5. Strong brand name, marketing clout, close vendor relationships and efficient product portfolios and fulfilment systems that would greatly benefit their online business. Petstore.com
1. Funded by venture capital firm Battery Ventures
2. Rely entirely on the power of e-commerce. Work on the same business model as Pets.com, establish a leadership position with 'category killer' domain name 3. Just like Pets.com, Petstore relied heavily on advertising and promotions 4. No physical store establishment
At the end of the day, after the big dotcom bubble burst, only Petopia (now owned by Petco) and PetSmart survived. Petstore and Pets.com itself succumbed to the dotcom bubble burst. Two most obvious factors that set apart the two victors and losers are: 1. PetSmart and Petopia had a strong back-end warehouse backing and chains of physical stores that in the end reduce distribution costs, storage, ensure satisfactory delivery period and value-add traditional shopping experience and satisfaction. Unlike the two, Pets.com and Petstore.com relied entirely on the internet of which later compromised basic pet owners' needs and customer satisfaction.
2. Pets.com and Petstore relied heavily on funding from venture capital firms while Petopia and PetrSmart already have strong infrastructures and customer network they can always depend on if anything goes wrong over the internet. This proves deadly when Pets.com failed to gain enough added capital injection to save them from becoming dotcom bubble's biggest casualty.
It is very important for us to re-align our goal and strategically repositions ourselves in this industry. The following SWOT analysis shall analyses our key strengths and weaknesses.
Pets.com's SWOT Analysis
STRENGTH
1. Huge cash to spend. Heavily funded. Backed by Amazon.com. 2. Direct access to Amazon.com's network resources and e-commerce skills and expertise, so technology skills and know-how is not an issue.
3. Strategic alliance with Yahoo!, GO.com (Disney), Discovery TV network (Animal Planet) and association with the American Veterinar Medical Foundation can be a very strong network positioning strategy.
4. Pets.com is the most recognizable domain name, highly visible website with most comprehensive website content and best design. Pets.com website is so popular in the internet and mainstream media that at one time becomes the most visited pet supplies website in the world.
5. Most competitive price and service offerings (plus free delivery). Able to offer quality products of which becoming today's key plus factor to the passionate middle-class and high income pet owners.
6. Largest stock keeping units (SKUs) in America to ensure reliable supply and on time delivery to customers.
WEAKNESS
1. Competitors offer similar products. Pets.com still could not find key market differentiator. 2. Huge expectation on online marketing and promotion. Specialized team to maintain up-todate and latest website content and information may incur increasing administration costs. 3. Pets.com have weak brand name as compared to more established rivals. 4. Pets.com don't have physical stores presence nationwide and globally. 5. Reliability and security on the internet can halt and even destroy online business almost overnight.
6. High transportation costs and insurance liability due to free delivery policy to customers regardless location
7. Geographical factors, warehouse location and distance may result to 2-3 days for orders to reach American homes
OPPORTUNITIES
1. Pets.com can leverage further on Amazon's full potential-market penetration and trustworthy e-commerce reputation
2. Can take full advantage on average American pet owners passion and spending habits on pet food and supplies
3. The right time to tap into the world's fast growing and lucrative national and international markets.
4. Can take advantage on the fact that most trusted and high quality pet foods are produced in the US
5. Can take advantage on average American pet owners' hectic lifestyle. Promote cost and time saving.
6. Average American pet owners are economically stable. Price is not a big issue. 7. Develop own brand name and proprietary products
THREAT
1. There will always be a better competitors' website content and offerings 2. Don't underestimate internet capabilities-consider problems at remote sites and countryside 3. Simpler user-friendly blogs, mobile applications and smartphones can replace website 4. Increasing transportation and shipping costs
5. Transportation risk-lost and damage
6. Internet customer bad experience, unfavourable comments and reviews can sabotage any 3 online business that is not ready and fully prepared
7.Growing e-commerce safety concerns can influence internet users to just browse and shop at competitor's outlet
8. Competitors physical stores at almost US neighbourhoods-providing more human approach (touch and feel) and faster delivery time
9. Hard habit to break-still many pet owners prefer visit local neighbourhood stores than buying online
10. Competition by any brick and mortar neighbourhood establishment Pet supplies are not books. People only order pizzas online-Amazon.com strategy may not work at certain environment and condition. Pets.com need to show better value-add and pull-factor.
SEGMENTATION ANALYSIS
Pets.com have the best products to offer and the technology to drive this online business model to success, but in the end not understanding the consumer's real needs, behaviour and spending habits can prove vital to the company's survival and relevancy.
According to study reports by The NPD Group, Inc. and Media Metrix (NASDAQ: MMXI), 75% of pet owners who access the Internet are aware of online pet stores, up from 55% in September 1999. Twenty-seven percent have shopped at an online pet store, while 14% made an actual purchased at an online pet store.
Study confirms that almost three times as many pet owners become aware of online pet stores from television advertising compared to last year, while fewer are learning about sites from surfing the Web. Though television advertising in the category is growing, consumers are still more likely to find out about pet e-tailers from some online source, such as clicking on a banner ad or direct link from another site.
The good news for marketers is that while category penetration is still low, customer satisfaction is high. Among the 14% who have purchased, a whopping 97% of them are satisfied with their buying experience. More than two-thirds reported being very satisfied (68%), up from just over one-half in September of 1999 (53%). The majority of consumers who have shopped at pet store sites said they are likely to shop again in the next three months (59%), and half would make a purchase sometime in the future (49%). Not surprisingly, those consumers who are very satisfied with their buying experiences at online pet stores in general are much more likely to make a purchase in the future than those who have not.
The Pet Industry
In 1998, pet industry is a US53billion a year marketplace. Worldwide estimates run about $51 billion, and growing at a rate of about 15 percent a year. By the end of 2004, online pet-product sales alone should total more than $4.5 billion. Pet food, accessories and supplies tops US household shopping list with Pets leading with USD23 billion a year, Toys US21billion a year. Music recording US13 billion a year and Retail books at US 12 billion a year. Expert prediction is the pet industry may grow to US28billion a year business by 2001.
1. 60% of American households own at least one pet and 40% own more than one pet. Statistics in 1999 shows 53 million are dogs and 59 million are cats.
2. American families with children age 5-15 likely to own pets and families with children younger than 18 will grow over the next several years
3. Even though online shopping for pet foods and supplies are still new to the consumers, nearly 30% of internet users purchase online pet products. Pet owning households wealthier than average thus able to spend more on pets (65% household earning US60000 or more are pet owners). Almost two-thirds of all American households have at least one pet, and that translates into an estimated $23 billion a year in pet expenditures in the U.S. alone. 4. Veterinary,boarding,grooming,training yielded higher margins.
5. Most pet owners buy on impulse during regular shopping trips and they are less price sensitive 6. US pet owners sought veterinary care at least once a year of which 92% are on dogs and 78% on cats care. Between 1991-1999 US vet expenditure grew 9.5% annually 7. By mid 1990s supermarket pet food began losing market share amid growing concern for pet welfare and nutrition. Non-premium low nutrient levels supermarket brands hold 55% of market share mostly thru grocery and convenience stores. They anyhow demonstrate slow annual growth and small gross margins. Premium levels on the other hand promote healthier diet but risk restricted distribution. From 19940-1999 they contributed to 18% annual growth and own 25% of market share.
8. Supermarkets prefer to stock profitable goods but they face problem with space to store bulks. Pet supply stores on the other hand have the storage advantage. Despite that brick-and-mortar margin still low between 2-4%.
9. Internet and retail commerce trends shows estimated 97 million households are using internet worldwide. By 1998-60% households on internet at least once a day compare 35% year before. Surfing the internet has become part of part of daily American life. In 1998 internet companies in the US generated USD301.4 billion revenues from the internet and internet commerce alone contributed 1/3 of total revenue equals to USD101.9 billion
10. Even though pets product online just started in 1999, survey shows high level of satisfaction among online shoppers. More than half of 30% internet users purchase online pet products, more than half very satisfied. Survey shows:
a. 68% are females
b. 40% bought toys for pets online
c. 30% bought foods/treats
d. 26% non-food accessories
e. 17% health products
11. The main reasons why they buy online was convenience but experts claim it is limited to small market only and it is also outweighed by higher costs and longer waits.
THE MARKETING OFFENSIVE
When more than one company offers the same kind of product, each company only receives a percentage of all sales of that kind of product. This percentage is called a "market share," and any effort to take some of the market share away from one company and bring it to another is called an offensive marketing plan.
Marketing is all about building relationships. It's about educating (and maybe even entertaining) your customer. While we must not deny the growing influence of the internet, Pets.com must not underestimate the power of traditional pet business model.
Alternative strategies that could improve Pets.com:
1. Decrease the advertising and marketing budgets
a. This will create opportunity to relocate funds elsewhere such people development and customer care
b. Ability to make-up for low sales volume
c. Wasting less money on expensive marketing promotions
2. Open warehouses and brick-and-mortar establishments to increase distribution a. Ability to ship products in shorter distances to reduce transportation costs and risks b. Provide faster delivery time may increase competitive advantage c. More readily available products for easier delivery or for exchanges 3. Redo pricing structure for more competitive prices
a. Make profits on the product not on the inflated shipping costs b. Pets.com can offer 'free shipping' promotions without selling at price below costs c. Consumer's assurance on Pets.com product quality will keep existing customers and introduce new ones. Customer satisfaction leads to customer loyalty. 4. Invest the use of new media such social networking and blogs. This may attract younger generation of pet owners
5. Introduce subscription and loyalty program. Other than improving customer retention it can also be used qualification tools to offer free delivery or charge based on geographical location and distance.
6. Improve Pets.com brand name. Association with Amazon and Animal Planet may prove very useful in attracting loyal fans.
7. Collaboration with vets and animal clinics promoted as local distributors can reduce delivery time and stock availability.
8. Identify specific target groups. For example individual consumers will more readily use products used by government facilities and pet care professionals.
CONCLUSION
The failure of Pets.com was not because the online business model. In fact it was more to mismanagement of funds, business planning based only on short term analysis, poor market understanding and research, underestimating traditional rivals and overestimating the power of internet. It was a classic case of bad strategy.
The failure to face the challenge. "If you fail to identify and analyse the obstacles, you don't have a strategy. Instead, you have a stretch goal or a budget or a list of things you wish would happen." Pets.com was an early entry in the immature online shopping industry and was uncertain whether a substantial market niche even existed. No independent market research preceded the launch of Pets.com. Instead, the management chose a "land grab" strategy focused on increasing its market share then finding ways to make a profit. The "land grab" strategy presupposes that your market is large enough or will grow fast enough so that revenue allows a profit before seed money runs out.
Pets.com wished that it would magically become profitable while it waited for the market to mature. During its first fiscal year (February to September 1999) Pets.com earned revenues of $619,000, yet spent $11.8 million on advertising. It failed to realize its problem would not be gaining market share, but generating revenue to sustain it until it could place adequate resources into market share focused strategies.
Mistaking goals for strategy. "Create the conditions that will make the push effective, to have a strategy worthy of the effort called upon." When the company did turn its focus to its business model, it created unrealistic conditions in which to operate effectively. For example, Pets.com offered a guaranteed $4.95 shipping to anywhere in the United States. Unfortunately, Pets.com initially only had one distribution warehouse in California and every shipment to the East Coast cost more than $4.95 and therefore shipped at a loss. It lost money on nearly every sale because, even before the cost of advertising, it was selling merchandise for approximately 1/3rd the price it paid to obtain the products. During its second fiscal year the company continued to sell merchandise for approximately 27% less than cost. The company had it sites on being the number one online pet supplier but failed to leverage key strengths to build on other than a very costly push for brand recognition.
Bad strategic objectives. "A scrambled mess of things to accomplish—a dog's dinner of goals. A long list of things to do, often mislabeled as strategies or objectives, is not a strategy…Good strategy, in contrast, works by focusing energy and resources on one, or a very few, pivotal objectives whose accomplishment will lead to a cascade of favorable outcomes." As I researched Pet.com history, I was amazed by the number of "strategies" the leadership claimed. Not all inclusive, CEO Julie Wainright and executives focused on numerous initiatives in an attempt to stand out from the competition.
1. Strive to offer a huge variety of product offerings; it listed more stock keeping units than any other online pet supplier
2. Offer abundant editorial advice from veterinarians, animal lawyers, breeders, scientists, and pet experts
3. Extend its brand offline in the Pets.com print magazine
4. Develop and offer its own proprietary brand of Pets.com pet supplies 5. Acquire a key competitor, Petstore.com
6. Create alliances to allow Pets.com to offer animal health insurance, be the featured petstore on the Yahoo! link to pet health advice, be a part of the Go.com (Disney) network, and establish charitable foundations.
These all seem like good objectives, if focused on one at a time. They also seem like objectives fueled by capital but not sustained by revenues. The management of the company appeared so focused on several objectives that it never developed a solid business model focused on being profitable and generating sustainable returns.
Fluff – "Superficial abstraction…designed to mask the absence of thought." According to analyst Jacques Chevron, "Pets.com failed to give its prospective customers a reason for its existence. Its tongue-in-cheek advertising claim ("Because pets don't drive") seemed like an admission of its lack of a reason for being." Pets.com seemed focused on being the most comprehensive site for pet owners that it failed to be successful in any of its objectives. While it continued to claim it was the one-stop site for all pet needs, it never established a reputation as being good at anything other than advertising.
Bibliography
1. Pets.com: Rise and Decline of a Pet Supply Retailer by Dr Omar Merlo 2. The Rise and Fall of Pets.com: "Because Pets Can't Buy" by Cara L.O Peters (University of Georgia) and Marilyn J. Okleshen (Minnesota State University) 3. Pets.com failure and its causes http://my-espace09.blogspot.com/2009/01/petscom-failureand-its-causes.html 4. Pet & Pet Supplies Stores Industry Statistics Research Report – Anything Research 2010. 5. US Pet Market Outlook – Packaged Facts 2009.