Plan: Realism in Great Expectations and Robinson Crusoe
Remember! This is just a sample.
You can get your custom paper by one of our expert writers.
Get custom essay
73 writers online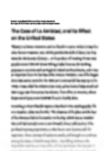 'Realism falls short of reality. It shrinks it, attenuates it, falsifies it.' (Eugène Ionesco) Discuss the relation between realist literature and the world it represents. Actual Quote "Realism falls short of reality. It shrinks it, attenuates it, falsifies it; it does not take into account our basic truths and our fundamental obsessions: love, death, astonishment. It presents man in a reduced and estranged perspective. Truth is in our dreams, in the imagination." Start by talking about realism and realist literature. Realism began in the 19th century? My interpretation of the question.
Explain that the essay will respond to the quote with reference to Robinson Crusoe and Great Expectations. I will study how the texts attempt to construct reality with issues such as gender and race but do both have problematic features that support the argument raised by Ionesco. Realism began in the 19th century? Defoe seen as the father of realism Insert and analyse quotes where possible and respond to critics/opinions.
Realism in Robinson Crusoe
1. Realism
'The editor believes the thing to be a just history of fact; neither is there any appearance of fiction in it.' (Preface to Robinson Crusoe)
'Given its accumulation of 'realistic' descriptions and detail, its capacity to name and map out time and space as if it mirrored reality, realist fiction emerged as part of a culture obsessed with the truths and realities of an increasingly scientific and secular world' (Sean Purchase, Key Concepts in Victorian Literature (Houndmills: Palgrave Macmillan, 2006), p. 185)
'According to Marxist critics, for example, realist Victorian fiction… embodies middle-class ideologies and values, so that the very discourse of "realism" it provides is really a middle-class adaptation of reality from the outset' (Purchase, p. 186)
In The Rise of the Novel, Ian Watt identified the following elements as characteristic of the early novel:
A concern to account for probability; a concern to tell you who, what, why, where and when. Watt describes reading a novel as like listening to evidence in a court of law. Specific, recognisable and often present-day settings.
Mixed characters, characters who change over time.
Celebration of private, domestic (rather than public, heroic) virtues. Plain language. (Ian Watt, The Rise of the Novel, London: Chatto & Windus, 1957)
Locate evidence of each of the above in Robinson Crusoe. You might wish to focus on the opening three pages of the novel but feel free to look at any section.
Defoe's "Robinson Crusoe" began the literary genre of realistic fiction. The aspects of his writing that define "realism" would be the immense detail he uses; descriptive language; and the flow of his narrative (dialect included). Defoe concentrates on the qualities of different objects, which provide us with a picture to accompany the words. His first clay pot, the crude fashion of his garments, and the grindstone are a few of the things we can almost touch when reading. Defoe not only introduced this genre, but I believe that in many ways he is still the master. daniel defoe expresses his work in realism via :
– first person narrator.
– using specific dates .
– using real places
– using details
– fallibility
– diaries
http://www.enotes.com/homework-help/discuss-realism-robinson-crusoe-and-why-daniel-126439
Unrealistic Rob Cru
Although we do not think too highly of the literary experience of the average 18th century reader, even he would remain sceptical after taking the author at his word. Defoe's solution to this problem is most original: Fact is his strategy, and triviality his weapon. Of course, this technique of describing as many trivial events as possible to make the story seem more realistic, has (again) become a common aspect of almost every novel to date. In almost 400 years, we have gone from one extreme to another: From a time when it was revolutionary to introduce this formula in literature, to a time where it would be almost revolutionary not to.
It may seem as if I am saying I am strongly inclined to believe that Robinson Crusoe is both a terrific book and a novel which set a new standard for literature in its time. This is true. However, I am not oblivious to some of the weaker points of the book. My foremost criticism is this; Robinson Crusoe is not a real person. He is a character, faintly disguised as a person. At first we are fooled, for all that happens seems realistic enough, but as soon as Robinson is marooned on the island, the illusion is fading. His way of living, his sudden belief, his entire way of looking at the world suggests that someone indeed did make this up. Partly, this has to do with the environment.
When Defoe decided to write a more realistic novel than was usual at the time, he could have done better that to opt for an uninhabitated island. It is very difficult to make a character seem more realistic when he is completely alone. It is very hard to describe in detail solitude on such a large scale of time and still remain true to realism. Solitude may be something we have all experienced at one time or other, but Robinson's long time completely devoid of any human contact whatsoever and his logical despair is incredibly hard to describe convincingly.
Realism in Great Expectations
Get presentation made in seminar real and unrealistic GE:
TOPIC FOUR: Genre: Realism and sensationalism
In what ways might we think of this as a realistic fiction i.e. as a fiction that represents the experience of living in the world (of materiality)? What specific features make this a 'condition of England' novel (if any)? You should come prepared to define this term. In what ways is this an unrealistic text? You should think about the characterisation; the plot resolutions; the theatricality of some of the scenes and events; the style in which some parts of the narrative are delivered. Find at least three examples to discuss. In considering the above, you might wish to comment on the serialised form of the original publication. Is it melodramatic? Episodic? To what extent do you feel that the more melodramatic or sensationalists aspects of the text undermine its social comment (if at all)?
Realism was developed by the middle of the 19th century as a response to the idealistic world of romanticism which had dominated for the past half century. It was an aesthetic movement which attempted to hold up a mirror to its society to show a true reflection of reality. Although claiming to offer a slice of life by emphasizing chiefly in the importance of the ordinary amongst the middle and lower classes, realism is a relative concept, a representation of reality which adheres to a loose collection of conventions. Many of these are offered in Charles Dickens' Great Expectations, which follows the life and struggles of the protagonist and narrator, Pip. Dickens uses techniques such as a chronological linear narrative, an omniscient narrator, the celebration of the ordinary, and the resolution of the enigma to drive the moral undercurrents of Pip's everyday existence. This constructed realism is essentially a representation of reality based on Dickens ideology, offering social commentary and reflecting the values and attitudes of nineteenth century England.
The basic structure of Great Expectations follows a chronological development of Pip's life; from his childhood innocence, to his disillusioned expectations, finally his rejection of the high life and a circular succession ending back at the beginning. This chronological structure of which Dickens narrates exemplifies Pip's learning process through his moral and emotional turmoil and complies with the opportunity to generate a realistic setting. For example, Pip's description of London, "a most dismal place; the skylight eccentrically patched like a broken head, and the distorted adjoining houses looking as if they had twisted themselves to peep down at me through it," creates an archaeologically realistic description of London, and hints a sense of foreboding, foreshadowing the futility of Pip's expectations. This ideology developed through Pips learning process is created through a… Great Expectations a novel by Charles Dickens takes reader on an epic adventure filled with unexpected encounters with a myriad of people with vastly different backgrounds that ultimately shape Pip into the man that he becomes. Pip moves from the social class that he was born to, to one that he is elevated to by an anonymous benefactor.
The two people that typify the conventional expectations of romanticism and realism are Pip the protagonist and Joe Gargery the humble blacksmith. Joe clearly shows his love for Pip the entire way through the book, a love that is only acknowledged or valued until the closing pages of the book. We will look at Pip's journey from extravagance and utter self indulgence to his ultimate enlightenment and self fulfillment. Great Expectations is narrated by an older mature Phillip Pirrip or Pip and is his reflections and recollections of his childhood through his emerging expectation, to adulthood, often seen to make fun of his younger self. Pip was reared by hand by his older malevolent sister and her meek and submissive husband Joe Gargery, after the death of his parents.
The protagonist always refers to his sister as Mrs Joe, showing the reader how domineering and heavy handed she is towards not only Pip but her husband Joe. She affords little compassion or kindness to either male and you start to see the difference between the characters and their reactions to her in relation to the conventions of romance and realism. Joe lending himself to looking at life through the eyes of a realist satisfied knowing his place, where as Pip being more romantic, dreams of escape and leaving the marches for a better life. Pip was apprenticed to his brother-in –law Joe the village blacksmith, when his direction in life was to change by the chance meeting of an escaped convict in the graveyard of his parents.