Planning to Meet the Needs of Learners in Education and Training
Published:
1 September 2015
Remember! This is just a sample.
You can get your custom paper by one of our expert writers.
Get custom essay
95 writers online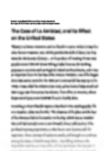 Initial and diagnostic assessment involves the process used by trainers to get to know the learners and making a healthy relationship with them. Gravells and Simpson (2010) provided that the initial assessment occurs when learners are introduced to new learning programs. It is a comprehensive approach whereby the trainer and the learner begin to create a picture of their achievements, interests and skills. The learners also build up their learning experiences and needs correlated with their goals. The diagnostic assessment assists in identifying specific learning needs and strengths. It evaluates the learning targets of students and suitable teaching and learning strategies essential in achieving the set goals (Gravells & Simpson 2010).
As an educator, it is imperative to initially diagnose and assess the individual learning goals of each and every learner in order to be able to map their future progression. It is essential to analyse their skills and achievements, and correlate them with their intended targets. Carrying out this analysis will enable the trainer to understand the task ahead and how to meet each learner's requirement.
Explain how your own planning meets the individual needs of learners
As a trainer, relating to real life circumstances and situations is one of the simplest means of making learning more accessible to both the learners and trainers. This context provides a more perceptive framework for learners' skills and enhances additional learning (Petty 2009). Besides, allowing the learners to review the literature of the taught subjects enables them keep the information fresh in their minds. This promotes additional learning in the fact that the learners improve their ability to maintain currents skills and create new skills.
Planning it provides an opportunity for the implementation of curricula reforms in light of the dynamics and the characteristics present within a group of students, finally resulting to an enhanced learning experience. Educators should plan various strategies depending on the learning environment and the nature of the study. Students adopting this approach not only focus on the literal aspects of learning but also on the underlying concepts, and their main interest is the task at hand. They further seek integration to widen their understanding of a subject across disciplines.
Explain ways in which teaching and learning plans can be adapted to meet the individual needs of learners
Most classrooms consist of different learners with a wide range of needs, which the trainers have to consider while planning, teaching and assessing their students. The most effective teaching and learning plans must have clearly stated objectives that the learners should learn. Gravells and Simpson (2010) explained that teaching and learning plans consist of an introduction to the lessons, the engagement of learners in learning activities that enable them understand the content of the lesson, and the opportunities for learners to participate in providing the feedbacks on the lesson learned. Hence, it is paramount for a trainer to know the strengths of every learner, and how they can be assisted to develop their talents, skills and knowledge. While designing teaching and learning plans, it is also important for any trainer to consider the specific learning needs of all the learners (Petty 2009).
Differentiated instruction is another way to be adapted to meet learners' needs. Learners are different, and they do not learn in the same ways. With trainer's teaching and learning plans in mind, it is essential to know how the students learn and create a design instruction which accounts for the different types of learners (Gravells & Simpson 2010). The trainer has to assess the current knowledge of students on the outcomes, and he or she is likely to evaluate that learners have diverse skills on the planned learning outcomes. Petty (2009) stated that the trainer should also present teaching in different instructional experiences. This can be achieved by making small group of learners and providing them with assignments and projects.
Identify Opportunitites for Learners to Provide Feedback to Inform Inclusive Practice
Allowing self assessment enables the learners to provide feedback on their learning and development. According to Petty (2009), self-assessment outlines major areas that need improvements and enhances knowledge and skills among the learners. Inclusive learning provides individual needs of the learners; therefore allowing the trainer to develop lesson and activities associated with learner's needs. Learners' feedback is more constructive than trainer's feedback because it only focuses on negative aspects of learning outcomes (Gravells & Simpson 2010). Peer assessment also provides positive effects towards the development of learner cohorts and inclusive learning practice. In relation to the proximal learning theory, learners gain knowledge for each other and this is one of the productive ways of learner feedback.
Group discussions are very essential in a classroom setting because they not only improve student-student interaction, but also they assist the teacher in evaluation the level of knowledge acquire. This can be very useful in inclusive practice feedback. The teacher is able to assess the student's as they discuss. Also, use of feedback evaluation forms, question and answer discussions also provide ample opportunities for providing inclusive practice feedback.
Analyse ways in which minimum core elements can be demonstrated in planning inclusive teaching and learning
As a tutor, every lesson plan distributed should incorporate all the necessary minimum core elements. In most cases, deployment of numeracy proves an intricate aspect while planning to fit the lesson plans. It is an intricate issue particularly when dealing with art subjects but it can fit when students are deploying the laser cutter, which demands exceptional measurements practice. When considering written assignments learners should be given word count papers. Thus, they comprise of both English and numeracy subjects. Well, it is quite imperative to constrict in minimum core as much as possible during lessons. Normally, embedded learning and teaching coalesces the development of language, numeracy, and literacy with vocational skills (Keeley-Browne, 2014). The acquired skills provide students with necessary motivation and confidence sufficient to guarantee students excellent qualifications both in their career and in life.
In lesson planning, a selection of the following ways of minimum core features predominantly. Literacy, which handouts use, written homework set, presentation, and self-participation through written board exercise, features most. The second example is numeracy where student use measurement and laser cutter for their exercises saved on the computer. Language is the other way of encouraging students to engage in-group work. Educators should normally sit with students on a personal level and deliver an interactive verbal lecture (Keeley-Browne, 2014). This mode of teaching ensures and encourages students open-up on their work experiences. Lastly, deploying ICT through computer use for various researches and set essays during the unit.
References
Gravells, A & Simpson, S 2010, 'Planning and Enabling Learning in the Lifelong Learning
Sector', Exeter, Learning Matters
Keeley-Browne, L. (2014). Achieving Your Award in Education and Training. Milton
Keynes: Open University Press.
Petty, G 2009, 'Teaching Today', 4th Edition, Cheltenham, Nelson Thornes