Plastic money
Remember! This is just a sample.
You can get your custom paper by one of our expert writers.
Get custom essay
84 writers online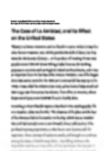 Primary objectives:-
•To know the perception of people towards plastic money.
Secondary objectives:-
•To know the importance of plastic money in the daily life of consumers' W.R.T credit and debit cards.
•To study the benefits of debit card and credit cards.
•To find out the market leader among the various banks/companies issuing credit and debit cards
•To know the problems faced by respondents using plastic money.
•To study the satisfaction level of consumers towards plastic money.
Need of the study:-
It is rightly said the plastic money is need of hour. People are using these cards on a vast scale. But after considering the review of literature it is seen the whole payment process of processing these cards is not safe and customer are facing many problems relating to plastic money. That's why study is focused on consumer perception regarding the plastic money. Need of the study is to get to know about the comparative analysis of plastic money. There are many ethical issues and challenges in the market of plastic money which is required to be studied. This study is concerned with the Seven perks of plastic money Convenience, Budgeting technology, Reputation boosting, Corporate might, Cops and robbers, the float, openness to negotiations.
Term plastic money Definition: A slang phrase for credit cards, especially when such cards used to make purchases. The "plastic" portion of this term refers to the plastic construction of credit cards, as opposed to paper and metal of currency. The "money" portion is an erroneous reference to credit cards as a form of money, which they are not. Although credit cards do facilitate transactions, because they are a liability rather than an asset, they are not money and not part of the economy's money supply. Plastic money is a term that is used predominantly in reference to the hard plastic cards we use everyday in place of actual bank notes. They can come in many different forms such as cash cards, credit cards, debit cards, pre-paid cash cards and store cards.
Cash Cards – A card that will allow you to withdraw money directly from your bank via an Authorised Teller Machine (ATM) but it will not allow the holder to purchase anything directly with it. Credit Cards – Again this card will permit the card holder to withdraw cash from an ATM, and a credit card will allow the user to purchase goods and services directly, but unlike a Cash Card the money is basically a high interest loan to the card holder, although the card holder can avoid any interest charges by paying the balance off in full each month. Debit Cards – This type of card will directly debit money from your bank account, and can directly be used to purchase goods and services. While there is no official credit facility with debit cards per se, as it is linked to the bank account the limit is the limit of what is in the account, for instance if an overdraft facility is available then the limit will be the extent of the overdraft. Pre-paid Cash Cards – As the name suggests the user will add credit to the card themselves, and will not exceed that amount.
These are usually re-useable in that they can be 'topped up' however some cards, usually marketed as Gift Cards are not re-useable and once the credit has been spent they are disposed of. Store Cards – These are similar in concept to the Credit Card model, in that the idea is to purchase something in store and be billed for it at the end of the month. These cards can be charged at a very high interest rate and can are limited in the places they can be used, sometimes as far as only the store brand that issued it.