Portfolio Committee
Remember! This is just a sample.
You can get your custom paper by one of our expert writers.
Get custom essay
101 writers online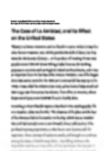 Dear Professor:
UIC Writing Center is open to every UIC students who need help with their writing papers; at the same time, UIC also has lots of ESL students who view English writing paper as the most challenging task. How can Writing Center become more effective for ESL students? Mandy, Duong, and I would like to give some suggestions for Writing Center tutors from the perspectives of ESL students. We used a power point and brochures to help us express our voice.
Before starting the power point, we went to the writing center and had an interview with the tutor. We asked questions about the tutoring procedures and the differences between tutoring a native English speaker and an English Language Learner. After that, we knew that most ESL students have the basic English skills when they got accepted to UIC. Therefore, tutors can communicate with them by speaking simple English and ESL students will have no problems in understanding. However, not a lot ESL student would like going to Writing Center for help. What keeps ESL students away from Writing Center and how can Writing Center help more ESL students become more successful in their writing papers?
There are many barriers for ESL students coming to Writing Center. For example, many ESL students have no confident with their English, and they feel shameful and timid when talking to tutors who are English Native Speakers. If students talk little, tutors will stop explaining because tutors assume students know that. As a result, many ESL students found Writing Center was useless for them and stopped coming. Making tutors and ESL students communicate and understand each other better is the key to make a successful tutoring session. My group suggests tutors make a goal with ESL students together at the beginning of the session based on what ESL students need and to be enthusiastic. We want our power point to explain the barriers and to give suggestions in short. We put key points to remind ourselves when presenting.
We also want to the text and pictures have the equal amount so that our audience can have better understanding of our presentation and listening to us. We selected some key points from the power point to make our brochure for audiences to take away and read. We used simple words to make sure everybody could understand our brochures and used a lot pictures to attract audiences. The presentation was short, and very few people asked questions. It may be due to the fact that my audience is tutors who have learned those tips in their classes. If I could have a chance to improve my presentation, I would make prepare more to talk and ask questions instead asking my audience to give feedback.
Sincerely yours,
Lin