Pre-marital Sex
Published:
22 February 2016
Remember! This is just a sample.
You can get your custom paper by one of our expert writers.
Get custom essay
88 writers online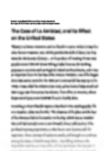 Effects of Premarital sex
The effects of premarital sex is not limited to a physical effect, it can also be emotional and psychological. To better understand the effects of premarital sex, let's take look first on why it is considered as a sin. According to the Bible:Premarital Sex Premarital Sex and Religion The Catholic Church teaches that premarital sex is wrong, yet it is still widely practiced around the world. The reason marriage was created was to join two people of the opposite sex together in a holy sacrament that would make the couple one. God's reason for marriage is quoted in the bible when he said, "For this reason a man shall leave his father and his mother and be joined to his wife, and the two shall become one flesh" . The Sacrament of marriage is one of the most sacred Sacraments in the Catholic Religion. By performing premarital sex, the couple is breaking a covenant with God and is performing a sin.
Marriage is the joining of a couple in the eyes of God and in the eyes of the State. When two people are joined into marriage they become on in flesh and one spirit. Sexual intercourse within marriage is for this reason good and of great blessing both to the couple, to the family and to the church. However, outside of marriage it creates a conflict of body and soul. This conflict may not at first be evident but later it can result it real soul damage occurring between the two people involved. God tells us that we should control out bodies and our lusting, "It is God's will that you should be sanctified: that you should avoid sexual immorality; that each of you should learn to control his own body in a way that is holy and honorable, not in a passionate lust like the heathen, who do not know God"1. By performing premarital sex we are abusing our bodies and our souls.
The pain that premarital sex puts on us is very evident. Physically premarital sex can lead to many things, such as pregnancy, sexually transmitted diseases, and other things that accompany premarital sex. Mentally premarital sex also hurts. Our bond with God is ruined, we lose contact with God and we are no longer part of the Church. Premarital sex goes against God's law so our relationship with God is destroyed.