Principles of safeguarding and protection in Health and Social Care
Remember! This is just a sample.
You can get your custom paper by one of our expert writers.
Get custom essay
81 writers online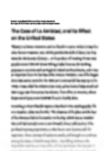 This assignment aims to support the Learner to acquire knowledge and understanding of the knowledge evidence requirement for unit, and to guide the learner towards gathering evidence to demonstrate their competence for this unit. Having acquired the knowledge the Learner needs to demonstrate to their assessor they understand the knowledge requirement and can apply this in their work practice. All knowledge evidence should be related to the expectations and requirements of the Learners job role.
Aim:
The aim of this assignment is to enable the learner to acquire knowledge and understanding of recognising signs and symptoms of the different types of abuse and what to do in the event of suspected or alleged abuse making sure aware of the correct procedures and guidelines that are in place to protect the individuals from danger, harm and abuse.
Abuse is a complex area and there can be pitfalls in having separate categories. An individual may be subjected to different types of abuse which display the same signs and symptoms. Alternatively, one "type" of abuse does not take place alone e.g. sexual abuse also has emotional and physical components. "Abuse is the violation of an individual's human and civil rights by any other person or persons" (Department of Health "No Secrets" 2000) "Abuse can be described as the mistreatment of a person which results in suffering and distress. It can be a single incident or part of a repeated pattern, as a result of a conscious act, or neglect by the abuser". (Nursing Standard Nov 1995)
Guided Learning Hours: 22
Learner Name
Hayley Woods
Date
Know how to recognise signs of abuse.
Know how to respond to suspected or alleged abuse.
Understand the national and local context of safeguarding and protection from abuse.
Understand ways to reduce the likelihood of abuse.
Know how to recognise and report unsafe practices.
Define the following types of abuse and the signs and/or symptoms associated with each type of abuse:
• physical abuse: – injuries that are shapes of objects or injuries that havent had medical attention – dehydration or unexplained weight changes or if medication is going missing – change of behaviour for example being afraid of someone or avoiding that person
• sexual abuse: – STD's or pregnacy
– bruises in genital/anal areas
– signs of changing body image for example – self-harm anorexia, bulimia • emotional/psychological abuse: – Not being able to talk to the adult on their own – low self-esteem, anxiety or lack or confidence
– Feeling like they are being watched all the time
– increased levels of urinary or faecal incontinence or increased levels of confusion
• financial abuse:
• institutional abuse:
• self-neglect:
• neglect by others:
Describe factors that may contribute to an individual being more vulnerable to abuse.
Explain the actions to take if there are suspicions that an individual is being abused?
Explain the actions to take if an individual alleges that they are being abused?
Identify ways to ensure that evidence of abuse is preserved?
Identify national policies and local systems that relate to safeguarding and protection from abuse and explain the roles of different agencies in safeguarding and protecting individuals from abuse.
Identify reports into serious failures to protect individuals from abuse and give a brief description of the failing and what has been changed to protect vulnerable adults?
Identify sources of information and advice about own role in safeguarding and protecting individuals from abuse.
Explain how the likelihood of abuse may be reduced
by:
working with person-centred values, encouraging active participation, promoting choice and rights?
Explain the importance of an accessible complaints procedure for reducing the likelihood of abuse.
Describe unsafe practices that may affect the well-being of individuals and explain the actions to take if unsafe practices have been identified?
Describe the action to take if suspected abuse or unsafe practices have been reported but nothing has been done in response?