Principles of Safeguarding and Protection in Health and Social care
Remember! This is just a sample.
You can get your custom paper by one of our expert writers.
Get custom essay
82 writers online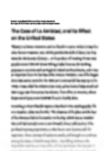 1. How to recognise signs of abuse:
Definition of types of abuse and yours respective signs:
1.1.1 Physical Abuse:
According with NCPEA (National Committee for the Prevention of Elder Abuse) Physical Abuse is a physical force or violence that results in bodily injury, pain or impairment. It is a non-accident use of physical force resulting in body harm. Eg. Pushing, force feeding, burning, scalding, etc.
1.1.2 Signs that a Physical abuse has happened:
Injuries or bruises;
Scratches marks or cuts;
Bite marks;
Cigarette marks;
Behaviour indicators;
Sprains, fractures, broken bones;
Deterioration of health without an obvious cause;
Rough handling or physical coercion.
Also Physical abuse can include:
Force residents to stay in bed or chair;
Using or misusing physical restraints. (Like seat belt).
Lying in wet or soiled bedding.
1.1.3 Factor that can contribute for Physical abuse happen:
Be old
Physical disability
1.1.1 Sexual Abuse:
According with the Older Protective Services Acts Sexual Abuse is an intentionally causing or attempting to cause rape, involuntary sexual intercourse, sexual assault. Also sexual harassment whereupon the individual is forced, tricked, coerced or manipulated into any unwanted sexual contact.
1.1.2 The Physical and Emotional signs for Sexual Abuse is:
Bruises on inner tights or around the breasts;
Genital or anal bleeding;
Difficulty in walk or standing;
Pain or itchy in genital areas;
Infections of genital or anal areas;
Unexplained abdominal pain;
Scared or timid behaviour;
Any sudden change in the individual personality;
Suicidal thoughts and/or attempts;
Agitation, aggression and anxiety;
Reluctance to undress for baths or wash;
Reluctance to stay with the aggressor.
1.1.3 Factor that can contribute for Sexual abuse happen:
Physically frail
Resident to be able to see or hear very well
Don't think so well as they used to
1.1.1 Emotional/Psychological Abuse:
Is inflicting mental pain, anguish or distress, like verbal or non-verbal acts, insults, threaten, humiliate, harass, bullying, intimidation, shouting and swearing, ignoring, dignity taken away. Psychological abuse can be present in all others abuse.
1.1.2 The emotional signs of Psychological Abuse:
Avoided eye contact or not talking openly;
Anxious, shy, depressed, or withdrawn;
Changes on behaviour;
Fear when in the presence of the abuser;
Low self-esteem;
Often disturbed, scared, hopeless, pessimist.
The individual be scared of shouting or raised voice;
Also some warning of Psychological abuse can be:
A carer ignoring the elderly needs;
The elderly be treated as child, teased or winded up;
The elderly choices not be taken in consideration or respected by caregiver;
No dignity or privacy been preserved causing distress or embarrassment to the elderly.
1.1.3 Factors that can contribute to Emotional/ Psychological Abuse happen:
Having learning or memories problems
Physical ability is frail
Health problems
Culture or religion
1.1.1 Financial Abuse:
Is the unauthorized use of the resources of an elderly individual for a personal benefit or gain.
1.1.2 The signs for financial abuse are:
The elderly individual live in conditions below his financial resources;
Inappropriate activity on bank account;
Frequent checks and gifts made to a caregiver;
Personal belongings going missing;
Sudden change of will;
Shortage of money after no long elderly received their money;
Unexplained expenses;
Family refusing to pay for things even though the elderly has got money to pay.
1.1.3 Factors that can contribute for Financial Abuse happen:
Slowing down mentally
Psychologically depend on someone
Living alone
Ageing.
1.1.1 Institutional Abuse:
Is when an elderly person is being abused by caregivers in an assisted living like a care home. In this type of abuse all the last mentioned types of abuse can happen.
1.1.2 The warning signs of Institutional abuse is:
Waken residents too early;
Food choices are limited and served to early;
Punitive methods adopted by staff;
Ordering residents around or shouting at them;
Dignity or privacy not been respected;
Choices been denied;
Access to outside been denied or forced to be in their bedroom; Inappropriately use of medication to sedate;
Etc.
1.1.3 Factors that can contribute for Institutional Abuse happen:
Dementia
Isolation
Low staffing over long period of time
Poor communication between employer and employee
Elderly have short memory
1.1.1 Self-Neglect:
Is the harm or potential harm created by elderly's own behaviour rather than the actions of others.
1.1.2 The warning signs of self-neglect is:
Dehydration;
Poor personal hygiene;
Unsafe living conditions, like not indoor plumbing, no heat, no running water;
Inadequate clothing;
Lack of necessary medical aids;
Unsanitary living conditions, like dirty bugs, soiled beddings and clothes; etc.
1.1.3 Factors that can contribute for Self-Neglect happen:
Elderly living alone;
Isolation;
Depression;
Have memory problems;
Physical ability is frail;
Illness;
Mental health;
Learning difficulties;
Exaggerated use of drugs or alcohol;
1.1.1 Neglect by others
Is when an older person is neglected by a caregiver on her basics needs like safety, physical or/and psychological needs, adequate or necessary medication, personal care, etc.
1.1.2 The warning signs of Neglecting by others is:
Unusual loss weight;
Malnutrition;
Dehydration;
Been left dirty or unbathed;
Desertion of an old person at public place;
Untreated physical problems as bed sore;
1.1.3 Factors that can contribute for Neglect by others happen:
Illness;
Dementia;
Social Isolation.
2.1 Actions to take if there are suspicions of abuse or if an individual alleged being abused: When there is an allegation of abuse, all allegations must be listen to and taken seriously and must be reported for the safe and guarding team.
2.2 If someone alleged that they have been abused:
Remain calm and supportive with the victim of abuse;
Reassure the victim that you are there to help and believe them;
Make sure they know it is not their fault;
Ensure the abuser don't have access to the victim;
Immediately report to your supervisor and safe guarding team;
Do prevent loss or destruction of evidence;
Collect basic information such as who is the alleged abuser and what happened;
Call 911 in an emergency;
2.3 Ways to make sure that evidence of abuse are preserved:
Make written records of phone calls with dates and times;
Don't tidy up, wash clothes or bedding;
Try not to touch anything;
In case of sexual abuse discourage the victim from washing;
Make sure that anyone else comes to the scene of where the abuse happened.
3.1 National Policies and local systems agencies:
Local Safeguarding Adults Boards.
3.2 The roles of different agencies in Safeguarding and protecting individuals:
Local Systems – Safeguarding Adults Boards, Safeguarding policies and procedures for vulnerable adults.' Safeguarding Adults Boards – these bring together a number of different local agencies that work with vulnerable adults to share information and monitor their work i.e. local agencies like the police. The Police – their role is to safeguard vulnerable adults, investigate all reports of vulnerable adult abuse and protect and uphold the rights of vulnerable adults. CQC – to monitor and provide guidance on what all health and social care providers must do to safeguard vulnerable adults from abuse; the safeguarding policies, procedures and systems developed are in place to prevent vulnerable adults from being abused.
3.3 Serious case of failure of protection an individual from abuse:
The Winterbourne case which was nationally reported and a local abuse case of Orme house in Lowestoft. The Winterbourne case was more physical and emotional abuse and the Orme house case was more neglect and poor living conditions. The Winterbourne case was reported nationally because it was such a disgusting mistreatment of vulnerable people, 11 members of staff were caught on CCTV after visitors and patients complained about mistreatments. The evidence that was captured showed physical abuse such
as, slapping, poking eyes, pulling hair, even as unbelievable as trapping them under chairs, and soaking residents in freezing cold water. It also showed emotional and verbal abuse in the form of name calling. This was an inhumane and diabolic mistreatment of vulnerable individuals unable to defend themselves.
Winterbourne appears to have made decisions based on profits and returns, over and above decisions about the effective and humane delivery of assessments and treatments. Where were the staff who should have been reporting these crimes to management , if management was not listening then they should have been reported to the authorities and organisations, such as social services and CQC that is what they are there for. The staff who didn`t abuse patients but didn`t report the incidents are just as abusive and responsible, as they were employed to help with patients welfcare. Winterbourne failed to notify the Care Quality Commission of these incidents, injuries to individuals and of occasions when individuals had gone missing.
3.4 Identify sources where can you go to get information and advice about your role in safeguarding and protecting individuals from abuse:
Response:
Our Staff hand-book;
My manager
The internet
Care Quality Commission
Local Safeguarding Authority
Training in safeguarding
4.1 Explain how the likelihood of abuse may be reduced:
– Working with person-centred values:
Working with the individuality of each elderly as a single person, the rights as an individual, Preserving the right of choice, privacy, independence, dignity and being respected, considering what they have to say, what he or she wants and putting it in the centre of any decision.
-Encouraging active participation:
Active Participation is an act of encourage or prompt an individual to participate in activities, recognises the individual as a person with rights of decisions and choices.
Promoting choice and Rights:
Encourage them to make their own choices and decisions, encourage participation, encouraging independence, this way it creates self-esteem and confidence in them.
4.2 Explain the importance of an accessible complaints procedure for reducing the likelihood of abuse.
The complaints procedure give to the complainant the right of be listened to, it is efficient because it clearly says how and to whom make the complaint should be made. The accessible complaints give supports and access to the individual to make their views known. Also it sets a time for a response, given to the complainant a feeling that they have been listened to and taken seriously. Therefore it sets a mind culture of no form of abuse must be acceptable or tolerated.
5.1 Describe unsafe practices that may affect the well-being of individuals:
Inappropriate personal care;
Unsafe administration of medication by not trained caregiver or wrong given dosage;
Caregiver not reporting that a resident is ill, and/or unsteady on their feet;
No appropriate use of gloves and aprons, spreading infection;
Not have a risk assessment in place;
Caregiver not recording on daily recording when any irregularities appear;
Caregiver using equipment without the appropriate training, putting residents in risk of danger;
Leave the resident on the toilet for long, ignoring or not listening when they have something to say;
Misuse of authority such as physical restraint;
5.2 Explain the actions to take if unsafe practices have been identified:
All concerns or suspects of abuse or mistreat should be reported to the manager or supervisor immediately, in verbally and in writing. 5.3 Describe the actions to take if suspected abuse or unsafe practices have been reported but nothing has been done in response: The caregiver has the right to report concerns directly to the multidisciplinary team. Anyone can report suspicion of abuse, the caregiver that don't report unsafe practices or abuse can be also disciplined, suspended or dismissed.