Private Fitness
Published:
24 February 2016
Remember! This is just a sample.
You can get your custom paper by one of our expert writers.
Get custom essay
94 writers online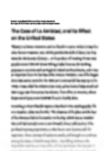 Six months ago, Rosemary Worth established Private Fitness, Inc in Rancho Palos Verdes, California. Her experience as an aerobics instructor and notoriety as a US Fitness model were the perfect tools for building a business. The facilities were paid for through personal savings and a bank loan. Rosemary used $150,000 of the funds to renovate the facilities and purchase equipment. Five rooms were created; two locker rooms, an office, a weight room containing free weights and machines, and an aerobics room with treadmills, stair climbers, and other similar pieces of machinery. As a way to set the business apart, Rosemary found five instructors with specialized skills to meet the wide variety of classes available to the members. These instructors are given a commission of twenty to fifty percent depending on experience and if the client was brought in by them or not. One of the instructors, Kate Hoffman, was given a salary in addition to the commission and expected to manage the facilities. This included marketing, bookkeeping, facilities upkeep, and record keeping of the clients. Kate was proving to be successful with the steady increase in clients. To provide the best experience for clients, the equipment is not open for members to use freely. During peak hours, clients are charged $50 for an hour of training with an instructor. Non-peak hours cost $35 an hour, students are charge $12, and discounts are offered for prepayment. Rosemary discovered that Kate was stealing from the company by verifying the register amounts and confronting Kate about discrepancies. Not only were deposits short, but Kate was training clients, offering discounts, and pocketing the entire fee. When confronted with this, she denied the accusation of theft multiple times, before finally admitting to it. Now, Rosemary must decide how to handle Kate's theft and improve the weaknesses of the current control processes. The largest culprit for the theft (besides Kate's poor choice) is the lack of proper management control systems. Rosemary has the ability to implement four different control measures, results-based, action-based, personnel-based, and culture-based.
According to Merchant and Van der Stede, results controls empower employees to make the best decisions for the organization by aligning the personal goals with the organization. To implement these MCSs, managers/owners need to know exactly what results are desired, how to monitor these results, any weaknesses that may be addressed, and the rewards that should be given for reaching the desired results (2012). Rosemary attempted to implement this control when she offered a commission based on the direct impact an instructor had in bringing in a new client. She left the control incomplete when she failed to properly segregate duties between the manager and instructors. Kate had a conflict of interest since she was paid salary, regardless if she enacting as a manager or instructor, and could gain more by working as an instructor. Without any additional costs, Rosemary would be better suited to hire a manager specifically trained in marketing and back office work, rather than an instructor. By continuing to pay the manager a set salary, he or she will not be tempted to steal clients. As a reward for growing the business, the manager can be directly rewarded for reaching certain revenue thresholds. The instructors should be rewarded for bringing in a certain amount of new clientele. If an instructor brings in five additional clients, they see a $100 bonus in their pay. Only the manager can approve new clientele and Rosemary must sign off on any paycheck that includes this bonus as a way to review who is bringing in new business or manipulating the system. The action controls are a direct management control that places constraints on employees to ensure bad decisions are not possible or at least difficult to perform (Merchant & Van der Stede, 2012). Rosemary failed with this control when she placed Kate in the managerial role with full control of the record keeping, cash box, deposits, and access to the facilities. Kate's actions proved in the end that she was not capable of handling the responsibilities. By hiring a new manager and front desk clerk, Rosemary can ensure they meet the needs of the company and incorporate additional segregation of duties. The clerk can run the deposits to the bank, while the manager can be responsible with preparing the deposits. All instructors should be required to submit new clients to the manager and provide a log of training sessions. This will allow instructors to see what is owed to them and keep them accountable for all training sessions. Personnel and Cultural controls are put into place to ensure that properly trained employees have an established culture to cultivate desired results (Merchant & Van Der Stede, 2012). Private Fitness, Inc. is still very new and has not established a set culture. Rosemary needs to create a code of conduct for employees to live by and reinforce the importance of acting with integrity. Additionally, key employees should be in positions to influence others and push this culture.
Disciplinary actions need to be enforced for all breaches in misconduct. These actions can range from written warnings, penalties in pay, or even termination. Rosemary should hire a permanent manager with the skills to properly market the business, run the back office, and keep the integrity necessary to prevent fraud. To reward the manager, a financial incentive should be offered for meeting specific revenue goals and meeting a specific level of customer satisfaction with the facilities. An additional tiered reward should be awarded for new customers being brought in by the instructors. Instructors will not be allowed to hold managerial positions and the front desk clerk can run the register and make deposits after the new manager prepares the deposit. A new code of conduct list should be established and signed by all employees. The manager, Rosemary, and another instructor who exemplifies these characteristics should be responsible for holding others to these standards. Kate should be removed the managerial role and reprimanded by paying back all lost revenues. Additionally, she should be placed on probation. The reason she should not be fired is because she has proved to be an asset to the company. Also, clearly defined expectations had not been established. This allows Rosemary to recoup some of her losses and keep a full and diversified group of instructors. With the new controls in place, Kate will not be able to cheat Rosemary out of business again. The proposed solution tightens the current controls and adds necessary components to proactively combat operational deficiencies. Rosemary will still have the ability to spend time with her children. She can feel confident her business is running with the right standards in place, even when she is not present. In addition, the business will not face additional costs that will make success unlikely.
References
Merchant, Kenneth A. and Van der Stede, Wim A. Management control systems: performance measurement, evaluation and incentives. (3rd ed.). Harlow, England: Pearson Education Limited.