Project Management Recommendation
Remember! This is just a sample.
You can get your custom paper by one of our expert writers.
Get custom essay
86 writers online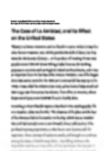 Dear Mr. Gritsch:
In continuation of your email dated February 10, 2014, I have completed analysis of three projects: Juniper, Palomino and Stargazer. The risk levels in Juniper, Palomino, and Stargazer are low, medium, and high respectively. It is in the best interest of Piper Industries Corporation to move forward with the Stargazer project.
Stargazer is selected due to its feasibility and risk level. From market feasibility study, some strategic customers have already indicated interest in the product. Therefore, I would recommend that the board invest in the project, Stargazer; particularly because the company has already invested $450,000 and the ROI is very high.
My feasibility study focused on Return on Investment (ROI), length of project, risk level and overall benefit to Piper Industries. See below for the results.
Juniper:
Return on Investment (ROI): 77% or $250,000 for a period of 2 to 3 years Length of project:
Uncertain
Risk of completion on time:
Low
Overall benefit: Enhancement of current product, increased product demand Palomino:
Return on Investment (ROI): 69% or $450,000 for a period of 5 years Length of project: 7 Years
Risk of completion on time:
Medium
Overall benefit: New product, use of existing technology, custom part, constant demand Stargazer:
Return on Investment (ROI): 278% or $1,600,000 for a period of 3 years Length of project:
7 Years
Risk of completion on time:
High
Overall benefit: Research & Development of a new product, market leader, project in-progress
Five Phases of a Project:
A project can have any number of phases depending on how you break it down. A project for land reclamation in dump site would probably have three phases such as:
1. Facility Decommissioning Phase
2. Waste removal phase
3. Landscaping Phase.
While a project involving the building of a new factory may contain four phases such as:
1. Environmental Impact Assessment Phase
2. Design Phase
3. Construction Phase
4. Commissioning Phase.
It is therefore assumed that what is been referred to here as five phases of a project is what is known in project management as process groups. The following phases / process groups will be used to complete the project:
1. Project conception and initiation
The conception of the project is that the project is a new line widget product including enhancements through the use of existing technology. The initiation of this project will be upon the approval of the project by the CEO.
2. Project definition and planning
Stage two of the project is making a project plan. The project plan will be completed by the project team with the consultation of the technicians and experts. The project plan will be in writing and will be well defined.
3. Project launch or execution
The project plans and task will be discussed amongst all team members and the task will be divided among the project team.
4. Project performance and control
The project manager will be the leader of the project. His or her task will be to monitor performance and control. All project team members are responsible in evaluating each other and helping the team to perform better together.
5. Project close
The project will be closed only upon completion of the project, evaluation of the project, and client approval of the project. Key deliverables associated with the selected project:
If after the Estimated Budget at Completion of $575,000 is spent and the product is developed as specified in the project plan, then the project would have met the substantial product deliverable. Secondly, if the Piper Industries Corporation is able to deliver the product within 12 months, the company would have met the project schedule deliverable.