Psychoanalytical Reading at Roald Dahl Short Stories
Remember! This is just a sample.
You can get your custom paper by one of our expert writers.
Get custom essay
87 writers online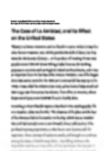 Psychoanalytical Reading
Psychoanalysis is a theory that was found by psychologist and neurologist in the 19th century who came from Austria, Siegmund Freud. As a psychologist, in dealing his patients, Sigmund Freud always give questions and analyze every problem that they face, so he then get a lot of bright spots which states that personal experiences that they experienced as a child, have an impact in influencing the personality of a person when they was growing up. Based on that statement is then also can be concluded that the events of the past or a person's life experience can affect their psychological condition, and consequently impact on the activities that will performed by the patient in the future.
The statement above is one of the applications of the theory of psychoanalysis to the psychology of someone who is discovered by Freud. This case was also found in one of the famous writer on the Victorian era, Roald Dahl. The story of a childhood that passed by him regarded as a trigger of ideas for Dahl in composing children stories that are very well known until this time, such as Matilda, George's Marvelous Medicine, The Witches, Charlie and The Chocolate Factory, and some of his work that is quite popular.
Roald Dahl was born in Llandaff, Wales, on September 13, 1916. He was born from a family to a Norwegian. He was the son of the second wife of his father, Harald Dahl, and is the only son in the family. In his works, Roald Dahl describes his parents as being strong or as parents is very great. In the book Boy: Tales of Childhood, in telling that his father figure was superb, although his father lost his left hand, he is very adept at writing diaries, sculpt, and gardening. Dahl's father died when he was 3 years old. Since his father's death, the figure of a mother became the savior of their families. In her memoirs, recounted that Dahl has a very close relationship to his mother. For Dahl, his mother is someone who has the strength, which is responsible and very caring towards his family and his children. For example, the character of Grandmother in the story of The Witches is a picture of Roald Dahl's mother. Dahl considers that the figure of the mother is very valuable for them and can provide a convenience.
The chosen short story that used by the writer in this essay is Boy: Tales of Childhood, which is one of the works of Roald Dahl that tells about the life of his childhood. This short story may be said to be the autobiography of Roald Dahl, but in the book Boy: Tales of Childhood, Dahl explains that this book is not an autobiography of him, but just a story about memories of his live gone through as a child, starting a story about his father, Harald Dahl, a tremendous diary-writer, the birth of a Roald Dahl, to the story of his school years until he left school at the age of 20.
In this critical essay, the writer will criticize Boy: Tales of Childhood (1984), a story that tells about the early life of Dahl. Theory analysis used by the writer is the theory of psychoanalysis proposed by Sigmund Freud and utilizes the issues of the psychology of Dahl and the effect of his authorship. Writing can absolutely reflect the author's psychological problem, or basically, his/her biggest desire or fear. It is explained in the quotation below that in a piece of writing, we can search for:
Evidence of unresolved emotions, psychological conflicts, guilts, ambivalences, and so forth within what may well be a disunified literary work. The author's own childhood traumas, family life, sexual conflicts, fixations, and such will be traceable within the behavior of the characters in the literary work. But psychological material will be expressed indirectly, disguised, or encoded (as in dreams) through principles such as "symbolism" (the repressed object represented in disguise), "condensation" (several thoughts or persons represented in a single image), and "displacement" (anxiety located onto another image by means of association). (Delahoyde 2011)
Therefore, Boy: Tales of Childhood can be a basic source to find an issue from his unconscious. Based on that case, the writer raised issues about the state of psychology and experiences faced by Dahl when he was still sitting in school at the age of 7-18 years and the impact to the his authorship of children's literature. The specific issue is about bully since the book tells about it and later, I find that issue occurs in some other books by Dahl.
During his childhood, Dahl was including as a resilient and strong kid, because in every level of education that he went through, from elementary, junior high, and high school, Dahl had always found himself bullied by people who are more mature than Dahl, such as seniors or boazers, matron, the hallway guard, and headmaster.
Began when he attended Llandaff Cathedral School, where he was once punished by the headmaster, Dahl had to get strokes with a cane on his ass for what he did because Dahl is known to have tricked a woman selling sweets and candy in the they town, because the seller, Mrs. Pratchett, never show politeness and unfriendly to kids and costumers. Then, while attending St. Peter School when he was 9 years old, he also received harsh treatment from the guards/matron, masters, and the headmaster. One act of bullying that he got was when the school Latin teacher, Captain Hardcastle, Dahl accused of cheating while working on a writing assignment, but by Dahl was borrow his pen to a friend who broke his side. Because of allegations that, Dahl back should feel to get stroke with a cane on his ass AGAIN! The last, when he entered a public school in Derbyshire, Paxton, Dahl also harassment, insult and mockery, from the masters. The same ritual is contained in the boazers schools and principals also punish students with strokes with a cane, but fortunately the same experience gained by Dahl had previously made ​​him cautious in every action that he did.
It could be said in this case, past events or experiences that ever passed by Dahl when his school years were filled with unpleasant actions of the school officials, it could be a strong reason for the figure of a Dahl to write the story works containing about rudeness, or which is now better known as Bullying by adults or people who have a higher authority on children.
In the two works which Dahl wrote, Matilda (1992) and George's Marvelous Medicine (1981), we can see that the theme of both of these stories is bullying, where the two characters in the works, Matilda and George had felt the bullying from people who are more mature than them both. Matilda always received harsh treatment from both the parents and her headmaster, and George have always had nagging and scolding of the grandmother who is not like him.
In both of story above, Dahl used his childhood experiences in school to raise an issue, bullying and anti-bullying. It was concluded that Dahl wants to tell and invite readers, especially young readers, to be able to resist the actions of bullies from the other people.
In conclusion, the writier end up using psychoanalytic theory of evidence that Roald Dahl uses his life experiences, especially when he was a child to adolescence as a matter of helping him find his ideas in writing his works. Thus, the state of a person's psychology, personal experiences, is it good or bad experiences, can affect the activities to be gone through in the future, and sure enough, Dahl uses his school experience which can be considered extremely unpleasant and other matters as the originator the presence of the works he wrote.
REFERENCES
Dahl, Roald (1984). Boy: Tales of Childhood. Penguin Book Ltd: London
Minderop, Albertine (2010). Psikologi Sastra: Karya Sastra, Metode, Teori, dan Contoh Kasus. Yayasan Pustaka Obor Indonesia: Jakarta
Abrams, M.H (1999). A Glossary of Literary Term: Seventh Edition. Hcnle & Heinle: United State of America