Public bank management
Remember! This is just a sample.
You can get your custom paper by one of our expert writers.
Get custom essay
76 writers online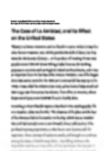 1.Introductions
The model of the Five Competitive Forces was developed by Michael E. Porter that becomes an important tool for analysing an organizations industry structure instrategic processes. This model is applicable to the banking industry. Public Bank do compete with the other financial institution in Malaysia, however they also must cooperate with one another in many respects. There is an underlying problem which is the banks in Malaysia are so similar that there is essentially nothing one of them can do that the others cannot easily duplicate
2. Five Forces Analysis
a. Threats of new entrants
Malaysia has not put a barrier to entry for any financial institution manly banks in Malaysia, thus making it easy for any financial institution to penetrate into the industry.
b. Bargaining power of suppliers a bank has three suppliers of its product, money:
1. Its depositors has no bargaining power whatever in reality. If they make time deposits the bank will set the price or interest rate it will pay. 2. The credit market the credit market as a source of supply of the raw material, money, is open to all at all time if they are qualified participants. The source of supply can be argued to be infinite. 3. The central bank The Central bank is effectively the resource of last resort. Apparently, at least for the moment, it will continue to supply liquidity to the banking system in virtually unlimited quantities at very reasonable cost.
c. Bargaining power of buyers
In the banking industry, customer have has very limited bargaining power. However the customers may option in changing to other banks that they think is offering a better offer than Public Bank.
c. Threat of substitute product
For the most part there is no real threat of substitute products in the banking industry. However there probably will be continues evolution of products from paper to electronic in coming years. This is an area of potential competition for whomever banks that choose to use it in their services.
d. Rivalry among competitors
Generally all banks offer somewhat the same products and services to their customers, thus there is not much differentiation between Public Banks and the other competitors. This is making the competition much higher. Public Bank is actually ranked as the top banks earners in Malaysia in 2009 alongside with Maybank, Bumiputra Commerce, RHB Capital and Hong Leong Bank.
3. Table 1: Method used to identify opportunity and threat for Public Bank using external environment factors and industrial environment factors.(Factors under industry environment are derived from Porters Five Forces).
4. Opportunities
1. Economic growth Malaysia had definitely have been more economically stable and improving, thus financial institution such as Public Bank are needed to aid the overall development of the country. 2. Government policy Encouraging borrowings, loans, investment and consumption demand. 3. Awards and accolades Through recognition, Public Bank can project a positive image to their customers 4. Market share Public Bank has the highest market share for the private sector unit trust business, thus having a larger customer base.
5. Low switching cost Nowadays it is easy for any customer to switch to other banks with just a click away, making the switching cost to be faster and cheaper, making it easy for the customers to switch to Public Bank.
5. Threats
1. Substitute product/service are available
There is a potential competition to whomever banks that choose to upgrade their product and services to cater to their customers need. Maybank for example provide a customer friendly interface through their website www.maybank2u.com, and it became the most visited website in Malaysia. 2.Substitute performance
Maybank, Bumiputra Commerce, RHB Capital and Hong Leong Bank are Public Bank competitors and each is recognized for their performance. This will make the competition even higher.
3. Customer switching cost
Other than being an opportunity, switching cost can also be a threat for Public Bank as the customers can also easily switch to other financial institution.
4. Government legal& barriers
There are no barriers that the government put for any legal financial institution to enter in the industry, making any new entrants penetrate into the market share easily.
5. Exit barriers
High exit barriers in the industry are making the competition between Public Bank and the other competitors are even higher.
6. Conclusion
Porter Five Forces Model are used to identify how the forces affect the attractiveness and profitability of Public Bank, and through this forces, the factors that influence these forces are used in the table 1, to identify Public Bank opportunities and threats. By identifying Public Banks industry environment, the company can improve and sustain their product and services for their customer, ultimately improving their performance.