Public Speaking
Published:
23 February 2016
Remember! This is just a sample.
You can get your custom paper by one of our expert writers.
Get custom essay
87 writers online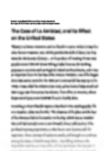 PUBLIC SPEAKING
INTRODUCTION
When we heard the word, 'public speaking', what came to mind is standing in front of a crowded room packed with people and talking to them. The image alone sometimes create an enormous effect on most people, causing nervousness, and maybe even fear. Before we jump to that, let's look at the definition of the word itself. According to Merriam Webster online dictionary, the words Public Speaking has a meaning of "the act or process of making speeches in public," or "the art of effective oral communication with an audience." Next, what is an audience? An audience is defined as "a group of listeners or spectators." From the definitions, we can draw a conclusion that in public speaking, there is an act of both speaking and listening. So what differentiates public speaking from a conversation? While both public speaking and conversation involves a direct and face-to-face encounter, usually public speaking is more of a 'one-way' talking. Although nowadays most speakers claim that they want an interactive session, but usually the audience is given a specific time to do so. Next, in terms of language, public speaking uses a formal language. Because they are speaking in front of a group of people, speakers need to adress their audience in a more formal way. Third, and most importantly, public speaking needs to be structured. They need to have a tight grasp on their topic and do their research thoroughly. The reason the topic 'Public Speaking' is chosen is because it is something that everyone needs to do at some point of their lives. It is also based on the In conclusion, public speaking can be defined as the act of making a speech in front of a group of listeners, and is different from conversation in terms of approach, language, and structure.
TYPES OF PUBLIC SPEAKING
Naomi Rockler-Gladen, a former professor at Colorado State University, wrote on the website suite101 that there are three types of public speaking; informative, persuasive, and ceremonial. These types also defines the purposes, or the reasons the speech is made. More details on the three types of public speaking will be explained below. The first type, informative. Informative has the meaning of giving information, to inform. An informative speech has a purpose to inform, or give knowlegde to its audience about something that they probably did not know of before. The end goal of an informative speech would be to equip the audience with a brand new knowledge that they can apply to a particular aspect of their lives. The important thing to watch about giving an informative speech is to not put in too much information. Imagine an empty bucket being filled with water. If being filled with too much water then the water will leak out for sure. The same thing applies to the audience. The 'leaking' must be avoided at all costs, so the information has to be kept simple, yet useful. The second type is persuasive speech. A speaker giving a persuasive speech needs to be able to persuade the audience to do, or believe in something. Usually, the speaker would try to change the mindset, perception, or behavior of the audience for their own good. Giving an informative speech is not an easy thing to do. The speaker needs to be really passionate about the cause they're giving, in order to convince and persuade the audience to follow suit. The second thing that can be done is to look for common ground with the audience, try to relate to what they might agree on. Third, try to aim for a smaller scope of issue for a start. As mentioned before, a speaker is given a time limit to deliver his or her speech, and it will not be easy to change one's mind in such a short time. Third, and last type is a ceremonial speech. There are so many ceremonies in our lives, starting from graduation, engagement, wedding, to funeral. Usually this kind of speech is given to congratulate, or in the case of a funeral, remembering the dearly departed. Thus, the given speech tends to be less formal and more personal than the other types of speeches. The important thing to watch about giving a ceremonial speech is to be appropriate. No matter how well you know the person you are giving speech about, try to not say bad things about them, even if it is meant to be a joke. The point here is to make them feel special, not to bring them down, especially in front of a large group of people. From the three types of speeches mentioned above, we can draw a conclusion that all kinds of speeches will have have to cause some kind of an effect for the audience. Informative speech needs to result in the audience understanding or knowing something they did not know before. Persuasive speech is aimed to change someone's perspective about something or to ask them to do something, and ceremonial speech should be more personal, and make someone feel special and included in a certain ceremony.
PREPARING
The key of perfecting anything is through practice, and public speaking is no exception. However, merely practicing will not be sufficient to have a successful public speaking. Aside from practicing, there are also several things that can be done to prepare oneself for the often-dreaded experience. The first thing is to know who the audience will be. Try to get as much information as possible regarding this particular area. Age, gender, cultural brackground, sexual orientation, and religious views are among the most crucial things that a speaker needs to know. These informations will be very helpful to the speakers to determine their style of speaking, the approach that they are going to use, and to avoid offending a particular group. There are three questions that needs to be kept in mind when working on the speech: To whom am I speaking? What do I want them to know, believe, or do as a result of my speech? What is the most effective way to composing and presenting my speech to accomplish that aim? (Lucas, 2004). The next thing that can be identified is the venue. Knowing the 'battlefield' in advance will give the speakers a huge advantage. They would be able to plan beforehand, for example, where they want to stand, and if they wish to walk around, what pattern would be best so the audience will not get too distracted, and how they are going to face the audience. Every speakers need to have a tight grasp on their topics. Therefore, they need to do a thorough research before they present their topic to their audience, especially if they are giving an informative speech. Speakers can acquire their materials from many different resources, whether it be the books from the library, the internet, or even their own knowledge and experiences. At the end of every session, usually the audience are given the time to ask questions regarding the topic, and the speaker needs to be able to answer them. There are two words that most speakers always have with them during their seminar or presentation; visual aids. They are usually in the form of a Power Point presentation, which can include texts, audios, and videos. The essence of having a visual aid, aside from making the presentation more interesing, is so that the audience can have a better understanding of the topic. Speakers can include the main points of each of their ideas instead of the whole sentence in their slides, to keep the audience from getting bored. Last, as mentioned above, practice is necessary. Sparing some time to practice will help build confidence, which is an important thing to have in delivering a speech or presentation in public. It will also help determine the length of the presentation, whether it is too long or too short from the given time. From the explanations above, it can be concluded that there are five things that needs to be prepared in public speaking, which are; knowing the audience, identifying the venue, doing a thorough research on the topic, having a visual aid, and practicing. These five elements of preparation could be the key to ensuring the success of public speaking.
PRESENTING
When all the preparation has been done, comes the real challege; presenting. There are a few aspects speakers need to pay attention to while giving their speech. Language is the main aspect a speaker needs to pay attention to while giving a speech. Whether their purpose is to inform or persuade, language is their tool, their weapon. Therefore, how the use the language is crucial to the success of their speech. Language needs to be used clearly. Words are not limited to a universal meaning, which means that not everyone interprets a word in the same meaning or understanding. A speaker needs to choose their words carefully and make it clear to the audience what they mean of it. Language also needs to be used appropriately. When giving a speech, audience looks up to the speaker to give them something new, something useful. Thus, the speaker needs to know how to deliver their speech to fulfill the audiences' expectation. Audience tends to prefer if their speaker can deliver their speech without any form of notes or texts. Speaking from the memory shows a great deal of confidence, and that will gain more respect from the audience. However, there is no harm from getting help from notes or flashcards. This can help the speaker remember and focus on their main points, and also keep their speech organized. Language and delivery alone will not be sufficient if the speaker does not have the right body language. Body language includes personal appearance, movement, gesture, and eye contact. The phrase "don't judge a book by its cover" is often heard but rarely practiced. First impression will always matter in the way one person looks at another, so a speaker needs to dress appropriately. The movement and gesture of a speaker also affects the audience, for example, if the speaker keeps pacing around the room, it willl distract the audience from the topic and confuses them. Sometimes, when a speaker is feeling nervous, he or she will tend to make move their hands around or play with their hair, etc. This should be avoided at all costs, as mentioned above, to avoid making the audience feels distracted. Eye contact needs to be maintained to hold the audience. Lucas explained in his book that when speaking in front of a small audience, you can look briefly from one person to another, but in a larger audience, it is better to just scan through the audience rather than look at each person directly. It has been mentioned above that it is best if the speaker could prepare visual aids beforehand. While presenting a visual aid, the speaker needs to be clear, but by doing so, they also need to still be connected to the audience, and not be too immersed in their own visual aids. The visual aid itself should be made as large and as intersting as possible. While closing the speech or presentation, speakers can restate their main points, just to remind the audience of the important things that has been said. They can also end it with a special message and encourage the audience to ask questions. Speaking in public is all about confidence. Wearing the right clothes, movements, gesture, maintaining eye contact, and having visual aids can enhance the speakers' confidence, and in return, will gain the respect and trust from the audience.
BBIBLIOGRAPHY
Lucas, Stephen. The Art of Public Speaking. 8th ed. Boston, MA: McGraw Hill, 2004. Print.
Osborn, Michael, and Suzanne Osborn. Public Speaking. Boston: Houghton Mifflin, 2006. Print.
Rockler-Gladen, Naomi. "Public Speaking Class Tips: Writing Great Speeches for Your Speech Course | Suite101.com." Naomi Rockler-Gladen | Suite101.com. 13 Jan. 2007. Web. 10 Oct. 2011. .