Enhancing quality in assessment
Published:
29 December 2015
Remember! This is just a sample.
You can get your custom paper by one of our expert writers.
Get custom essay
96 writers online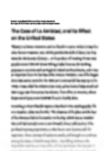 Quality assurance refers to refers to any systematic process aimed at ensuring that services and products being developed meet the specified requirements and standards (Sale, 1990). Thorough testing by the quality assurance on products and services is important so as to give developers a chance to fix glitches before new technology prior to the products or services being unleashed to the consumers (Hernon & Altman, 1998). Appropriate quality assurance can also support firms in attaining a competitive edge in the trading ecosystem which is extremely complex. It can also help in improving customer acquisition and retention rates through helping in distributing cutting edge services to consumers more dependably and faster. Assessment refers to any process which appraises skills, understanding, knowledge and knowledge of an individual. The vital elements of assessment which requires being quality assured include the assessors, the assessment process, the assessment system, collecting the evidence and making the judgment (Oakland, 1989).
Assessment principles propose that assessments should be reliable, fair, flexible and valid. Assessors carrying out the assessment should make sure that assessment decisions engage the evaluation of adequate evidence which will enable a judgment to be made regarding competence of an individual. Assessors judge the individuals against benchmarks or competency standards which are developed by the industry with an aim of assessing whether such individuals are competent. Individual needs of the customers should also be assessed in order to find out whether the products and services provided to them satisfy those needs. This assessment will help in understanding and improving those individual needs (Oakland, 1989). When individual needs are met this will increase the customer's satisfaction, customer loyalty and also the company will be having a competitive edge over its competitors (Fox, 1993).
In order for a company to be successful it should be able to meet the customer expectations. Customer expectations should be made public in organization where appropriate criteria should be introduced and also high standards should be set with an aim of meeting the individual needs of the customers. Also during the assessment there should be a systematical way of analyzing, gathering and interpreting evidence in order to find out how well the performance of the company matches the standards and expectations of the consumers (Harlen, 1994). The information gathered will be used in explaining, documenting and enhancing performance. This will help in creating an organization culture which focuses more on satisfying the individual needs of the consumers which will eventually increases the performance of the company (Garcia, 2009).
Assessment is frequently subdivided into two categories namely formative assessment and summative assessment. Formative assessment possess a developmental purpose which is aimed at helping individuals in a company to work more effectively through giving them feedback in connection with their performance and also ways of maintaining or enhancing their performance. This will help the company in ensuring that the customers' needs and expectations are achieved. On the other hand, summative assessment is used to show the extent of the individual's success in attaining the assessment criteria used in appraising the intended performance outcomes of the company. Different customers have different needs and requirements and therefore companies should assess those needs in order to satisfy all their individual needs (Gitlow, 2005).
Quality assurance process prevents hitches from occurring, detect and correct hitches that do happen, and promote higher standards of care. Assessment activity should be within a quality management system concerned with constant improvement. Two main factors which drives the demand for ensuring the quality of assessment include philosophy of quality management and the desire to follow the set requirements. Assuring assessment quality will leads to many benefits to the organization. Improving the consistency and quality of assessment will assist the assessors to have more confidence on their judgments, individuals to deem that they have been treated in a just way, and community, employers and other groups to value assessment judgment issued. A great concern on quality in assessment easily forms part of the overall approach of the organization and management of quality processes (Quality management and quality assurance standards, 1994).
Quality assurance is very concerned on a systematic approach to enhancement that is aimed at responding and recognizing to the expectation and needs of all the groups of stakeholders in organizations. Stakeholders expect quality assessment and training carried out in an environment which is systematic that also assures its services and processes. Quality assurance processes the support staff which supports them in providing effective and efficient service that is focused appropriately on the needs of customers and clients. Quality assurance involves constant improvement (Vitale & Vengroski, 1993). The cyclical approach of 'plan, do, assess, and act' encourages the need to execute processes, assess their efficiency and act to continue with further improvement (Fox, 1993).
Organizational needs should also be assessed where all departments should be assessed and also the employees. Employees should also be allowed to have self-assessment and peer reviewed assessments so as to determine their performance and help in knowing areas to improve in order to enhance their performance (Gitlow, 2005). All the groups and stakeholders which contributes to the performance of the company should be assessed and analyze them in order to come up with effective ways of enhancing the performance of the company. This will also help in increasing customer's satisfaction since all their needs will be assessed and therefore working towards fulfilling those needs. Assessing individual, groups and organizations needs therefore it very significant towards improving the performance of the company.
References
Ciccone, K. R., & Lord, J. T. (1992). IQA-2: continuous performance improvement through integrated quality assessment. Chicago: American Hospital Pub..
Fox, M. J. (1993). Quality assurance management. London: Chapman & Hall.
Garcia, D. (2009). Quality management. Chandni Chowk, Delhi [India: Global Media.
Gitlow, H. S. (2005). Quality management (3rd ed.). Boston: McGraw-Hill/Irwin.
Harlen, W. (1994). Enhancing quality in assessment. London: P. Chapman Pub..
Hernon, P., & Altman, E. (1998). Assessing service quality: satisfying the expectations of library customers. Chicago: American Library Association.
Oakland, J. S. (1989). Total quality management. Oxford: Heinemann Professional Pub. ;.
Quality management and quality assurance standards. (1994). Sydney: Standards Australia ;.
Sale, D. N. (1990). Quality assurance. London: Macmillan.
Vitale, B. A., & Vengroski, S. M. (1993). Quality assessment and improvement in long-term care: a continuous process. Philadelphia: F.A. Davis.