Reading response on education and communication
Published:
7 December 2015
Remember! This is just a sample.
You can get your custom paper by one of our expert writers.
Get custom essay
86 writers online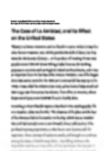 In education settings, communication is an important role in affecting the fates of students, especially in a multi-ethnic and multi-cultural setting. Analyzing and improving these communications in schools that comprise of an ethnically diverse student body as well as improving the communications is in the best interest of shaping the academic future and sealing the academic fate for these students. This is because these communications, as in negative perceptions and stereotypes, may negatively affect the performance. Therefore, designing a communication system that supports equity as well as enhancing the full human talent development of all students and all groups of students, is important.
Discussion
             In matters of diversity and equity, communication is face real-time dilemmas. These issues are such as direct quotes made by people, which in essence are mere stereotypes. In most cases, people make direct assumptions and claims about a certain culture and its orientation on education (Pollock, 37). Some people will claim that Asian parents take education seriously, and cheer on their children, and that is the reason Asian students are likely to perform excellently. In the same cultural stereotype, it is argued that black and Latino parents are not so concerned with matters of education, hence their children do not do well in school.
           Getting to analyze these claims is an important factor to changing communications into positive communication that supports equity. The key strategy is analyzing the nouns, which are the subjects of the stereotypes and overstatements. An understanding of the groups under criticism is important (Darder, 250). This is through asking the critics to analyze the subjects. This encourages attacking the script and not the speakers. Since these claims often misstate average patterns, it is important, to for example look at the struggling lives of Asian in America as a factor before judging their perception on education.
Conclusion
               Most importantly, a critical analysis on the cultures is key to understanding their behaviors, and this will assist even teachers and student equally in adopting communications modes that promote unity, as well as enhance an equal opportunity for the nurturing and development of human talent.
References
Darder, Antonia. Culture and Difference: Critical Perspectives on the Bicultural Experience in the United States. Westport, Conn: Bergin & Garvey, 1995. Print.
Pollock, Mica. Everyday Antiracism: Getting Real About Race in School. New York: New Press, 2008. Internet resource.