Realism and Romanticism: Similarities and Differences
Remember! This is just a sample.
You can get your custom paper by one of our expert writers.
Get custom essay
80 writers online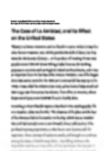 Romanticism and Realism, the two major threads in art and literature in the nineteenth century, both clearly had their roots in the burgeoning industrialism of the world around them. While both strove to show real people and question who was in power, Romanticism did this through the individual and exotic or even supernatural situations, while Realism focused on the average person and very real and harsh settings. Romanticism can be seen in Faust by Johann Wolfgang von Goethe as it tells the story of an individual and his relations with the supernatural, whereas Realism is shown by A Doll's House by Henrik Ibsen, a play about the average household and the reality of marriage. However, while they have their differences, both these deal with defiance of and the disillusionment with authority.
Two of the most important aspects of Romantic literature can be found in Goethe's Faust, as it is about Heinrich Faust, one singular person, and how he and his life are influenced by the supernatural. In Faust, the title character is visited by Mephistopheles and has his life dramatically changed as a consequence of a heavenly wager on his life between Mephisto and God. God describes Faust as confused, but nonetheless one of his followers, when the Devil wagers him that, "You shall lose him yet / Provided you give me permission / To steer him gently the course I set" (pg 849). Because of this, Faust enters into a deal with Mephistopheles wherein he is promised anything, as long as he does the same for Mephisto in hell after he dies. From this he gains several things, including youth and his lover Gretchen.