Rebranding of Online Marketing Platforms
Published:
1 September 2015
Remember! This is just a sample.
You can get your custom paper by one of our expert writers.
Get custom essay
81 writers online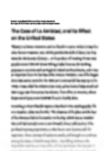 Just a week ago, Rachel Abrams penned an exquisite piece in The New York Times titled, "Best Buy Profit Nearly Doubles in Quarter, With Online Sales up 22%." The title of the article suggests every company's sales dream envisions through a rigorous online marketing strategy but what is not known is that over the past decade Best Buy has experienced one of the most turbulent sessions in business history. Basing on this history, Rachel Abrams takes us through the steadily recuperating brand marketing strategy of a company that was on the brink of closure three years back. This paper therefore seeks to analyze Abrams article using the Porter five forces analysis to reflect on the benefits of analyzing markets before investing in a particular marketing strategy.
Porter five forces analysis is a framework focusing on market competition analysis of specific industries and helps in the development of probable business strategies. Basing its tents on industrial organizations economics, it utilizes five major forces that are used to determine the competitive intensity of a market thereby determining the attractiveness of a market. The five forces of the porter framework are; threat of new entrants, threat of substitute products or services, bargaining power of customers, bargaining power of suppliers and the intensity of competitive rivalry- alternatively referred to macroenvironmental factors of the business. In this context the article contains various aspects of these factors and will be discussed in detail in the underlying chapters CITATION Aro14 l 1033 (Arons, Driest, & Weed, 2014). From the offset, Abrams introduces her article as a marketing piece with the introductory sentence which suggests Best Buys move to boost the visibility of their products through lowering their product costs and adopting a web strategy to boost online sales and marketing.
Considering that Best Buy's cost-cutting and web strategy was rolled out over two years back after they registered losses for not joining the online marketing bandwagon where competitors aggressively adopted online avenues to push their products; it is safe to say that their move will be beneficial to their sales in long run. Proof is in the Stifel Nicolaus survey which suggests that they have registered a 7% increase in their sales registering 15% sales increase in the financial year 2012/2013 and 22% sales boost in the just completed 2013/2014 financial year. This was only actualized after the company made several adjustments to its marketing strategies to strike their own competitive edge over their fellow competitors. Their major competitors are online retail giants like eBay and Amazon that over the past decade threatened to wipe out Best Buy from the market but since making adjustments in their marketing strategy, the company has witnessed top line growth considered as eroding to match up and even go to the extent of toppling their competition. Best Buy had to change from its rather abrasive told school brick-and-mortar sales strategy where customers had to go to stores to make purchases as opposed to a hands-on experience where customers can use gadgets can make online purchases and the company organizes delivery services for them.
Threats of New Entrants
Considering that the retail business rakes millions of dollars in revenue annually, upcoming companies have come to have a share of the big pie but still eBay and Amazon still top the online retailing businesses. However, several factors have impacted on the entry levels that will inhibit new players from making a go into a newly identified market. Take the instance of brands like Gap, banana republic and Old Navy stores who have registered drops in their sales considering the move by to adopt technology where stores are no longer viable and now what is being embraced in the markets is the new savvy online shopping.
Best Buy's Ship from Store Approach (Substitute Product Service)
For their delivery purposes, Best Buy has an incentive where there customers upon purchase of a product are awarded a gift which is delivered to them considering that the country is currently experiencing bad weather conditions. Similar to other major retailers in the industry, Best Buy is moving from stocking their products stores and are now are shipping their products to consumers directly. Their market analysis suggests that 2% to 4% of traffic online is not responsible of purchases simply because there exists no inventory in its respective distribution facilities, however, most of the time the stock is usually available at their retail centers. This has been actualized through an expansion that saw over 1400 stores being opened up from the previous 400 stores in the past year CITATION Abr14 l 1033 (Abrams, 2014). This approach as simply being adopted to reduce foot traffic in stores; the company simply adopted a ship-to-store approach which was only piloted in 50 stores to see its impact on sales before actualizing it in the other stores across the country. This enabled all the distribution centers to handle online inventory as opposed to the previous approach where only one store was responsible for delivery of e-commerce purchases. In essence, the new shipping approach has ensured delivery of purchased products to be done two times faster than was the case in the past. It is important to note that the ship-to-store approach is responsible for achieving the sales registered in the current year considering it has ensured high clearance margins while at the same time ensures that the company reduces its out-of-stock messages thus improving online conversation with customers.
Rebranding of Online Marketing Platforms
The increased sale of Best Buy are credited to the fact that their e-commerce platform has been improved in the past year to engage the customers more in shopping for their perfect products by making their searches on the website simple. The improvements on the website have been actualized through introduction of new search elements, offering product prices and recommendations, optimized search engine tools and improved search elements. The involvement of these new tools helps customers easily identify products for purchase. To further make the whole process interactive and better than what their competitors are offering, Best Buy included a home-based design of their website where consumers could create a robust streamlined wish list with well enhanced navigation capabilities. Hubert Joly, Best Buy Chief executive therefore suggests that in the future, the company will be keen on transforming their print and television market spending to the new trend of online marketing channels CITATION Dun12 l 1033 (Dunn, 2012).
Above all, it is important to note that the most important aspect of a marketing initiative is the consumers who a company is trying to sell their brand to. ShopperTrack a surveying company suggests that over holidays like Christmas and Thanksgiving, there is an increased need for online shopping as people are seeking gifts for their families. Considering this, the survey suggest that foot traffic into malls and large retailing centers only receive 50% of this traffic and the rest goes to online shopping avenues. Consequently, following this trend, it is forecasted that during this year online sales will double brick-and-mortar sales in the current holiday season. Banking on this, Hubert Joly says that gifting customers who purchase their products online is an incentive aimed at increasing traffic online and they seek to reach out customers outside the United States specifically the China market through shipping of their products across the continent. Keen to go over their past holiday one billion holiday sales of last year, Best Buy is seeking to go above this sales record during this Christmas and Thanksgiving season.
From their previous experiences dealing with online customers, they learned six important aspects to consider while dealing with online multichannel customers. Firstly, in developing strategies, customer's ever changing needs and behaviors have to be taken into consideration CITATION Tre07 l 1033 (Trefis, 2007). Secondly, customers need to be provided with the capability to research products before making an order while at the same time interact with the retailer; many customers want to interact before simply signing off a transaction. Best Buy should be able to give customers an entry point where they can easily access the website irrespective of their location; one way of doing this is making the application accessible on mobile devices like laptops, phones or tablets. It is also important for Best Buy to reinforce marketing across all media channels by reaching out to all audiences through product campaigns in different languages. Lastly, the company should not only focus on growing a specific marketing channel but rather seek to fulfill customer needs on a multichannel perspective.
References
BIBLIOGRAPHY Abrams, R. (2014, November 20). Best Buy Profit Nearly Doubles in Quarter, With Online Sales Up 22%. Retrieved November 26, 2014, from The New York Times : http://www.nytimes.com/2014/11/21/business/best-buy-big-retailers-announce-q3-earnings.html?_r=0
Arons, S. M., Driest, v. D., & Weed, K. (2014). The Ultimate Marketing Machine. Harvard Business Review , 78-99.
Dunn, J. B. (2012). How I Did It: Best Buy's CEO on Learning to Love Social Media. Harvard Business Review , 12-28.
Trefis, W. (2007). Macroenvironment factors and Online Business . New York: Barnes & Noble