Report on Adidas PEST and SWOT
Published:
27 February 2016
Remember! This is just a sample.
You can get your custom paper by one of our expert writers.
Get custom essay
83 writers online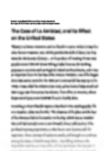 In this report I have tried to sketch a complete organizational picture of the adidas company. This include of current position of the company and its market share though out the world. To explain it the company's SOWT and PEST analysis is briefly elaborated. A contrast of the Adidas with its competitors is added and the internal structure of the company is tried to shown in graphical snaps. The future strategies of the company are also listed that what kind of strategies formulated for adidas by their top managers. 2. Addias:
Adidas is a sportswear manufacturing company that was started by Adolf Dassler. Adidas group has several brands including Adidas, Reebok, Taylor Made-Adidas and the Rockport. The company has spread its wing to incorporate other productions including handbags, shirts, spectacles, watches, balls, and sportswear. It is the largest company that sells footwear in the European market and has gained a significant market share at the global platform. Adidas has had a remarkable sale and has risen to the competition at the global scale with other international footwear companies. McDonald & Milne, (1999) state it in their journal.
2.1 Mission and vision of adidas:
As the company is leading the global business of manufacturing and distribution of sports wear and accessories primarily to improve the sportsmen lifestyle. Adidas Group focuses on the objectives and puts total commitment towards strengthening the brand names. That's why the mission and vision statement of the company is defined according to global context. Lussier & Kimball (2009) have both shown it in their work.
2.1.1 The Mission statement:
"Our mission is to become the best sports brand in the world. To that end, we will never equate quantity with quality. Our founder Adi Dassler was passionate about sports. For Adidas, the athlete came first. He gave those on the field, the court and the track the unexpected and the little differences that made them more comfortable and improved performance. This is our legacy. This is what the brand stands for. This will never change."
2.1.2 The Vision Statement:
"To make adidas, products as high as sky and as wise as an owl" 2.2 The Functional over view of the company:
The company operates in different segments under the executive brand name across the globe. These segments include retail and wholesale. The wholesale segment plays the leading role in the distribution of products from both Adidas and Reebok centers to all retail stores across the globe. On the other hand, the retailers are solely responsible of meeting with the demand of customers at the retail shops across the global market. Plunkett, ( 2008) explain it in his research. The Current Brand Division of Adidas Group:
2.3 The Strategy of Adidias Group:
The adidas Group strives to be the global leader in the sportswear industry with brands built upon a passion for sports and a sporting lifestyle. We know that a profound understanding of the consumer and customer is essential to achieving this goal. To anticipate and respond to their needs, they continuously strive to create a culture of innovation, challenging there selves to break with convention and embrace change. By harnessing this culture, they push the boundaries of products, services and processes to strengthen their competitiveness and maximize the Group's operational and financial performance. This, in turn, will drive long-term value creation for their shareholders. 3. The SWOT Analysis:
Following is the brief SWOT analysis of the company in global context. 3.1 Strengths:
Adidas is the world's second largest maker of athletic footwear, apparel and equipment by Sales with revenues of $15,333.30 million Adidas group's leading market position is built on its portfolio of strong brands, which enhances adidas market position and boosts its top line. Adidas' portion of own retail has grown substantially giving adidas more brand control. Adidas operates over 2,200 stores for the adidas and Reebok brands worldwide. Adidas own‐retail business includes:
– e‐commerce,
– Mono branded stores run by retail partners,
– Shop in shops established with key accounts,
– Joint ventures with retail partners,
– Co branded stores with sports organizations or other brands. 3.2 Weaknesses:
China negatively impacted by clearance of high excess inventories following the Beijing 2008 Olympic Games which subdued consumer demand in 2009. Adidas outsources 95% of production to independent third‐party suppliers in Asia, including 32% from China. Merchandise procured from foreign manufacturers is a weakness because it gives adidas less control over the product quality. • Concerns over unsafe Chinese consumer products
• The Consumer Product Safety Commission (CPSC) has issued alerts and announced voluntary recalls by US companies on numerous products made in China. Vendor and manufacturer failures to achieve and maintain high manufacturing standards could result in manufacturing errors resulting in: • Product recalls or withdrawals,
• Delays or interruptions of production,
• Cost overruns
3.3 Opportunities:
Adidas has sponsorship agreements for major sports events across the globe • Japan Football Association until March 2015
• Australian Olympic Committee until 2016
• Secured sponsorship rights to the 2014 FIFA World Cup
Extended its partnership with:
• UEFA for the UEFA EURO 2012
• UEFA EURO 2016 football championships
• UEFA Champions League
Signed an 11‐year global merchandising partnership agreement with the NBA • Makes adidas the official uniform and apparel provider for the NBA, WNBA and the NBA Development League Official Sportswear Partner to 2012 Olympics in London. Sponsorship of major sports events helps the company strengthen its profitability and enhance its brand recall among consumers. 3.4 Threats:
Widespread counterfeits deprive revenues for the company and can dilute the
adidas brand image. The market for sports apparel and footwear has declined in 2009. • Athletic footwear declined 3.2% in 2008 & 1.4% in 2009
• Decline due to 3% decline in men's footwear segment
• Active apparel declined by 4%
• Sports use apparel decreased by 5.5% in 2009.
Lussier, R. N , & Kimball, D. C. (2009) explain it in their analysis report .
4. The PEST analysis:
The external impact of adidas to worldwide is explained here. 4.1 Political:
Adidas generates policies and monitor hazardous substance to protect human health and environment and also it protects the rights of its employees by following labor laws on country specific way. Adidas a multinational company need to consider the global political state as well as domestic political issues. It is important to monitor the government's laws which affect the business of adidas. Since the political arena has a huge influence upon the regulation of public and private sector businesses, and the spending power of consumers and other businesses it has come necessary for adidas react dynamically and efficiency for these issues. The government enters in to any trade agreements adidas needs to keep it on track since it may affect the business. Government taxation policy plays a major role in company's profit that's why the efficient management of the adidas is always emphasizing on it. 4.2 Economical:
Adidas as a multinational company maintain its strong economical growth year by year. In 2008, the adidas Group again delivered a strong financial performance. The product sales and the profitability gowned up in line with management's initial expectations. Currency-neutral sales increased by 9%. And the double digits sales increase in adidas segment had the biggest impact on this development. Adidas managed to reduce its production cost with improving the product quality by locating the factory plants in Asia. 4.3 Social:
There are no barriers for Adidas products like raise, age, religion, and lifestyle, it is always in fashion with special design in any product. Adidas focus in people who like sports and athletes, almost everybody beyond
the boundaries. 4.4 Technological:
Adidas introduces modern approaches to doing new and old things, Adidas join into technology by make up the world's first "smart shoe", adding a microchip inside the shoe and wireless mp3 player. Adidas uses hot melt system of production which is environment friendly. 5. Conclusion:
The sportswear industry has developed into being more than just selling sportswear- and equipment. Due to heavy competition, organisations need to differentiate themselves and focus on both product attributes and brand values when creating brand strategies. Therefore, we can finally conclude that adidas brand themselves through personality traits and value propositions. However, the self-expressive, emotional, and functional benefits of the brands are somewhat diverse as they brand themselves through different personalities and therefore have different brand strategies. 6. References:
McDonald, M. A., & Milne, G. R. (1999). Cases in sport marketing. London: Jones & Bartlett Learning. Lussier, R. N., & Kimball, D. C. (2009). Applied sport management skills. London: Human Kinetics. (Plunkett Research Ltd & Plunkett,2008). group.com/en/pressroom/assets/Resource_Center/adidas_Group/pdfs/Factsheet_Herzogenaurach_en.pdf Lussier, R. N., & Kimball, D. C. (2009). Applied sport management skills. London: Human Kinetics.