Research
Published:
24 February 2016
Remember! This is just a sample.
You can get your custom paper by one of our expert writers.
Get custom essay
91 writers online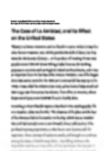 Throughout this assignment I intend to demonstrate an understanding and knowledge of research methodology. I will examine how research is used to support practice and policy. I will address research terminology and the roles and responsibilities of the researcher. Our group research project will be critically analysed. Kumar (2001) implies research is more than a set of skills. Research is a way of thinking and examining the various aspects of your day-to-day professional work, understanding and formulating guiding principles that govern a particular procedure. Research helps us to understand why things behave the way they do and why people act in a certain way. If carried out effectively, research can be imperative as it brings about change in policy and practice Burns (1972). The two predominant methods of research are Quantitative and Qualitative research (Kumar,2001). These methods differ primarily in their analytical objective, the type of questions they pose and the different methods of data collection. The following definition, taken from Aliaga and Gunderson (2000,pg1), describes what we mean by quantitative research methods: Quantitative research is 'Explaining phenomena by collecting numerical data that are analysed using mathematically based methods in particular statistics.' (Muijs,2011) Quantitative research is also described as traditional or empirical research, meaning that it is based upon observation, experimentation and measurement (Lambert). Qualitative research is usually a more detailed form of research and cannot usually be expressed in terms of numbers. It often takes in to account people's values, attitudes and opinions. The three most common qualitative research methods, are participant observation, in-depth interviews, and focus groups. Each method is particularly suited for obtaining a specific type of data. Lambert (2010, pg 256) infers that both qualitative and quantitative approaches can be combined in a single study to improve depth and breadth.
For the purpose of our small scale research project we used a research question as opposed to a hypothesis. A hypothesis is a statement of assumption which will be tested in the research (Muijs,2011). A research question is an initial statement to set the scene for exploratory research within an interpretivist framework. A questionnaire was used to gather data for our research project. Newby (2010) states questionnaires are amongst the most popular. The advantage of using a questionnaire in date collection is they are practical. A large amount of information can be collected from a group of people in a short period of time. The data can be expressed statistically. It is thus possible to make comparisons with other studies. The results of a questionnaire can be easily evaluated, analysed and quantified by the researcher (Barlette & Burton, 2012). The disadvantages for this type of research is people may not be honest when filling out the questionnaire this could lead to the data provided being false and therefore invalid (ibid).
The interview is the most prominent data collection tool in qualitative research(Muijs,2011).When data has been quantified, it can be used to compare and contrast other research and may be used to measure change. Positivists believe that quantitative data can be used to create new theories and / or test existing hypotheses (ibid).
Researchers are required to consider ethics in every aspect of their conduct. The Belmont Report states the three fundamental ethical principles for using any human subjects for research are Respect for Persons, Beneficence and Justice (U.S Department of Health & Human Services,1979.) The first of these principles meant that the researcher should treat the participant as an independent person who should be kept fully informed at all times. The researcher should also ensure that persons with reduced independence such as a child should be protected at all times. Beneficence is included to ensure the benefits of being included in the research should outweigh any negative impact to the participant. Justice implies that selection of the participants must be fair and those who are asked to participate should also benefit (Macfarlane & Bruce, 2009). Personal values and also professional values that researchers should use when carrying out a study, will be analysed. A code of ethics is a framework to help and advise us but ultimately it remains the responsibility of the individual (Early Childhood Australia,2010). Research ethics are a set of principles on how researchers should conduct themselves when dealing with research participants. Denscombe (2007) states we must respect the rights and dignity of the participants, avoid harm to research participants and carry out the research with honesty and integrity. According to Stonehouse (1991) a code of ethics is 'a statement about practice, or what we will strive to do. It is based on core values, or what we believe'. There are a number of reasons it is important to conduct research in line with ethical standards; it is a sign of respect for participants, other researchers and those who will use the research. A code of ethics is not enforced but it is something that we should adhere to.
The Impact of Distance Learning on a Student's Work and Home Life
Introduction
In order to better understand what affect distance learning has on the work and home life of a student, students from the Education Department at Anglia Ruskin University in the second year of their Foundation Degree in Early Years collated data from a research module seeking to answer the following question: Does combining distance learning and working have a negative impact on a student's work and home life? The chosen method of data collection was via a questionnaire with the answers offering an explanation and understanding as to why students look to improve their early years education skills by going back to study and what challenges they faced.
Method
The research was a 10 minute questionnaire, asking a mixture of both closed and open questions. A combination of closed and open questions were used so allowing students to answer in a more efficient and accurate manner. Opinions from each of the surveyed students were as important as were the answers to the multiple choice questions. The questions asked related to a work and life balance, and sought to understand how students deal with the work and study balance.
Sample
The results are a snap shot outlining the sort of pressure s placed on students in terms of time, commitments and everyday lives. The results covered how many hours a week were worked, where was the work undertaken, where did the students live and the time pressures on completing course work. It outlines the key challenges facing mature students who are looking to further their early years education and teaching careers.
Ethics
To ensure that all University protacals were observed, an introduction was provided outlining the aim of the research and confirming what research the surveyed students were being asked to contribute. Confidentially was important so was the opportunity if needed to withdraw from the research at any time.
Results
The results of the survey outline the time constraints and challenges faced by the students as they look to progress their education and their career
Figure 1 – Gender of students.
The above results showed that 100% of the surveyed students were female. Though we are unable to draw any direct conclusions from this, perhaps females are more likely to return to early years education than their male counter parts. All were involved with early years education and so found the early years course additional help to their working lives.
Figure 2 – Age of Students
The above outlines the age of the students. 75% of those surveyed were in the age range of 25 – 34. Though we cannot draw any direct conclusions from this, it would suggest that the 25 – 34 age range has the propensity to undertake further education whist working and looking after their children. The younger age groups perhaps are more interested in their social lives where the 44+ are perhaps to well established to go back to further education.
Figure 3 – Hours worked per week
The above outlines the number of hours worked per week. This shows that the early years students are having to work quite long weeks whilst undertaking and finishing course work.
Figure 4 –Who do you live with?
The above research shows that out of the surveyed students none currently reside at home with their parents. As 75% of them are from the 25 to 34 age demographic, they have all moved out from the parental home and are either residing with their partner, or with friends.
Figure 5 – How many children do you have?
The above shows that the students have a real cross section of the number of children they currently have. The older students are more likely to have had children, so making their daily working lives even harder to undertake the required course work.
Reasons for embarking on this foundation course
The students were asked why they were embarking on the foundation course, all respondents cited the need to gain further qualification in order to improve their chances of career progression.
Some cited the need to complete their EYPS by 2015 allowing the student to move with an improvement in their career prospects. Those with children were looking at the opportunity of also progressing their career but at a slightly older age. Some students were encouraged by the in house management to undertake the course so improving their knowledge and skills.
Figure 6 – how much research is undertaken?
The above outlines how much research was undertaken before the students undertook the course. 25% admitted they had done very little research and had relied on word of month from friends and past students. 25% admitted attending an open day so they were better able to understand the course and the time requirements. The reminder was either advised by their managers to undertake the course or had done minimal research and joined the course anyway.
Figure 7 – Choice of learning.
The majority said they did have a choice in how to study, but elected to undertake distance study. The remaining 25% who did not have a choice said that their working hours meant they were unable to take anytime out to attend face to face courses. If they had a choice, would they have attended face to face courses as opposed to opt for distance learning?
Out of the total sample, 75% said that work commitments were an influence in making the decision to undertake distance learning with the remaining 25% stated this was the only option for undertaking and completing the course.
All the students agreed that distance was more flexible and was a cheaper option.
Figure 8 – Effectiveness of distance learning
The research indicates that when the students were asked to compare distance learning having previously undertaken face to face learning, they all agreed that distance learning was worse. The students found it more difficult to express opinions over distance learning and missed the one to one question opportunity. Better communication via face to face because information was taken in and understood more easily. The speed of response was thought to be quicker and better via face to face with greater accuracy and clarity in the answers.
The students were asked if distance learning allowed discussions to take on a greater degree of thought and reflections, with 50% saying yes it did, and 50% saying no it did not.
Figure 9 – How many hours per week do you study?
The total number of hours per week given over to studying is split, with 50% of the surveyed saying 5 to 10 hours, whilst the remaining 50% saying 10 plus hours per week.
The difference could be down to level of experience, age, ease of distance learning or just the time it takes to undertake assignments. Each individual will have key skill bases that will allow then to complete the projects in different timelines, hence the difference in hours per week worked.
Using the Likert scale (Newby,2010) the results were conclusive that students felt 1 module per half term would improve the balance between study and home.
In completing the modules, 75% either agreed or strongly agreed that completing one module per half term as opposed to two over a term certainly improved the study/home life balance, with 25% saying they did not agree nor disagree.
This comes back to being able to prioritize their workload more successfully as they have a clear goal in a defined timeline, as opposed to a longer timeline where better time management could well be needed.
Figure 10 – When do you study?
The survey group had different work patterns, with 50% working at weekend, 25% in the week and 25% working across both. This would probably be driven by their respective home life, their career, if they have children and where they lived. Studying time would have to fit in around many other external factors.
All the surveyed agreed that the study time affected their home or social life. The younger individuals lost out on time meeting friends and going out and all agreed that weekend life with its need to undertake family and home jobs meant that their time was really squeezed. Time management was a key to getting all of the modules finished and in on time.
In terms of hobbies, all agreed that they had and enjoyed taking part in their hobbies, whether it was in the week or at weekends. Out of the survey, 50% stated that these were severely affected and the remaining 50% said that they were affected. Hobby time spent was certainly reduced with 50% saying that the distance learning had a significant affect on how much time they could send pursuing their hobbies over a given week.
The surveyed also found that their employers had very different reactions to their distance learning, with 75% being given no extra time off to help with their studies, and 25% being helped by their employer. The 25% who were helped were allowed on average one study day off per week.
Figure 11 – Is the study having a positive effect in your workplace?
Interestingly 50% said that the learning experience was having a positive effect on their work place, with 50% being unsure.
The positive impact allowed the newly gained knowledge to be used in the work place with positive effects, helping day to day running of work, cascading more information down to other staff members, additional responsibility being enjoyed and the general acceptance that the new learning was having a positive impact of the workplace and fellow colleagues.
In terms of dealing with the pressure of distance learning, all of those surveyed said they felt that the support they received as part of the online group did not help them deal with the added pressure and workload from the extra learning.
This could be down to the whole new experience of distance learning where previously they had the face to face time, where issues could be discussed and solutions found. Now if there are any issues, then the individual must try to find a solution themselves and so are potentially feeling more isolated and pressured.
75% did feel that having a mentor aided them in their day to day studies, where 25% were unsure. Again this could be down to the new experience of undertaking distance learning with the individuals taking to time to understand how to best use the mentor. As this process develops so the mentor could well be used more in a way to help find solutions to ongoing issues and problems. The mentor when asked had a great deal of knowledge, but the issue was still how best to use them.
All of the surveyed felt that having a mentor in no way helped them in reducing the number of hours they had to work. The mentor was there to help with specific questions, not to help with larger problem solving hence reducing the number of hours that had to be worked.
All of the surveyed felt with the advent of modern technology development, distance learning will play an important part for our future generations.
It was felt that individuals could go back and study without having to give up their jobs, the studying would be more convenient for them and their families, older students would not have to sit in a classroom with younger students so having perhaps a confidence issue and generally the feeling was being able to study at a time and in an environment that was more suited to the individual.
Reflection
The undertaken research and related results were indeed a very worthwhile process that yielded some frank and interesting points of view. With any form of research, hindsight plays an important part when reviewing the questions, the questionnaire, the sample size and the overall results. The information allowed the survey to demonstrate a view that distance learning on the home/work life balance is truly a challenge particularly when looking at the relative age and social position of the surveyed. The questionnaire included a number of dichotomous questions giving clear unequivocal responses (Cohen,Manion & Morrison,2011). Open questions gave participants an opportunity to write down their opinions generating qualitative data(Kumar,2001).
Research ethics as described by Blaxter et al. cited in Bell (2005) is about being clear about the nature of the agreement with the research participants. Clear instructions and the overarching ethics of the research meant there was no poor interpretation.
Sample sizes are always important and so the larger the sample size the more accurate and more believable the results become. Quality of the samples then becomes of paramount importance so though the sample size is small, the results are accurate and are a true reflection on what was reported within the questionnaire.
All data collection and results interpretation proved to be fairly straight forward mainly as the sample size was small and the surveyed students were willing to share their views and spend time accurately filling out the questionnaire.
References:
Barlette & Burton , S & D (2012) Researching education . London: Sage.
Bell, J (2005) Doing your Research Project . 4th ed. Berkshire: Open University Press.
Cohen, L., Manion, L., & Morrison, K. (2011) Research Methods in Education . 7th ed. Oxon: Routledge.
Early Childhood Australia (2010) Code of Ethics literature review [Online]
Available at http://www.earlychildhoodaustralia.org.au [Accessed 25 November 2013]
Kumar, R (2011) Research Methodology. 3rd ed. Great Britain: SAGE Publications Ltd.
Lambert, E.B (2003) Introducing Research to Early Childhood Students. Australia : Social Science Press.
Sage (2010) Introduction to quantitative research [Online] Available at http://www.sagepub.com [Accessed 27 November 2013]
U.S Department of Health & Human Services (1979) The Belmont Report [Online] Available at http://www.hhs.gov [Accessed 1 December 2013]
Weatherall, S. (2013) Research terms, MOD001251 Research 1 . [Print] Anglia Ruskin University, Unpublished.