Research funding of medical product development
Published:
1 September 2015
Remember! This is just a sample.
You can get your custom paper by one of our expert writers.
Get custom essay
85 writers online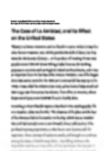 Alzheimer's disease is one of the most common ailments in adults especially the old. Over 26.6 million people around the world are affected by the disease with an increase expected in the coming years. So far, there has been no established cure for the disease whose results are pain and suffering in the patients and death. With these facts, research that can lead to success in tackling this global calamity would be instrumental and welcome. This makes it critical and worth for any form of funding to be provided in any research towards elimination of the same. The document evaluates the various forms of funding available which would help in the research to develop a novel compound critical in controlling and even curing the disease.
Discussion
National governments are one of the biggest sources of funding for clinical research. Various governments set aside some money in their Health sector budget of which a big portion includes money for research. The government funding programs operate locally or internationally (Murray & Johnston, 2010). An example in national government funding is the NIH (National Institute of Health) which through its various sections such as the National Human Genome Research Institute provides funding for research projects in America (Kulakowski, 2006). For the case of research in Alzheimer's disease, national funding is through the National Institute on Aging. Government funding is beneficial in that they are not discriminative compared to funding from other sources such as organizations. However, one disadvantage is that the funds may take long thus jeopardizing the research (Kaitin, 2010).
Associated closely with national governments and also a source of funding are government agencies. Agencies operate both nationally and internationally (Shaw, 2005). An example of such an agency is the Department of Energy in America. The agencies provide the funds to different sub-divisions of research areas, for example, the Human Genome Project section which may assist in developing the compound identified (Boss & Eckert, 2006). With their international operations, the benefit is that the agencies will fund any project that fulfills its requirements. One disadvantage however is that agencies are prone to manipulation and thus may be biased in funding projects due to political differences (Smith, 2006).
Another source of funding for scientific research projects are foundations. These entities have a wide range of research requirements and interests (Hulley, 2007). Some of the foundations will be specific in the areas they want to fund such as the American Cancer Society that focuses on Cancer. Others are open for any research in any area such as the Howard Hughes Medical Institute which provides funding for various areas, for example, Alzheimer's disease (Reinhart & National Research Council, 2006). Brightfocus Foundation and Alzheimer's Research Foundation are some of the foundations that focus on funding Alzheimer based research (Financing roundup, 2008). The benefit in using foundations is that they span a wide range of research areas thus a big chance of being funded (Clinical research in Finland in 2002 and 2007, 2013). There is a disadvantage in that funding from foundations is subject to misappropriation through vices such as corruption affects the operations (Cambron, 2008).
Many individuals have been known to offer private funding for research projects all over the world. Wealthy individuals are now funding scientific research institutions or individual based ones (Page, 2012). Armand Hammer, former chairman of Occidental Petroleum Corporation is an example. For his case, he provided funding for cancer related projects (Lee, 2010). Another example is Ronald Perelman and Lilly Tartikoff who funded the Revlon/ UCLA women's Cancer Research Program under the leadership of Salmon (Bazell & Bernstein, 1998). One advantage of funding from individuals is that there are no rigorous processes involved in obtaining the funds like is the case with government agencies and foundations. A disadvantage in using the same is that individual funding may be withdrawn when differences arise thus stalling the research (Kullmann, 2006).
References
Bazell, R., & Bernstein, A. (1998). Her-2: The making of herceptin, a revolutionary treatment for breast cancer. New York: Random House.
Boss, J. M., & Eckert, S. H. (2006). Academic scientists at work. New York, NY: Springer.
Cambron, J. (2008). Grant funding for elderly health services (6th ed.). Manasquan, NJ: Health Resources Publishing.
Clinical research in Finland in 2002 and 2007: Quantity and type. (2013). BioMed Central.Financings roundup.(Harvard University Office of Technology Development is funding for research projects in biomedical and life sciences )(Report). (2008, February 11). Medical Device Week.Hulley, S. (2007). Designing clinical research (3rd ed.). Philadelphia, PA: Lippincott Williams & Wilkins.
Kaitin, K. (2010). (video) Research funding of medical product development.Kulakowski, E. (2006). Research administration and management. Sudbury, Mass.: Jones and Bartlett.
Kullmann, P. (2012). The Inventor's Guide for Medical Technology From Your Napkin to the Market. Minneapolis: Hillcrest Media Group.
Lee, J. (2010). Biomedical engineering entrepreneurship. Singapore: World Scientific.
Murray, T. H., & Johnston, J. (2010). Trust and integrity in biomedical research: The case of financial conflicts of interest. Baltimore: Johns Hopkins University Press.
Page, P. (2012). An introduction to clinical research. Oxford: Oxford University Press.
Reinhart, G. R., & National Research Council (U.S.). (2006). Enhancing philanthropy's support of biomedical scientists: Proceedings of a workshop on evaluation. Washington, DC: National Academies Press.
Shaw, G. (2005, October). Tapping Alternative Sources: Funding Beyond the NIH. G & P, 5(8)12-18.
Smith, C. (2006). The process of new drug discovery and development (2nd ed.). New York: Informa Healthcare.