Restaurant Review
Remember! This is just a sample.
You can get your custom paper by one of our expert writers.
Get custom essay
100 writers online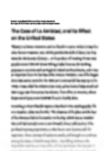 Review of China Buffet Restaurant
I am a food lover, and I enjoyed eating in a Chinese restaurant. I tried different restaurants in our place, but what interests me most is the China Buffet Restaurant. China Buffet is located at Madison Avenue at the heart of Mankato, one of the biggest cities in Minnesota. The restaurant has a seating capacity of approximately 100 people. They have several food stations. Although the name China Buffet speaks for itself, their food stations consist of American, Italian, and Japanese food. The owner purposely includes a variety of food because of competition. I enjoyed eating at China Buffet because of its affordability, delicious food, and the beautiful setting. The price of their buffet is $10 per person, and it includes beverages. There are a variety of salads in their salad station: fruit, vegetable, and seafood. Their main meal is composed of chicken, pork, beef, and fish. For dessert, they serve ice cream, cookies, and different kinds of cakes. For their beverages, they serve soda, milk, juice, and chocolate milk, but tea is my favorite. The food is excellent so it's well worth the price.
China Buffet's food is excellent and healthy. They have food stations for meat lovers and vegetarians. Their newly-opened sushi and hibachi bar is the restaurant's crowning glory. Sushi and California maki is my starter with matching wasabi sauce. I tried their hibachi too, but it fills me up right away. The seafood station is consisting of shrimp, crab meat, clams and mussels. They have different kinds of shrimp meal. I tried their crispy shrimp which was coated with flour and egg and some seasoning. I love the crispiness of its shell and the softness of the shrimp's meat. Their chicken satay blends well with fried rice. Their "Happy Family" meal that is common in the Chinese restaurant is so delicious. They call it "Happy Family" because it has chicken, pork, beef, shrimp, and mixed vegetables stir-fried in soy sauce and sugar. When it comes to dessert, they have different kinds of ice cream, but I love Butter Pecan the most because of its softness and creaminess. I can't help but to look around at the restaurant's attractive ambiance while I am eating.
A typical Chinese restaurant, there were Chinese pictures hanging, but I love the huge picture of the Great Wall of China. From afar, it looks like a mural engraved on the restaurant's wall. The hanging lamp gives warmth and serenity of the area. Their utensils and drink dispensers are organized and the carpet is very clean. They have a huge fish tank where most of the children are enjoying watching the fish. The ladies' room is clean and odor free.
China Buffet might not be the best Chinese Restaurant in Minnesota, but it stands out from other Chinese restaurants because it's cheap. Its affordable price attracts customers to give it a try. Their delicious food is so inviting. The cozy atmosphere makes it a perfect place to eat and bond with a family.
This week, I focused on improving my draft thesis statement, organization, developing my conclusion, and correcting grammar and comma errors. I omitted the third person in my first paragraph to demonstrate that my primary audience is my Professor. I read aloud my essay and found some grammatical errors. I read my Professor's comments and edited my essay by following what she had written in the comments. I followed Smarthinking's editing advice on grammar and comma errors.