Review what your role, responsibilities and boundaries as a teacher would be in terms of the teaching/training cycle
Remember! This is just a sample.
You can get your custom paper by one of our expert writers.
Get custom essay
81 writers online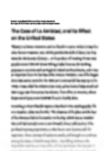 There is often an assumption that, if we give people some training it's bound to do some good and often simply experiencing a training event can result in learning. However the chances are far greater when a systematic approach to teaching is applied. The 'teaching/training cycle' is the classic method of carrying out the teaching process. It is a logical and structured approach to teaching which ensures that the needs of the learner are effectively met.
The teaching cycle is a cyclical model of experiential learning which consists of a five stage learning sequence which encourages continuity from one experience to another. It can be approached at any stage, but it needs to be followed through to be effective. Taking shortcuts at any stage can lead to ineffective teaching/training.
It is paramount that the role, responsibilities and boundaries as a teacher are understood and integrated within the parameters of the cycle for learning to be effective.
A teacher's role in the Lifelong Learning Sector is broad; indeed Harden and Crosby (2000:334) identified twelve distinct roles of the teacher, however this falls short of the nineteen roles identified by Wilson (2008:6). Some of the functions sit within specific stages whilst others embrace the whole of the training cycle.
Identifying learners' specific needs is critical because if these are not identified, the training will not achieve the intended outcome. It is vital to ensure that the training has the correct purpose. At this stage it is important to assume nothing.
Stage One- A diagnostic assessment (Training Needs Analysis) evaluates what is already known whilst exploring learning outcomes. This is accompanied by initial assessment (S4L screening); an analysis of Learning Styles and ICLP (learning plan). At this first stage it is key to establish boundaries with the learner; Bluestein (2010 Online) identifies eleven reasons to use boundaries including "being able to express your limits and to communicate the conditions or availability". The teacher must foster integrity and confidentiality in order to establish trust and respect with the learner.
It is also important to remember the teacher's role as a role model and that you only get one opportunity to create a good first impression. As a teacher it is imperative that you are punctual; dress appropriately; use appropriate language and feedback at the appropriate times. It is important to portray a professional image and to be seen to work within the boundaries of the law, professional codes, values and ethics.
Teachers are responsible for pastoral care; for looking after the personal and social wellbeing of the individual including the health and emotional support of the learner. Often issues can be picked up early in the cycle and the teacher can then support the individual. The learner may need financial, health and learning support which can be gained via referral to a support service. Occasionally they may need a break from the programme in order to resolve personal issues and only then is the individual able to reach their full potential. The needs and objectives of the learner should be routinely examined throughout the programme through direct and indirect feedback so that the individual feels supported and valued and is able to reach their full potential.
Stage Two – The teacher is responsible for planning and designing a programme of study that responds to these needs. This involves the teacher designing a scheme of work and model of delivery; individual lesson plans and sourcing resources.
Stage Three – Stage three focuses on delivery with the teacher providing appropriate methods, resources and support while facilitating learning. Approaches to learning will depend on the number of students and learning styles of the group.
Stage Four – Giving learners access to fair assessment; the teacher assesses and checks learning and monitors progress. This is an opportunity to feedback on success or initiate change.
Stage Five – Involves gaining feedback as part of the evaluation process; the teacher and the learner review the effectiveness of the course and consider any information, advice and guidance (IAG) the learner may need to progress with their development. The teacher analyses retention and success levels. The teacher is responsible for contributing towards the administration of the programme and contributing to Quality Assurance.
The teacher has a duty of care to facilitate learning to everyone without discrimination within a safe learning environment and to ensure that all learners receive a positive learning experience and achieve their goals.
References
Bluestein, J. (© 2010), 11 Reasons to use Boundaries. http://www.janebluestein.com/handouts/bound_reasons.htmlDeerfield each, FL: Health Communications, Inc.,
Harden et al (2000) Medical Teacher. Volume 22, Issue 4 July 2000, pages 334-347. London: Informa Plc.
Wilson, L. (2008) Practical Teaching: A Guide to PTLLS & CTLLS. London: Cengage Learning
Bibliography
Bluestein, J. (© 2010), 11 Reasons to use Boundaries. http://www.janebluestein.com/handouts/bound_reasons.htmlDeerfield each, FL: Health Communications, Inc.,
Fox, R. (2005) Teaching and Learning. Oxford: Blackwell Publishing Ltd.
Harden et al(2000) Medical Teacher. Volume 22, Issue 4 July 2000, pages 334-347. London: Informa Plc.
Petty, G. (2006) Evidenced Based Teaching. Cheltenham: Nelson Thornes Ltd.
Wilson, J. (2000) Key Issues in Education and Teaching. London, New York: Cassell
Wilson, L. (2008) Practical Teaching: A Guide to PTLLS & CTLLS. London: Cengage Learning