Visconti and the German dream: Romanticism, Wagner and the Nazi catastrophe in film
Published:
31 October 2015
Remember! This is just a sample.
You can get your custom paper by one of our expert writers.
Get custom essay
103 writers online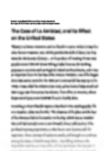 Richard Wagner
Introduction
            Richard Wagner was an influential German composer, music theorist and conductor. He was widely known for his operas later known as music dramas. He wrote text and music for all of his operas. He was born on 22nd May 1813 in Leipzig Germany and died on 13th February in Venice Italy. His compositions especially those in his later years are known for their rich harmonies, contrapuntal texture and elaborate use themes associated with certain characters, plot elements or locales. His chromatic music language led to later developments in European classical music. The start of modern music is described as his Tristan and Isolde (Raphael, 2003).
Early Career
            Wagner's brother Albert obtained him a position as a choir master at a theater in Wurzburg; that was in year 1833 at the age of twenty. It is at this age that he composed his first opera, Die Feen. This work imitated Weber's style and unproduced till half a century later after his death in 1883 when it was first performed in Munich. He worked as a musical director in Magdeburg when he wrote The Ban of Love. This was in 1834 having returned to Leipzig. This was staged in 1836 but closed without getting a second performance. The theater company employing him collapses financially leaving him with money problems. He stayed in Paris from 1839 to 1842 where he earned a living by writing various articles and arranging operas from other composers (Parly, 2010).
Works
            His musical output has been listed by the Wagner Werk Verzeichnis and comprise 113 works, including projects and fragments. His works included operas, non operatic music and prose writings. His works of operas are his artistic legacy. Wagner wrote his own text and lyrics which he would refer to as poems. Starting from 1849 he used a new opera concept which he called music drama from which all poetical, dramatic and music elements were to be used together. He developed a style in which the significance of the orchestra equals that of singers. In his later operas, the orchestra's role involved use of musical phrases that could mean specific characters, plot elements and locales. From 1843 t0 1851 he did three operas which are commonly known as Richard Wagner's romantic operas. The three operas are considered an important developmental stage in his musical maturity. He did musical dramas from 1851 to 1882.His late dramas were considered his masterpieces. Apart from his operas he composed few pieces of music. They include choral pieces, some overtures and piano pieces (DiGaetani, 2014). Wagner was also a good writer. He authored poem's articles and numerous books as well as correspondences.
Influence on music
            His later musical style led to the introduction of fresh ideas in operatic structure, harmony and melodic process. Wagner, from Tristan and Isolde explored the limits of traditional tonal system giving identity to various keys and chords which led to atonality in the twentieth century. The beginning of modern music is dated to the first notes of Tristan chord (Huckvale, 2012). He inspired great devotion and for a long time many musicians would align themselves with his music. His use of concepts such as the integrated musical expressions and leitmotifs has influenced many film scores of the 20th and 21st century (DiGaetani, 2014).
            Till his death in 1893 Wagner was and continues to be a controversial figure for his anti-Semitic opinions, and both for his dramatic and musical innovations. His influence on Adolf Hitler continues to be the subject of debate since the end of World War II as he was one of his favorite composers. Over Wagner's whole career, his music would serve to show his aesthetic theories.
References
DiGaetani, J. L. (2014). Richard Wagner: New Light on a Musical Life. McFarland.
Huckvale, D. (2012). Visconti and the German dream: Romanticism, Wagner and the Nazi catastrophe in film. Jefferson, N.C: McFarland & Company, Inc., Publishers.
Parly, N. (2010). Vocal victories: Wagner's female characters from Senta to Kundry. Copenhagen: Museum Tusculanum Press.
Raphael, R. (2003). Richard Wagner. New York: Twayne Publishers.