Risk Concerns in Adventure Tourism
Published:
6 November 2015
Remember! This is just a sample.
You can get your custom paper by one of our expert writers.
Get custom essay
90 writers online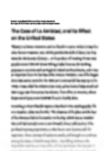 Risk Concerns in Adventure Tourism
Introduction
            Adventure tourism is normally described as a leisure activity that normally takes place in an outdoor environment. Adventure tourism usually takes place in an environment that may be exotic or unusual as compared to the common human habitat. In most cases, the tourists involved in adventure tourism use unconventional means of transport to access their destinations. These transport mechanisms often used by the tourists, may involve many physical activities. Therefore, it is hypothesized that adventure tourism may involve many dangerous events that might harm the tourists. For instance, tourists are often prone to physical injuries, attack by wild animals and any other forms of injuries in the wilderness where they normally carry out their adventures. This essay seeks to identify some of the commonest concerns in adventure tourism.
Risks in Adventure Tourism
            Leach (2008) acknowledges that adventure tourism is the only type of tourism where the people involved are prone to an array of risks. Ideally, adventure tourism is characterized by contact with wild nature without using any conventional technologies that can help in preventing any possible precedents. In adventure tourism, the tourists must engage in physical activities that might be tiresome and injurious. For instance, many adventure tourists may choose to use boats and canoes on rivers. Such rivers normally flow fast. The rivers may also have dangerous wild animals such as crocodiles. The use of unconventional methods of transport such as canoes and boats is very common in adventure tourism.
            Adventure tourists normally do not have ideas of the places they visit. They usually go on tours without guides. Leach (2008) gives an account of a young boy who lost his life on adventure tour. One of the reasons why most people lose their lives on adventure tourism is because they do not strategize for the tour. Adventurers normally have confidence and valor to confront the challenging environmental factors that might harm tourists. In addition, adventurers are usually interested in learning newer features despite the dangers that might be involved.
            Many adventure tourists do not go on tours under leadership. This one aspect makes adventure tourism risky. Tourists may not be aware of several factors that might affect their safety during adventure. Leach (2008) gives an account of how a boy who went for an outdoor trial without the company of anyone died. Although there were criticisms on the report, many cases of death have occurred among adventure tourisms. Most adventurers normally use 'Kayak' on rivers in the wilderness. Such vessels are normally prone to the effects of wind that might easily overturn them. While using such vessels, tourists make themselves vulnerable to the dangers in the wilderness.
            On the other hand, some adventurers may face dangers of exploitation by their counterparts. Ideally, The Adventure Travel Trade Association (ATTA), (n.d.) confirms that there is need to protect the children from the possible exploitation during adventures. Many children who go on adventure are at higher risks of being exploited by their touring counterparts or by any other adventurers. A few children have faced the dangers of rape and injuries during adventures. This happens because people who normally go on adventures fail to ensure security during the tours. On the other hand, there is less concern given to children during travelling. Sexual exploitation is a common event during adventure tourism. The Adventure Travel Trade Association (ATTA), (n.d) proposes that children at risks should be given proper protection during such adventures. There is need for protecting individuals who go out on adventures especially in high-risk areas. Many adventurers are prone to attack by wild animals in various wild environments. In addition, adventurers may be subjected to severe physical injuries and even death during adventures. Due to this, there is significance in preventing such risks.
Risk Prevention and Management in Adventure Tourism
            Safety is a priority that all the tourists should consider during their adventurers. Despite the fact that there have been lesser tragic events during the adventure tourism, there is need to mitigate some of the common risks that tourists face. Some adventurers argue that total elimination of the risks in adventure tourisms makes adventure undesirable. Nevertheless, various initiatives help in reducing the possibility of risk occurrence. For instance, most adventurers are usually given the chance to take part in activities that may not harm them physically or emotionally. Many organizations promote safe adventure tourism. Many have focused safety during adventure tourism as a priority. This has helped in reducing the numbers of accidents and incidents among tourists (Korstanje, 2009).
            Kennedy (2014) contends that adventure tourism has many dangers to the tourists. Since there is an array of activities that the tourists undertake during their tours, one must be able to identify the safest activities in which they want to take part. With knowledge of various tourism destinations, tourists may be able to make safer choices during adventure. For instance, tourists may exercise exposure avoidance. This helps the tourists in avoiding activities that predispose them to too much risk. The tourists can often identify safer activities that will help them in avoiding serious injuries and damages.
            During adventure tourism, loss is considered inevitable. Loss prevention is therefore considered as a vital initiative for the adventurers. Loss prevention may include reducing contact with the hazard. Adventurers may identify parts of the forests or wilderness that have much danger. This can help them in avoiding contact with danger during their tour. Loss reduction may also help in dealing with risk concerns in adventure tourism. With the help of guides, adventurers may outline the extent of participation in dangerous activities. Leaders may help in reducing inappropriate actions that might affect the safety of the tourists (Kennedy, 2014).
            According to Korstanje (2009), there is too much risk involved in pleasure travel. Many adventurers find it interesting to tour places where there are many risk factors. Although, the writer also acknowledges that many people do not understand the difference between risks and threats. With varied definition of risks, the article demonstrates how tourists and adventurers are prone to severe risks that might affect the lives of adventurers. Conversely, adventure tourisms have many risks as compared to other forms of tourism.
Conclusion
            Although some of the risks may not be open to adventurers, adventure tourism is characterized by many risks and dangers. As individuals find pleasure in exploring new things, they subject themselves to possibilities of risks. Although not all adventures are full of risks, it is important to note that most activities involved in adventure tourism predispose the tourists to serious dangers. Overall, adventure tourism has many risk concerns.
References
Kennedy, W.F. (2014). Adventure Travel. Sgb, 47(8), 14-16
Korstanje, M. (2009). Re-Visiting Risk Perception Theory in the Context of Travel. E-Review of Tourism Research. 7(4), I68-81
Leach, D., (2008). How tourism to the extreme can be taken too far. Toronto Star Retrieved from http://0 search.proquest.com.library.capilanou.ca/docview/439413041?accountid=36786
The Adventure Travel Trade Association (ATTA). (n.d.). Retrieved November, 25, 2014, from http://www.adventuretravel.biz