Ryanair Case Study Questions
Remember! This is just a sample.
You can get your custom paper by one of our expert writers.
Get custom essay
74 writers online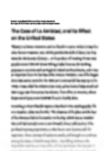 This report will prioritise to address clearly how to analyse and evaluate the findings of two questions. The selected company that will be used when completing this task is Ryanair which is known as 'the low cost fare airlines'. (Seminar Case Study, 2013). The first question is as follows; 'With reference to the Airline Industry and Ryanair cases analyse the competitive environment of the European airline industry in which Ryanair operates'. Introduction
European Airline Industry is controlled by the Association of European Airlines which operates together with 31 most popular airlines and has been supporting the industry over 50 years. In order to sustain constant growth AEA works in partnership with the EU Union (AEA Official Website, 2014). By under the role of EU deregulation, Ryanair was agreed to fly within the Europe as it has expanded the number of passengers and the destinations it flies to. Ryanair was recognised rapidly though it's enormous success and has won International Awards, such as Best Managed Airline, or receiving a 2009 FT-Arcellor Mittal Boldness in Business Award. (Seminar Case Study, 2013 p.p 618) PESTEL
The main body of the question is set to monitor the competitive environment of the EU industry in which Ryanair operates in. PESTEL analysis factor is an investigation process which is functioned to identify key influences from the external environment which have a vital effect on organisations. ( JISC Study, 2012) The aim of the PEST is to;
Exploit the current external factors affecting EU Airlines and organisations. Identify the external factors that may change in the future. To benefit from opportunities or find how to defend against threats better than your competitors will do. Political
The European Airline Industry as well as all other industries must be aware of the changing government policies, whereas poor reluctance to follow may cause the organisations serious danger. All airlines in the EU industry are charged a fee by the government for landing into airports. The prices various according to which airport the airlines land it to, number of passengers it will carry and what airport facilities they will use. Rynair, operates this system by being cost effective, they aim to cut cost down when ever applicable, therefore they choose to depart airports which are usually far from the city centres such as Gatwick and Luton. (Rynair Official Website, 2013). All airlines charge passengers taxation fee for flying. This tax fee is usually included within the tickets price they pay for, again this charge depends on the number of passengers, the airport its landing and the stay of the itinerary. Rapid growth in the 'no frills' carriers has influenced secondary regional destination airports like Stansted to build second run way which will significantly change their airport charges. (UK Civil Aviation Authority, 2005)
Economical
According to the case study there were various economic factors raised such the recession which had a major impact on the whole EU airline industry during 2008/09, that has concluded to worse scenarios as it led to increased unemployment rates. Recession, the economic decline has also caused restrictions to credit markets which enabled consumers to spend less by leisure and business purposes. (Seminar Case Study, 2013 p.p 625). Recession period enabled Ryanair to gain positive advantage from consumer demand and has constrained the company to raise fares and to put downward pressure on yields.
However, if recession continues Ryanair has to consider undertaking re-planning business strategy as there capacity may not be enough to accommodate passenger volume growth. Unexpected exchange rates generate high changes to airlines earned profits, for example if US Dollar and Euro rates are declining, then EU Airlines and Ryanair can buy more for cheaper prices. EU Airlines must commit to purchase fuel regularly in order to run efficient service which has the most significant impact on the industry as it's the most expensive expense. Oil factor has indicated high prices to Ryanair's income statement, especially during 2009 as they have paid €1,257,062.
Source: (Seminar Case Study, 2013 p.p 620).
Social
Social environmental factors are mainly influenced by demographic trends, specially the ageing population and by changing consumer preferences, which are very difficult to measure and predict as it is much linked to the price of the service. Ageing population impacts on Ryanair's performance as it causes a shift in land transport, easier to access means facilitating elderly is essential that means they must land into central town/city areas. (The Times, 2012) Ryanair's consumers have an enormous positive attitude towards web-check in system; it has become a social factor that consumers' expectations are fulfilled strongly. (Seminar Case Study, 2013 p.p 622) Further social factors like terrorism and disasters lead to consumers to resist flying and stay at home which has an impact on the EU industry as a whole. Technological
Technology has a crucial impact on Ryanair's success and enables Research and Development system to exploit what basic standards that its competitors offer. Ryanair has taken an advantage of today's technology as managers communicate conference calls through Skype which saves the company's time and money. Internet, specifically has allowed the organisation to avoid lots of overhead costs. Existing "e'tailers' website and web-check in facilities has gained high co-operation by consumers as it allows them to save valuable time, as well as lots of money. Boeing 737 Airplane is a new generation engines that specialises in less emissions and less fuel consumption which allow Ryanair to move on through its cost reduction strategy. (Seminar Case Study, 2013 p.p 623) Environmental Factors
EU has become very sensitive about emission and noise pollution; therefore in order to prevent the aviation industry EU has introduced Emissions Trading Scheme in 2012. Ryanair was expected to be the most harmfully affected airline in the world with a shortfall of 2.8 tonnes in co2 allowance which is equivalent to €40 million in extra costs. Therefore, they have agreed to declare that this scheme should apply to efficient carries as despite to their minimal pollution aircraft. (Seminar Case Study, 2013 p.p 626 ) Legal
The EU Airline Industry operates within the law system, the main two areas this industry considers is the employment law and the consumer protection law. EU legislation has become tougher with their regulations and widened their potential to ensure consumers are happier in return of their flight investments. A recent new legislation introduced on 17 February 2005, EU regulation makes sure consumers are paid their full compensation due to any delays, cancellations and denied boarding. (Seminar Case Study, 2013 p.p 625) Consumers who fly with Ryanair is entitle to similar obligations, therefore these increases Ryanair's compensation to fall under cost of 250 euro which is based on the average distance of its flights. (Seminar Case Study, 2013 p.p 626) Conclusion
To conclude, EU airlines and Ryanair's most primary problem is the oil prices. It has been proven that the incredible high cost of fuel has strongly affected Ryanair's revenues, indicating that how the industry is particular sensitive to oil cost fluctuation. The recent advanced technology has enhanced further facilities and services to consumers in the EU Airline Industry. Rynair's existing website allows consumers to book flights, insurance, accommodations and car rentals have resulted to their current reputation. Having to be low cost airline and being able to manage standard and extra-mile expectations has led Ryanair to be efficient and effective in the long run. EU Regulations encounter consumer expectations professionally as they have introduced tougher airline policies. Consumers have the rights to apply for compensation as it is now taking into serious actions. The second question will answer the following question; ' Analyse Ryanair's business model, including its generic strategy, strengths and weaknesses. How do we explain Ryanair's above industry average performance? Business Model
Customer Segment
Ryanair's target segment is customers who are willing to pay less ticket price for only travelling point A to B without additional services. Consumers are fully aware of the charged fees for any further services they may require during flight such for meals, drinks and head phones etc. Ryanair is clearly not recognised for a pleasant travel experience or for good customer service but can still remain popular due to offered low cost fares which customers love.
Value Proposition
Ryanair's main value proposition is due to being low cost fares in comparison to other such as BA and Easy Jet. Despite of poor customer service they have good history for flight safety which generates constant reliability from consumers. (O'Higgins, 2010) However, there are other value propositions such as positive on time flights, few cancelations and rare lost luggage's. Channels
Ryanair focuses to communicate efficiently with its customer segments in order to serve valuable proposition. (Osterwalder, 2010) Their main distribution channel is through internet as flight bookings are completed online, it encounter 99% of the process. Ryanair also has strong marketing prospective as they advertise on television, radio and newspaper which promote the company extremely. ( O'Higgins, 2010) Customer Relationships
Ryanair clearly doesn't demonstrate positive customer relationship with their passengers as they avoid recruiting too many cabin crews in order to save from training and wage expenses. Ryanair is never short of ideas to reduce costs which apply to every aspect of business model; in this case their main priority is being cost effective rather than building customer relationships. Ryanair's customers apply to 'self-service' method to benefit from services as they purchase their own tickets online which means there is no face-to-face interaction made as you would in a travel agents. Revenue Streams
Ryanair's revenue streams are upon transactions made from customers paying for their ticket only. The revenue stream is generated by the use of a particular service which airlines agreed to charge for. Therefore, Ryanair due to increased yield is being creative and charging for innovative services like insurance, accommodations and car rentals in order to increase additional revenue. For example, it is optional for customers to purchase further services with Ryanair as they may or not feel needs to do so. Key Partnerships
Ryanair has intended to take over Aer Lingus four times which was eventually rejected by the European Commissions and as shareholders disagreed with the idea. However, Ryanair holds a stake of 29.8 over Aer Lingus. (Financial Times, 2013) Generic Strategy
Ryanair's current generic strategy is low-cost leadership which aims to be the best low cost producer in the industry. Evidence from Air Transport Magazines proves that they were the most profitable creators in the five years to 2009. (Case Case Study, 2013) Generic strategy is supported by Ryanair realistic attributes as they offer cheaper fares then it competitors like Easy-Jet and Air-Lingus. (Science Direct, 2013) Their objective to minimise costs whenever possible enables them to maintain high profits and they keep costs low as they target price sensitive customers which is a currently a broad target market.
Source: Kotler et al, 2009 Strengths
Ryanair's ancillary services are one of the most powerful strengths which generate high revenues. Providing variety selections from on-board beverage, food and merchandise sales to car rentals, accommodation and travel insurance has fulfilled many consumers' expectations. Ryanair has earned € 598 million which is 20% of Ryanair's operating revenue in 2009, meaning they have increased sales while reducing unit cost. Weaknesses
Ryanair might be a cost focus airline but they behave too controversy which creates negative impression to consumers. For example, intention to charge passengers £1 to access the toilets on board generated publicity and was easily captured by consumers as it wasn't a realistic idea. Similar idea was announced that, Ryanair approached to charge 'fat tax' for overweight passengers which is a weakness as in an online poll over 30,000 respondents, the fat tax idea was accepted by one in three. The evidence of feedback clearly shows how important it can be to avoid being too controversial, although bearing in mind it is a low cost fare airline, it must have measurable and achievable approaches. Landing into secondary airports for Ryanair is an obvious weakness because it may not be able to target some passengers that prefer to travel to closer airports as well as generating opportunity for competitors. Above Industry Average Performance
According to case study the airline industry performance is declining which states that customers often prefer to fly with "low cost, no-frills' airlines, especially with in Europe as the flight journeys are short. Consumers tend to make genuine choices to pay less and at the same time land to their destination. Therefore, it is not necessary to pay twice as double the ticket price to other expensive airlines e.g. BA, where mission can be completed for cheaper price. Micheal O'leary declared that: 'passengers are looking for cheap tickets and this is where Ryanair is best in'. Furthermore, supporting the quote for the first time low cost produces won the Best Managed Airlines award, which shows customer demand on Ryanair is very high. Moreover, as an overall company Ryanair is a well-known brand by the support of Michael O'Leary publicity. Ryanair holds an efficient industry average performance among its competitors due to their low-cost strategy which appeals to lots of customer who are price driven, especially during recession and crises times. To summarize, the ever decreasing costs means Ryanair constantly adapts its model to the European markets and changing conditions.
Conclusion
To conclude, Ryanair's cost effective generic strategy is the key to their current success. In comparison to other airlines, especially during economic turndown, Ryanair can survive sufficiently and continue to earn achievable profits. Reducing overhead costs and offering cheaper services is their best strengths which leads them to a high position in the European Airline Industry. Ryanair bases their model on southern airlines which vitally proves that their long term success is supported by this fact. Micheal O'Leary's existence plays a very important part of Ryanair's current power and it is questionable how they will cope without him in the future will then determine the airlines success strategy.
References
BRENNAN, Z. (2010). Revealed: The truth behind the Air France disaster that killed 228 people Read more: http://www.dailymail.co.uk/news/article-1282367/Air-France-crash-The-truth-disaster-killed-228-people.html#ixzz2hs. Available: http://www.dailymail.co.uk/news/article-1282367/Air-France-crash-The-truth-disaster-killed-228-people.html. [Accessed 14 Oct 2013] Bruun, G, Bruun S, Kjaerside, N, Madsen, N and Rasmussen, M. (2007) Marketing Management, Third Edition. Edinburgh Gate: Peaeson Educated Limited Developing the 2020 airport security model. (2012) Available: http://www.airport-business.com/2012/11/developing-the-2020-airport-security-model/. [Accessed 13 Oct 2013] JISC, (2010) Reflections of the PESTLE analysis Available from : http://ewds.strath.ac.uk/work-with-it/Home/PESTLE/Reflections.aspx [Accessed 1 Oct 2013] Kotz, D. (2013). Living near noise of airport linked to higher heart attack, stroke risk. Available: http://www.bostonglobe.com/lifestyle/health-wellness/2013/10/13/living-near-noise-airport-linked-higher-heart-attack-stroke-risk/us7ytu5fmb5te0lotzyaij/story.html. [Accessed 9 Oct 2013] Lecture Three, (2013) The Strategic Position 2: Environment, London Southbank University M, Rowena . (2013). Britain will have the 'toughest immigration rules in world' after reforms, says minister. Available: http://www.telegraph.co.uk/news/uknews/immigration/9950827/Britain-will-have-the-toughest-immigration-rules-in-world-after-reforms-says-minister.html. [Accessed 13 Oct 2013] Marketing Environment, (n.d) Pest Analysis
Available from: http://bpmgeek.com/blog/what-pestle-analysis [Accessed 4 Oct 2013] Mobility and Charges, (2013) Airport Charges http://ec.europa.eu/transport/modes/air/airports/airport_charges_en.htm [Accessed 4 Oct 2013] N smith. (2013). Spot Prices. Available: http://www.eia.gov/dnav/pet/pet_pri_spt_s1_d.htm. [Accessed 13 Oct 2013] Pestle Analysis, (2911) Political Factors
Available from: http://pne-development.org/store/1335358241.158LID0.pdf [Accessed 9 Oct 2013] Seminar Case Study Pack, (2013) Strategic Management,