SAB expanding into Tanzania – environmental factors
Remember! This is just a sample.
You can get your custom paper by one of our expert writers.
Get custom essay
100 writers online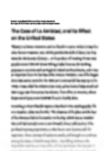 The two dimensions or environmental segments that played a big role in determining whether Tanzania's macro-environment would provide a suitable and supportive entry for South African Breweries are namely the Political or Legal Environment and the Economic Environment.
Firstly, in general, any well organised and effectively functioning government, and country, would attract investment and business from outside.
The political leaders of Tanzania are striven to enhance the current political stability within mainland Tanzania, while also vitally focused on creating necessary political cohesion between Tanzania and the island Zanzibar.
A factor that is essential to any well-functioning government and country, which would have attracted SAB, is that Tanzania had managed to rid its government of corruption. This was managed by the thinning –out and restructuring of the government in power, pre SAB's involvement.
Although Tanzania owned its own brewery (Tanzania Breweries Ltd) this company had fallen under complete disarray. SAB grabbed the window of opportunity to acquire a share in the company. As a result, SAB acquired a 45% share in TBL (which later increased to 52%). This was a great opportunity, as TBL was an already well-established brewery that had certain assets, employees, client-base, distribution channels and government connections. In essence, this would have made the integration of SAB into TBL a much smoother process.
However, whenever a new organisation tries to establish itself in a foreign country, one can expect some sort of hostility, as well as a battle between the government's regulations and the organisation's expectations. At the time, the Tanzanian government seemed cooperative and supportive of the whole endeavour. The government and SAB had a relatively joint relationship, and this meant that there would be some sort of mutual agreement between them as to the activities of the organisation.
Secondly, in order for an organisation to evaluate whether it would thrive in a new economic environment, it is vital that it must determine the character and direction of the economy in which it wishes to establish itself.
Overall, Tanzania's economy is growing continuously. This would be a key factor in determining whether or not it would be a healthy environment for an organisation to put down roots. With growth and profits as one of SAB's primary objectives, the average growth of 6 per cent between 2000 and 2006 made Tanzania an ideal location for SAB. There was also a great improvement once the government had moved away from the socialism concept of a free-market, and instead embraced a more market-orientated form of industry.
The reasonable low entry cost of entry also made it more economically viable for SAB to initiate the start of a new organisation, as the potential economic detriments were limited. In addition, there had been a serious under production and distribution of TBL products to the public. The evidence shows that more beer was being imported into Tanzania than was actually being produced by its own brewery. Thus, there was a definite short-fall in 'supplier meeting consumer demand'. SAB would have seen the potential to satisfy the demand of more customers, and the huge economic benefits that would come from that.
A negative factor with regards to Tanzania's economy, is that a relatively high inflation rate is present, and this in turn affects consumer consumption priorities. However, this does not pose much of a threat to SAB, as the benefits of the new organisation far outweigh the negative attributes.
At the time, SAB was under the impression that they would be taking over a workforce of about 3000 employees, who all had knowledge and experience in the industry. This would save a vast amount of expense on employee training and employment administrative costs.
Tanzania's economic environment had a large degree of appeal, and SAB would reap the benefits, provided it maintains sound management principles and effective business strategies, for years to come SAB made a very alert and smart business move when the company decided to expand its global boarders and establish itself in outside countries, such as Tanzania, where it can increase its performance and client base, and accelerate the growth and profits of the enterprise.
The vision and mission statement of TBL hold the key to its future success.
TBL's vision, mission and values were created to maintain and enhance the various core functional components of its industry, that is: to ensure the wellbeing and performance of its employees who all have a high work ethic level; to provide a valuable service and product; to maintain customer satisfaction and loyalty; to remain dedicated to shareholders; and to secure the long term sustainability of the industry.
SAB pursed an External Growth Strategy of Horizontal Integration, through TBL in Tanzania. SAB sort out ownership or an (increased control) over another similar/ alike industry, which was actually its competitor. SAB and TBL merged/acquisition/takeover??
Essentially, this strategy was most attractive as it provided the opportunity for SAB to expand outwards globally, achieve a higher growth rate and increase profits. This enabled SAB to improve its competitive advantage over other organisations. The existence of a current trained and experienced labour force, as well as capital investments (TBL's assets acquired from the integration and investments made later on by SAB), have aided the successful expansion of the organisation.
There have been a few problems with regards to the integration of the two organisations. More specifically; surrounding the management styles, previous corrupt practises, over-employment, public scrutiny, and legal and governmental issues. Fortunately, the majority of these problems have been resolved.
This was a very successful and business venture. TBL and SAB, and the Tanzanian economy have benefitted from the integration of the two organisations.