Samsung Critical Analysis
Remember! This is just a sample.
You can get your custom paper by one of our expert writers.
Get custom essay
84 writers online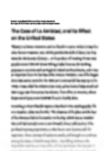 Samsung Electronics is a consumer electronics manufacturing company based out of South Korea. Samsung Electronics ranks among the world's largest manufacturers of smartphones, tablets, and memory chips. They produce phones with a variety of operating systems (OS) including Microsoft's Windows, in-house OS' Bada and Tizen, and Google's Android. Android's success today as the mobile industry's most popular smartphone platform is largely due to Samsung, accounting for 95% of profits (Kelion, 2013). Samsung has dominated the world smartphone market since 2011, most recently reporting a market share of 35% in quarter 3 of 2013 (Pfanner, 2013). They have achieved this market share through high sales of their flagship Galaxy S model (40 million units sold to date in 2013), and by offering a diverse product line of over 40+ smartphone models along a broad spectrum of prices. Samsung is able to introduce such a widely diverse market offering through a highly integrated value chain that keeps production costs low. Samsung's "shotgun" strategy has been highly successful in capturing market share in the short term, and pushing its competitors (Nokia, HTC, and Apple) to differentiate or exit the market. Over the summer of 2013 investors questioned this strategy and became concerned that as differences in technology among the models became less pronounced that Samsung would lose its ability to charge a premium for high end models, resulting in a temporary dip in the share price.
Samsung's Problem
How can Samsung continue to offer a diverse line of products along a wide range of price points and maintain their position as the world's leading smartphone producer?
Samsung's Alternative Solutions
Samsung can continue appealing to a broad array of market segments and penetrate open segments without offering an overly diverse product line. Samsung can use popular trend analysis and rely heavily on the success of previous model attributes to develop a focused, less fanned product line to offer consumers. Samsung can penetrate the business smartphone market by developing business compatible offerings that run on the increasingly popular Microsoft Windows OS.
Analysis of the most successful features in Samsung phones combined with consumer trend analysis and aesthetically appealing designs can be used to introduce highly desirable models. Samsung is not new to the smartphone market and does not need to supply an overly diverse market offering to meet the expectations of its customers. The 40+ product line available in the United States offers phones with similar, if not exact, features that can be combined into fewer, more refined offerings. After years of being the largest smartphone producer in the world, Samsung knows what consumers want.
Instead of offering different models to each niche, Samsung can release models with universal features that are differentiated by processor speed, memory capacity, and camera functionality. Then Samsung can market the smartphones' capabilities to attract the different niches. Samsung needs to get back to the basics of "building the best phone on the market, and then making sure everyone knows about them" (Kelion, 2013). This focused model strategy will satisfy the expectations of the customer while bolstering the brand's image.
Recommendation
Now that Samsung has established itself as the world's dominant smartphone producer and pushed its competitors to target different segments or exit the market, they should focus their product line to solidify their market position for the long term. A diverse, but focused value proposition will promote customer loyalty and phone model awareness moving forward. Instead of consumers having to sort through the models to meet expectations they will await releases of well-defined models.
Samsung's Tracking Metrics
Intermediate Metrics: Success in the short term for a refined product line will be measured by customer satisfaction, model awareness and by whether annual sales remain at or exceed current levels.
Conclusive Metrics: Conclusive success for the refined product line will be
determined upon whether or not Samsung can keep out the competitors they've pushed out with their shotgun strategy and maintain their market share.
References
Cho, A. (2013, June 13). The Motley Fool. Samsung Could Be in Serious Trouble. Retrieved April 8, 2014, from http://beta.fool.com/alexcho/2013/06/13/samsung-could-be-in-serious-trouble/36675/?source=eogyholnk0000001 Epstein, Z. (2013, November 5). Trouble at the Top: Samsung Reportedly Lowers 2014 Smartphone Forecast. Yahoo! News. Retrieved April 8, 2014, from http://news.yahoo.com/trouble-top-samsung-reportedly-lowers-2014-smartphone-forecast-163025641.html Kelion, Leo. "Samsung: Is the Smartphone-maker in Deep Water?" BBC News. N.P., 20 June 2013.Tues. 08 April 2014. Pfanner, E. (2013, November 4). Samsung Prepares to Slowly Lift a Curtain to Investors. Economic Times. Retrieved March 8, 2014, from http://economictimes.indiatimes.com/news/international-business/samsung-prepares-to-slowly-lift-a-curtain-to-investors/articleshow/25208586.cms