Servicing customers in Global market
Published:
2 October 2015
Remember! This is just a sample.
You can get your custom paper by one of our expert writers.
Get custom essay
82 writers online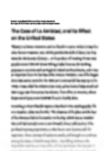 Servicing customers in Global market
Introduction
            Marketing communications are the channels used by businesses in the endeavor of persuading, informing and reminding clients about their brands that they sell. Firms can use different promotional tools to reach clients either directly or indirectly. Marketing communication can involve non-personal or personal communication channels. Marketing communication enables firms to acquire new clients for their products by encouraging trial and building awareness. It also enables them retain their clients by supporting their purchase activities by offering supplementary information regarding brand benefits. The rationale of this paper is to compare and contrast different tools of communication and how they use consumer behavior theory successfully to achieve their objectives.
            There are several items of communication such as website, TV advert, poster, direct mail brochure, billboard and magazine advert. I will focus on television advertising and web marketing. Website is very vital firms marketing policy. Websites help clients to find firms and advertisers brands from those firms. Marketing through website will enable firms to improve their customer care through e-commerce website. Website is a medium where many customers spend a lot of time especially due to technology advancement. Through websites, firms can reach national and international clients in a cost effective manner (Juon & Buerkle, 2011). On the other hand, television advertising is another effective tool in a firm's marketing strategy. Television is a medium where clients spend most considerate time. Report indicates that the average television viewing lasts for about five to six hours. This elaborates why it is used as a gigantic advertisement instrument.
            Television is a significant marketing tool because it offers the greatest possibility for creative advertising. Web advertising and television advertising has a lot of similarities in common, and they also share some differences. They are the marketing strategies that a firm can use to reach large audiences, low cost of advertising, and it is easy to reach a targeted audience through these two approaches. Website advertising is less expensive as compared to television advertisements. In addition, websites can be created with the aim of targeting a particular audience than TV commercials. The two items of marketing are effective, but the one that best fits a given firm will rely on their goals and target market. Firms can also use more than one items of marketing since they support each other. I chose these two items of marketing because they are a giant in advertising media and also giant in advertising costs as well. They have proven their capacity to control human activities over and over. Television advertising is mostly used in outbound marketing where firms direct marketing activities at the client. On the other hand, websites are used in inbound marketing where clients search for brands that can meet their needs (Carroll, 2006).
            Firms place their marketing in websites so that clients can find out more regarding brands and services. Website advertising has more flexibility as compared to TV commercials. Television advertising has one objective of convincing clients to buy products, but websites can help firms to reach clients easily as they enjoy other entertaining and educational services. The crucial message to the advertisers willing to use website and television advertising is that they should choose the strategy that matches their goals and their target market. Both website and television advertising are crucial to the firms, and they can be used interchangeably. In other instances, either of the items can help and support other digital strategies used by a firm (Percy, 2008).
            It is very vital for firms to understand their customers' psychology so that they can be able to come up with appropriate strategies that will help them realize their objectives. Consumer behavior is the conduct of clients in regard to using, disposing and acquiring services, experiences, ideas, and products. Consumer behavior also includes use and acquisition of information. Therefore, communication with clients and getting response for them is a vital part of consumer behavior which is every firm's greatest interest. Consumer psychology is the study of client's mental processes and behavior. Understanding of theories of customer psychology will help businesses to learn different types of customers. There are various reasons as to why businesses should understand customers. First, customer behavior is very crucial in daily living because people mostly spend a lot of time shopping. Secondly, consumer behavior is significant in decision making. For example, while setting prices, firms must consider their clients. In other cases, business decisions might be influenced by expected actions or behavior (Hoyer & MacInnis, 2010).
Application of consumer behavior
            Consumer behavior research can help firms increase their success rate because they will understand their customer's needs that will enable them to realize profits. Understanding customer behavior will enable businesses to evaluate their strategies because they will be able to understand customer feedback regarding their latest products and services (Hoyer & MacInnis, 2010).
            Marketing application areas of consumer behavior is in; market-opportunity analysis where the firm examine conditions and trends in the marketplace to discover client needs that are not being fully fulfilled. Target market selection is whereby firms wish to discover different groupings of consumers who have exceptional needs. It also involves the assortment of sections that merges firm's potency and offer enhanced opportunities. The third area of application is marketing-mix determination. It involves creation and implementation a strategy that will ensure delivery of an appropriate combination of need-satisfying characteristics to clients within the target market. Marketing mix involves price, place, promotion and product. Understanding of customer behavior is also required in tactical marketing operations. Successful regulatory strategy in regard of marketing practices calls for an extensive knowledge of consumer behavior.
            Social marketing also calls for an extensive understanding of customer behavior. Social marketing is where firms apply marketing tactics and strategies to create or alter behaviors that have constructive impact to the target audience or the society in general. Social marketing through websites and television is conducted in endeavors of encouraging environmental friendly behaviors, reduce smoking, encourage timely vaccination of children, reduce activities likely to cause AIDS, reduce substance abuse, encourage charitable organizations among other substantial activities.
            Personality is a factor that affects people's feedback regarding advertisements. It can also happen the other way round where messages from marketing can affect people's attitudes. Behavioral approach is a strategy which focuses on the measurable and observable features of human conduct. Human behavior can only be analyzed through their reaction, actions and how they conduct themselves. Behavioral approach maintains that personal behavior is affected by their environment. Cognitive behavior assumes that if researchers wish to understand human conduct, they should focus on the internal processes of their mind. Cognitive approach examine how people treat the information they receive and how their treatment result to feedbacks.
            In determining which item to apply for marketing, firms will apply behavioral approach where they will analyze how clients think about either television advertisement or websites. On the other hand, firms will apply cognitive approach while determining how clients will react when they receive messages through television or websites (McLeod, 2007).
            In conclusion, there are several items of marketing communication such as website, television advertising, billboard, poster, magazine advert and direst mail brochure. Television advertising is habitually used in outbound marketing where businesses direct marketing activities at the client. On the other hand, websites are commonly used in inbound marketing where clients search for brands that can meet their needs. These two items are very vital in marketing strategy of a firm since they will reach a great number of their target audience at lower cost. Firms should understand customer behavior which will enable them to choose the marketing tool that will fit their customer's needs. Through appropriate marketing, firms will be able to retain customers, attract new customers by notifying them with the latest information regarding their brands. Firms can also choose to use various items of marketing communication since they help and support other marketing mix strategies. There are two approaches in analysis of consumer behavior; behavioral approach and cognitive approach.
References
Behavioral Approach – Behavioral Psychology – Psychologist World. (n.d.). Retrieved from http://www.psychologistworld.com/issues/behavioralapproach.php
Carroll, J. (2006). Television. Farmington Hills, MI: Greenhaven Press.
Cognitive Approach | Simply Psychology. (n.d.). Retrieved from http://www.simplypsychology.org/cognitive.html
Hoyer, W. D., & MacInnis, D. J. (2010). Consumer behavior. U.st: South-Western Centage Learning.
Juon, C., Greiling, D., & Buerkle, C. (2011). Internet marketing, start-to-finish. Indianapolis, IN: Que.
Percy, L. (2008). Strategic integrated marketing communication: Theory and practice. Amsterdam: Butterworth-Heinemann.