Solar domestic water heating: The Earthscan expert handbook for planning, design and installation
Published:
29 November 2015
Remember! This is just a sample.
You can get your custom paper by one of our expert writers.
Get custom essay
96 writers online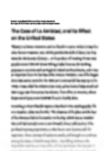 Solar Water Heating
Introduction
       Solar water heating is an emerging current trend being embraced by home owners and estate developers. It is a current technological development that is aimed to harvest the solar energy and utilize it to raise temperatures foe water used for domestic purposes, swimming pools and other functions. The solar energy is tapped from solar radiation using solar collectors. These collectors are usually mounted on roof tops of buildings, on devises that rotate tracking the direction of the sun and on vertically on walls. Solar collectors range from the simple flat plate collectors with no glazing to boxes or tubes covered with glazing through to complex arrangement of mirrors (Laughton 2010)
       Most of the energy used in the world today is derived from burning of fossils. Fossil fuels consist of natural gas, oil and coal. It is estimated that 90% of the world's total energy used to drive vehicles, heat our homes and provide electricity comes from burning of fossils (Langholz &Turner 2003). These fossil fuels apart from being non renewable, cause global warming due to emission of carbon gas which mixes with oxygen to carbon dioxide which is a global warming gas. Use of solar in solar water heating technology is an environmental friendly source of energy as it is 100% natural. This means that in using solar heating technology, one is saving a large amount of fossils that would be used to power plants that utilize fossil fuels.
       The use of solar water heating is a cost effective venture. With solar heating, a person does not need to worry of the charges that come with a unit of electricity used since the sun's radiation is naturally available. The only costs a person has to incur are the installation costs. In addition with some countries, by simply installing a facility that utilize renewable energy source, you entitled to tax incentives. Such countries include Brazil and Barbados. Moreover use of this technology limits environmental degradation which is a cause of several problems in the world today such as global warming. This is in effect is a long time reduction to current and long term potential effects of environmental degradation. A lot of funds are spent when floods caused by rising sea levels caused by global warming.
       To spread the word on the need for solar heated water system nations and states have initiated several programs. These measures are meant not only to inform the masses on the benefit of using solar water heating and other solar energy services, but alo to encourage them to purchase this items. Some of the measures that have been taken include:
Use of mass media
       Various organizations have utilized emerging trends in information sharing technology and mass media to ensure the information is available to everyone. California State in the United States through its California solar initiative group has launched a website WaterHeatedByTheSun.com through which it aims educate the residence of California benefits of solar water. Over the internet, numerous blogs have been established by individuals and organizations to provide solar water heating information.
Use of Tax incentives
       Tax incentives include measures such as lowering Value Added Tax on solar items. Several European countries have had their VAT lowered but Spain and Austria have made complete exemption of VAT on solar equipment (ESTIF 2003)
Subsidies
       Governments have offered subsidies to development of plate solar collectors and even on the final product. Subsidies are used in order to lower capital cost at purchase time and shorten the payback time. This has boasted production and sales.
Low interest loans.
       Nations have made it possible for citizens wishing to purchase solar items to access credit to facilitate purchase. Spain for example offers a 6-8% loan interest on solar items instead of the normal 14-18% rate.
       The trend on use of solar water heating technology is likely to continue for decades to come. With increased information dissemination on the benefits of this technology, more people are likely to be accommodating to the idea. Campaigns by environmental organizations on need to protect the environment are likely to influence use of solar water heaters. Moreover, with depletion of the non renewable fossil fuels, alternative sources of energy need to be embraced. In addition more and more nations are enacting this technology within the law for new buildings. In Kunming city, the capital of south western Chinas Yunnan province, the city has made it law for all constructors of new buildings with less than 12 storeys high to install solar water heating. With this legislation, the city has been able to install over 2.5 Million solar heating systems installed (Thorpe 2011)
       In conclusion the trend of using solar water heating is gaining momentum. Due to its environmental benefits, various campaigns aimed at promoting it and the willingness of governments to support these efforts. It is a technological advancement that surely people should embrace to move away from traditional reliance on electricity for all home appliances.
References
Laughton, C., & Earthscan. (2010). Solar domestic water heating: The Earthscan expert handbook for planning, design and installation. London: Earthscan.
Langholz, J. A., & Turner, K. (2003). You can prevent global warming (and save money!): 51 easy ways. Kansas City, Mo: Andrews McMeel Pub.
David Thorpe (2011). The Earthscan Expert Guide to using Solar Energy for Heating, Cooling and Electricity. Milton Park Earthscan
ESTIF 2003: Sun in Action II, A Solar Thermal Strategy for Europe.European Solar Thermal Industry Federation.www.estif.org/fileadmin/downloads/sia/SiA2_Vol1_final.pdf