Southwest Airlines' crazy recipe for business and personal success
Published:
2 October 2015
Remember! This is just a sample.
You can get your custom paper by one of our expert writers.
Get custom essay
83 writers online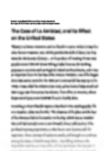 Southwest Airline Company
Introduction
            Southwest Airlines is an organization in the Airline industry and it has remained to be a competitive leader in this industry since its inception. It is the America's largest low-fare carrier and domestically it serves huge number of customers than any other Airline. This organization operates more than three thousand flights daily. Southwest Airlines operate under an environment with intense competition; however, its marketing strategy has helped the organization to have a competitive advantage over its competitors. In all southwest Airline marketing communications, it positions itself in America as the only short-haul, low-fare, point-to-point, high frequency carrier that is fun to fly. Once the organization enters into a particular market the following changes are experienced; economic mini-boom occurs, tourist traffic increases and air fares go down. Airline industry is highly volatile, however southwest airline has remained relevant in the industry and also profitable every year meaning that it has been profitable for a period of 31 years. For most of year 2000, the organizations 9 billion dollars market capitalization is more than the combined market capitalization of every other Airline in United States. Southwest airline market strategy has ensured cost efficiency thus increasing the profit margins for the organization. Some of the most marketing strategies adapted by this organization include: using smaller airports which are less congested thus saving time, flying one type of aircraft only, and eliminating seating assignments and meal service. Even though southwest airline has been using these same marketing strategies, no other airline has been able to clone southwest's success productively (Freiberg & Freiberg, 1996).
            In order to secure its market position successfully, southwest airline has been forced to be extremely cost-efficient. In this regard, southwest has designed a business model which uses short-hauls, single aircraft type, hub -and -spoke versus point-to-point, secondary airports all aimed at reducing the costs. Most organizations in the airline market utilize information technology like a platform aimed at sharing information from a given unit of business to another. However, southwest airline upholds a different approach. Southwest has strengthened the on-site operations agents' roles who are entrusted with the responsibility to turn around every flight of southwest as fast as possible. In the airline market the operations agents have a responsibility for handling 3 to 5 flights at any one time but southwest strategy ensures that their operations agents are responsible in handling one flight turnaround. Southwest has established a culture where even pilots are willing to assist in loading luggage so as to help in getting away in time thus saving time. This demonstrates flexible job boundaries existing throughout the whole organization where any individual is very ready to pitch in wherever needed (Lauer, 2010).
            Avoiding delays is the key to profitably running an Airline with turning around the planes. In the airline industry market, in a case where a delay is experienced in the airline market, they try assessing whether this was as a result of led by the ramp agents, baggage handlers, refuellers or any other functional department. However in Southwest airline delays are recoded to be team delays. Through being less precise concerning the delay cause and assessing performance through metrics which matter to the consumers. In this regard southwest focus more on learning ways of avoiding a repeat of such instances in the future compared to accountability. Airline industry in United States has experienced high price in regard to intra-Texas air travel and southwest was envisioned and was able to respond to this issue through coming up with the suitable solutions (Freiberg & Freiberg, 1996).
            Southwest provides a travel product which is in built around flights which are targeted to particular ticket pricing and demographics that is simplified in order for the passengers to realize what they actually getting for their money paid. Before the entry of southwest Airline into the airline market, passengers and business travelers were used to be pampered, paid full price however in the end they ended up being disappointed. Southwest strategies usually gave insomnia to other normal executives from the Airline industry. Southwest strategy shows an organization which is very unusual and very devoted towards their consumers and employees (Lauer, 2010). A niche exists in the Airline market where southwest Airline has extensive potential of future growth. Southwest has been built on foundation of strategic management. This strategy has helped this organization in taking it into a new level of superiority and expanding of the airline's market. Therefore southwest possess an aggressive strategy, planned to be a constant success (Lauer, 2010).
            There are definitive and clear boundaries between employees working in diverse functional areas in most Airlines. Most workers are able to interact well with their fellow peers however ignore those others who are below them in the organization hierarchy. In cases where there are delays employees tend to blame those who are lower in hierarchy than them for the delay. However, in south west they have created a culture where all employees treat others with respect despite of their levels in the organizational hierarchy (Lovelock, 1992). All employees acknowledge the distinct responsibilities played in keeping planes flying by different functional departments. Therefore everyone's contribution to the organization contributes to the success of the organization and thus every individual is respected and acknowledged. This respect by all employees of the organization helps in appreciating the contribution of one another to the organization and there is a tendency to act productively in achieving the larger organizational goals (Bahreini & Willis, 1988).
            Southwest Airlines has utilized the following ten relationships in generating extraordinary performance; investing in front-line leaders, outstanding business relationship, hiring and training for relationship excellence, using conflicts in building relationships, using broad performance metrics, bridge work-family divide, creating the positions which span boundaries, partnering with the unions, build the supplier relationships, highly flexible job descriptions and using highly flexible job descriptions. These all ten organizational relationships are exceedingly complementally; however they only generate benefits when they are all utilized and implemented. In this regard these relationships work in unison and not in isolation. Substantial benefits of these relationships can be realized only all ten are present. This in turn realizes both negative effects and positive effects. The negative effects will be that it will necessitate making various changes on many fronts concurrently to attain it. On the other hand, the positive effects are that an organization which follows lead of southwest airline company and establish strong organizational relationships can accomplish great success. However, the outcomes of using the ten relationships as in the case of southwest can be both long lasting and impressive. Therefore, any company can improve efficiency and quality of its performance through adapting these relationships to its own specific needs (Tadajewski & Brownlie, 2008).
            Leadership in southwest Airlines is a distribute process. Senior management team is popular in the public arena however most of the actual work is performed by the supervisors who with frontline employees on a daily basis. Southwest Airline in reality has more supervisors per frontline worker compared other all other Airlines, and the organization succeeds at training these supervisors in providing leadership on issues occurring on daily basis. Supervisors in Southwest present the bulk of the organization's counseling and coaching. Southwest also makes a conscious and deliberate effort of hiring employees who are excellent in working as a team (Lauer, 2010).
            This organization also endeavors at enhancing team building skills through offering their employees training for relational competence. In other organizations, there is an attempt of retaining and attracting high performers, but southwest instead of hiring the elites it gives high priority while hiring to those individuals who are capable of integrating with other team members smoothly. Therefore, this organization recruits individuals who uphold right attitudes and then offer them with the necessary experience and skills they require to succeed. Southwest has distinct labor relations and this has helped to eliminate occurrences of employees strikes in the organization. An Airline industry is an oligopolistic market where every seller supplies a huge portion of entire products which are sold in the marketplace. Since the cost of setting up a business is normally very high the number of the organizations entering in this market is usually low. Organizations in this market are able to control over the prices that they charge. Therefore, when one organization offers fair prices than others, then its competitors also usually introduces similar promotions. Southwest has been facing excess competition from other airlines however through exemplary marketing strategies an Airline that paying for jet fuel using a personal credit card and borrowing tools has grown to be a record-breaking profitable Airline company. Southwest was one of the factors that led to end of the airline industry regulation, therefore getting rid of the barriers facing those entering the industry and also encouraging competition. Southwest was primarily responsible for keeping, Love, midway and Hobby airports open (Stone, 1980).
            Southwest is still the leader in the airline industry and it is a no-frills carrier. In this regard, this Airline offers no reserved seats, no catering and no first-class. The primary goal of this organization is making air travel affordable to those individuals who could not afford it previously and not profit maximization. Southwest makes profit on average if only the last five seats on a plane are filled. This Airline as a regional carrier is unique. Southwest is popular among the passengers since they carry their customers' non-stop from point A to point B. southwest provides no interline connections with the other airlines, except for Icelandic Air connections. This helps in wise use of time since airplanes are not delayed by ticket counter lines or connecting travelers. Their strategies have also helped in reducing the unemployment rates in United States. This is because in a case where an airplane spends exceedingly twenty minutes at the gate this will increase the local rates of unemployment (Pride & Ferrell, 1995).
            In conclusion, southwest employs marketing strategies which helps in ensuring that the organization is the most popular among the passengers. The southwest also has a culture of respecting all their stakeholders despite their hierarchy or role in the organization. All southwest employees' works as a team and they are very motivated which improves their job satisfaction and productivity in the organization. All these marketing strategies highly contribute towards the success of southwest Airline Company.
References
Bahreini, M. H., & Willis, J. F. (1988). Microeconomics: concepts, analysis, and applications. Redding, Calif.: CAT Pub. Co..
Freiberg, K., & Freiberg, J. (1996). Nuts!: Southwest Airlines' crazy recipe for business and personal success. Austin, Tex.: Bard Books.
Lauer, C. (2010). Southwest Airlines. Santa Barbara, Calif.: Greenwood.
Lovelock, C. H. (1992). Managing services: marketing, operations, and human resources (2nd ed.). Englewood Cliffs, N.J.: Prentice Hall.
Pride, W. M., & Ferrell, O. C. (1995). Marketing: concepts and strategies (9th ed.). Boston: Houghton Mifflin.
Stone, M. (1980). Marketing and economics. New York: St. Martin's Press.
Tadajewski, M., & Brownlie, D. T. (2008). Critical marketing: contemporary issues in marketing. Chichester, UK: Wiley.