Special Educators
Remember! This is just a sample.
You can get your custom paper by one of our expert writers.
Get custom essay
103 writers online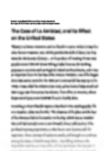 Introduction
Special Educators are greatly needed in our school systems all over the United States. It takes a special person to be a Special Educator. In most jobs you are in need of patience, but with this career a requirement is patience. Some people are cut out for this career and some are not. Emotionally and physically this job can take a toll on someone.
In this paper I will discuss what exactly is a Special Educator, what education is needed to become one, salary, job outlook, and work environment. I have also interviewed a Special Educator and I will discuss how she feels about being a Special Educator.
What is a Special Educator?
The United States Department of Labor describes a Special Educator as a "teacher who works with students that have a wide range of learning, mental, emotional, and physical disabilities. They adapt general education lessons and teach various subjects, such as reading, writing, and math, to students with mild and moderate disabilities. They also teach basic skills, such as literacy and communication techniques, to students with severe disabilities." Special Educators work as part of a team with general education teachers, guidance counselors and principals. They help establish individualized education programs for each students needs. They work in a small classroom setting or resource center that only include students with disabilities. Special Educators work with a variety of students such as students that need help with certain subjects like reading and math and students with physical and sensory disabilities such as blindness and deafness. Others may work with children that are autistic and children that have emotional disorders, such as depression and anxiety.
Education and Pay
Most Special Educators require a Bachelors Degree and a teacher's certification in the state they are working. But some may opt to earn their Masters degree as well. The Department of Labor recorded that in 2012 the Median pay for this career was about $55,060 per year. The lowest 10% earned about $36,740 and the top 10% earned about $87,390. Special Educators typically have a higher salary than a general education teacher.
Work Environment
The work environment for a Special Educator is in a public, magnet, private and charter schools. Some can also work in preschools. Many work the traditional 10 month school year with two months off during the summer months. Some may opt to work with special summer programs. It is not uncommon for a Special Educator to work in residential facilities, hospitals and student homes. They also can teach the child's parents methods and ways to help the child develop skills. This career can be highly rewarding but also extremely emotionally and physically draining. This is a reason why there are not many Special Educators.
Job Outlook
The United States Department of Labor states that "employment of special education teachers is projected to grow 6 percent from 2012 to 2022, slower than the average for all occupations. However, overall demand will be driven by increasing enrollment and continued need for special education services." With the advance screening and the identification of different disabilities of children are expected to increase the demand for this career. But overall increase will depend on the government's funding.
Interview
I interviewed my sister, Gina O'Connor. She has been a Special Educator for about 3 years. Gina works at Milton High School in Milton, Vermont. She has her Masters Degree in Education and her BA in English. She did not need her Masters but felt it would help her grow more as a professional. She also has her teaching certification in the State of Vermont. Gina and her husband live in Williston, VT with her 2 toddler sons. The diversity of her high school is predominately Caucasian, but her entire school district has about 27 different languages. Gina stated that diversity is definitely taught in their school. I was completely surprised that there are about 27 different languages in their school district.
In her school district there are more female teachers that are Special Educators than male. She stated that she thinks that being a female in this position helps her because most of the special needs children see her as a mother figure and warm up to her easily.
Her work hours are 7am -4pm Monday thru Friday, but she typically may stay late or bring work home such as grading papers, lesson plans and may attend professional development classes. She usually works about 10hrs a week outside of the classroom. This can be challenging with 2 toddlers at home.
I asked Gina what is the best part of her career? She described when she is "working with a student and they have been working hard on something and all of a sudden she sees that light bulb go on inside of them. Absolute Success. It makes the difficult times not seem so difficult." With that I asked her what is the worst part of her career. She said when she is working with a child with a learning disability and they are truly trying but cannot achieve it and seeing their frustration. It becomes heart breaking." Gina said that this career is very hard on you emotionally and physically. Many only last a few years before they get emotionally burned out. Gina states that she leaves everyday to go home to her family.
While she does this she has no control over where and what these children with special needs go home to. Some go home to families that don't help them and some do. Others have emotional needs that are hard for the parents to handle. With that, I asked her the most important question of all. If she knew then what she knows now about her career would she choose this career path again? Her answer was "Absolutely, I know that this is the career that I need to be in. I make a difference. It fulfills me."
Conclusion
In conclusion, Special Educators are needed in our school districts across our great nation. As our population grows and we discover advance screenings and the identifications of different disabilities of children this career with grow and many job opportunities will open. It takes a strong person emotionally to work in this career. I am very thankful for all the people who have chosen this career path.
References
U.S. Bureau of Labor Statistics (2014, January). Special Education Teachers. Retrieved from URL http://www.bls.gov/ooh/education-training-and-library/special-education-teachers.htm G.M. O'Connor (Special Educator, July 2, 2014)