Spectrum Brands
Remember! This is just a sample.
You can get your custom paper by one of our expert writers.
Get custom essay
92 writers online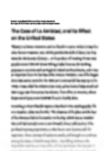 -Remington leader on shaving and personal care products generates global revenue of US$350 million with 8 sales reps assigned to specific retailers.
-United/Nu-Gro leaders in the lawn and garden care with sales US$550 million and insect control products with sales US$150 million, target customers who desire comparable products with lower prices than premium-prices.
-Distributors offer same services than an internal sales force could and are responsible for the sales in the diverse geographical locations of pet retailer markets.
Weaknesses
-Spectrum through Rayovac have been able to secure space shelf space in a small number of retailers while competitors gain market share through greater control over distribution channels, retailers, and prices.
-The United/Nu-Gro professional division has its own dedicated sales force that creates a lack and dependency on sales reps expertise.
-The lawn and garden care, insect control and pet foods industries Spectrum is in have different seasons that the new sales force must balance.
Opportunities
-The sales force from competitors offers retail discounts and promotional discounts to retailers, distributors and wholesalers creating a competitive advantage that Spectrum may add as value to its new sales force.
-A restructured sales force can focus on the sales growth with greater benefits for the company
-Room for greater retail presence by offering product discounts and stealing market share from competition if the sales costs are better managed. Threats
-That the new sales force would end up doing significant duplication of efforts if sales reps would call same retailers at the same time.
-An ineffective selection process of the new sales force could disrupt the growth momentum of Spectrum's individual brands and the relationships with retailers, wholesalers and customers. Competitors get the benefit.
-The sales in the lawn and garden division may be a risk of having a poor season since sales depend on weather conditions.
SWOT analysis
In general, the current sales force is not efficient as it needs to be. Although the total sales of all divisions are steady, competitors are gaining shelf space through channels of distribution that Spectrum is not able to reach due to the lack of sales focus by its sales force. Inspite of the market share challenge, Spectrum is in a great position to increase the market share by carefully creating a sales force that would increase its market visibility.
Market Analysis
Battery Market
Consumers rely on convenience and quality when purchasing batteries and tend to gravitate towards the brand names. Spectrum's competitors are Procter& Gamble 40% and Energizer battery brand with 40% of the market share. The alkaline battery is expected to dominate the market in 5 years.
In Canada, the alkaline battery market is above CAD $300 million. Rayovac holds 20% of the market. It is a household seasonal product and 70% of the sales primary done during and after Christmas. Mass merchandisers, home & garden centers and niche electronic stores are used as retailers generate 60% of sales, while 40% of sales are with wholesalers, distributors, especially in Wal-Mart with 40% of shelf space.
Shaving and grooming products market.
A combination of electronic grooming products and hair care applications with a growth of 3% and expected to continue. It has a sales cycle as gift giving season, shaving and grooming products are in high demand on Christmas, father's day and mother's day. Remington merged with Rayovacin2003; Remington (Now Spectrum) has secured 30% in USA and 21% in UK of the market share with global revenue US$350 million in 2003.
The major competitors in the shaving market are Norelco (Philips) with rotary shavers and Braun-Gillette (Now Procter &Gamble), while in hair care industry are Conair Corporation and Norelco that competes on quality and price.
Sales reps have a direct presence in the success of sales since they manage sales directly with small niche retailers like salons, specialty hair and body care. It generates 35% of total sales. Wal-Mart retail generates 40% of sales as a traditional retail channel.
Lawn and Garden Market
It is driven by the baby boomers population. In North America more than 80% of household's participants in garden activities generate a US$4 billion industry in sales and a potential annual growth of between 4% and 5%.
The insect control products play an important role in this market. When new diseases appeared like West Nile virus and bone diseases, it increases demand for more insect control product raising the market in about 7% to 8% in sales. Scotts and Johnson &Son, Inc are the market leaders with products like Ortho and Roundup.
United/Nu-Gro company a Canadian subsidiary of United Industries Corporation in USA, is the number 2 company in lawn and garden products with a 23% market share and US$550 million in sales. The key of its success is in offering brand names such as Vigoro, Shultz, and CIL to targeted consumers who want products at a low price. In the Insect control market, United/Nu-Gro is number 2 with 24% of market share and US$150 million on sales.
Mass merchandisers and garden and home centers are the channels used generating 60% of sales in the consumer division. The professional division has its own sales team specialized in professional products for specific customers like golf courses and pest control operators generating 25% and 15% of sales respectively.