Starbucks, an American global coffee company
Remember! This is just a sample.
You can get your custom paper by one of our expert writers.
Get custom essay
74 writers online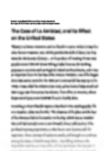 Starbucks, an American global coffee company and coffeehouse chain that's been distributing all around the world has been continuing to grow to the point where you basically see a Starbucks in every corner. Starbucks advertises the idea of chic and professionalism to the upper and middle classes through the earthy, smooth décors, relaxed environment, and its modish, trendy music.
When we walk into a Starbucks either in the morning, during the day, or later in the afternoon, you will have the same feeling you get as you first stepped foot into the coffee shop when you were little as you are today. But the question is, how do you really know it's an actual Starbucks and not an In-n-out restraunt? What's the difference? Starbucks is usually the store with the earthy tone colors that give you that mood of natural and soothing feeling when you see one. When someone walks into a Starbucks most of the time you would see; wooden chairs and tables, comfortable sofas, tall shelves with products of their own such as cups and mugs, lamps with dim lighting, rarely a fireplace and sometimes picture frames that resemble the products of Starbucks or related to coffee.
Usually the furniture of Starbucks is where you able to sit comfortable and do your work easily and peaceful without any distractions, well besides the noises of drinks being made. Starbucks has its own logo that people can distinguish from other stores and restaurants. Professionalism is seen through the décor of Starbucks because everything seems so clean and nice and basically the whole setting just seems professional. I always have the thought that even the people that come thru like, businessman or any individual that are dressed really nice also make it professional. Because usually people who work would always get there coffee in the morning as a routine. And it made it seem professional.
Everywhere an individual goes, they will know how that environment feels just by looking at it and feeling the objects. Starbucks environment is really relaxing and soothing to be in. It's a place where you feel most comfortable in and basically another "home" you live in. The vibe you get from this environment is welcoming and warmth. The workers there are so friendly that they make you feel welcomed and never dissed. But overall, the soothing and opened minded feeling you get at Starbucks is a good feeling and that can never change, well unless you had a bad day.
To touch up everything, Starbucks of course has music to top it all off. Music itself, to a lot people, enjoy it so much that it helps them with stress or just a comfort they have when they need to hear it. The music in Starbucks is very classical and quiet. It usually helps the customers to feel peaceful and sometimes it may help them with their work they are doing on a table. It's not like other stores for example, like hot topic where they have loud and screaming music. The music there is much different than Starbucks because of its environment. Overall, Starbucks is very distinguishable amongst other chain store and restraunts due to the décor, music and environment it provides to the audience.