Statement of Purpose
Remember! This is just a sample.
You can get your custom paper by one of our expert writers.
Get custom essay
92 writers online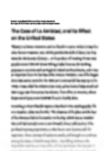 STATEMENT OF PURPOSE
"Do anything, but let it produce Joy". .. Since childhood I found Joy in doing everything that is creative, be it randomly painting walls of the house, making greeting cards, painting on glass and tiles , learning Theatre , playing basket ball , Indian classical dancing or giving a sensuous Salsa performance.
I never let this creative streak die within me. I dreamt of becoming a designer, a dream now fulfilled. However, my dream of coming up with my own label is yet to be fulfilled.
I am applying for admission to the MA program in Fashion Management and Entrepreneurship so that I can have an advanced and in depth knowledge of the fashion industry which would help me launch my own brand in the coming years. In an ambition of becoming a designer, I pursued my higher education in the field of design and hence completed my studies with a Graduate Diploma in Leather Goods and Accessory Designing from The Footwear Design and Development Institute, NOIDA, India.
Having spent three years in the industry I have gained much experience and knowledge about the design and development part of the business. Working with A.V. Thomas Leathers and Allied Products Private Limited, Chennai, India and Getting design assignments(for bags, wallets and belts) for brands like C.K , Armani Exchange, Guess, Tommy Hilfiger, Nautica , American Eagle Outfitters , Diesel Kids, to name a few was extravagant. I couldn't have asked for a better start for my career. I was also entrusted with the responsibility to analyze and decode future trends and develop a forecast trend book every season.
After spending more than a year and half in polishing my skills in AVT, I moved my base to Delhi, India and got appointed as the Design Head for Leather Plus. The company being relatively small didn't deal with Big Brand names but did superb business in the Middle East. Churning out 150 designs of belts , buckles and bags a month proved out to be quite a task. The biggest challenge was to promote the brand by arranging for model and product photo shoots at a massive level. After running from Pillar to post, I emerged as a winner by making things fall right in place.
Currently I am working with Superhouse Leathers, Noida, India.. handling complete responsibility as the Head of Design Department, coming up with Bags and Leather Garments' collection for every season , simultaneously meeting requirements of Super House office in U.K & Germany. Now I seek to take my career to the next level by learning and understanding the entrepreneurial side.
I aspire to become a thorough professional in the field of fashion. Being in the U.K and studying under a fashion forward environment will familiarize me with the nitty gritty of international markets and strategies for entering emerging markets. Having people come under one roof from different cultures and countries would prove beneficial for the development of my interpersonal skills. In addition, to the academic benefits of your masters program, the opportunity to live in a culture where fashion is worshipped and highly regarded will significantly help me learn a lot and make me, what I aspire to be.
I am sure that getting enrolled in the University of Westminster will help me boost my career to great heights and will prove to be the best for me.