Strategic attack by Tune Hotel
Remember! This is just a sample.
You can get your custom paper by one of our expert writers.
Get custom essay
86 writers online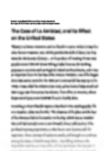 To capture the distinctive nature of service performance, the original terminology of 4Ps'(product, place and time, price and other user outlays, and promotion and education)in marketing mix had been modified and extended the mixture by adding four other elements associated with service delivery which includes the physical environment, process, people and productivity and quality. These eight elements are referred to as 8Ps'. a) Product
Tune Hotel provides services which orientated to the concept of no frill. The details of the core and supplementary services provided in Tune Hotel had been discussed in core and supplementary services part. b) Place and time
Tune Hotel Kuala Lumpur is situated at the central of Kuala Lumpur in Jalan Tuanku Abdul Rahman and it is easily assessable by LRT and buses. It's also not far away from popular spot, major shopping and entertainment areas. The check-in time is 2pm and the check-out time is 12pm. c) Pricing strategy
The pricing strategy applied by Tune Hotel is in the range of RM0.01 toRM99.90. The price will vary in peak season, promotion period and advance booking period. Under the advance booking system, customers will get cheaper price if booking made in advance and the rate will be different from time to time depending on the period. However, the taxation is excluded in the range of price of RM0.01 to RM99, 90. The actual prices paid by the customers are core price plus 5% government tax and 10% service tax. The pricing strategy applied in Tune Hotel is the same as Air Asia Airline. d) Promotion and education
Promotion plays a vital role in marketing. Promotion plays a role in providing needed information and advice; persuading target customers and encourages the customers to take action at the specific time. Tune Hotel runs the promotion through the advertisement in the Air Asia Airline official website, newsletter, newspapers and in the official website of Tune Hotel. e) Physical environment
The physical environment includes the appearance of buildings, landscaping, vehicles, interior furnishing, equipment, staff members' uniforms, signs, printed materials, and other visible cues where all provide tangible evidence of a firm's service quality. Service firms need to manage physical evidence carefully, because it can have a profound impact on customers' impression. Tune Hotel stresses on the clean, beautiful and comfortable physical environment. From the lobby to the rooms, the environment in Tune Hotel is clean. Besides, the handcrafted gallery design along the wall of the corridor and the room instilled a sense of relaxation to the customers. The overall building in Tune Hotel is comfortable.