Strategic Management
Remember! This is just a sample.
You can get your custom paper by one of our expert writers.
Get custom essay
99 writers online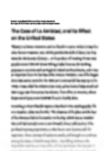 Nintendo was founded on September 23, 1889 by Fusajiro Yamauchi in Japan which started out by selling game cards. In 1974, Nintendo ventured into the video gaming industry and since then have been committed to creating innovative video games console and games like the Nintendo Entertainment System, Super Nintendo Entertainment System, Game boy, Nintendo 64, Game boy pocket, Game Boy Advance, Nintendo Game Cube, Nintendo DS, Nintendo DS lite, Wii, Nintendo DSi, Nintendo DSi XL, Nintendo 3DS, Super Mario Brothers game Series and Zelda Game Series. (Thompson, Strickland & Gamble, 2010) Thompson, J. A., Strickland, I. A., & Gamble, J. E. (2010). Crafting and Executing Strategy. New York, NY:McGraw-Hill Irwin.
In 2006, Nintendo released the Nintendo Wii with the strategy of "fun for everyone" which captured majority of the video game market share. As of 2013, Nintendo is the longest running gaming company in the industry which operates in more than 35 countries such as Korea, USA, France and South Africa (Nintendo webbie). Nintendo is also the world's largest video game company generating more than 6 billion USD in revenue, with more than 5,000 employees worldwide (financial statement 2013). The United States is the largest market for Nintendo which consist of more than one third of the sale in 2013. http://www.nintendo.co.jp/ir/pdf/2013/130424e.pdf
Nintendo's mission is to continue to produce and market the best products of the highest quality and to treat every customer with respect, attention and consideration (http://www.nintendo.com/corp/mission.jsp). Nintendo will continue to pursue their basic strategy of expanding the gaming population by offering products that anyone regardless of age, gender or gaming experience can enjoy. (financial statement 2013).
Porter Five forces
Threat of new entry – Low. The entertainment market is currently in an oligopoly with competitors such as Sony (playstation 3), Microsoft (Xbox and Kinect) and the latest competitor Apple (Ipads). Any new company who wants to be in the gaming console industry will face high barriers of entry and face these 3 companies which have huge amount of resources and technology.
Unless a company has huge amount of resource and experience to produce in a large scale to compete against Nintendo or their competitors, they will not experience economics of scale thus lowering their profit as compared to the rest.
Threat of substitutes – Medium. Nintendo's main source of revenue comes from their portable gaming device, the DS, the home entertainment system, the Wii and their games. Substitutes such as the Ipad or PS vista post a high threat against the Nintendo DS for the portable gaming devices and Xbox Kinect also posts a high level of substitution against Wii for the home entertainment system. Gaming applications in the past few years have been on the rise, showing a strong competition against games from Nintendo. People can download games from their Ipads and use it as a substitute against Nintendo's products. Prices of competitors are also priced at a competitive rate as Nintendo. Technology of smartphones and social media such as facebook are also getting better where consumers can play games on their phones and on the internet. Power of Buyers – Medium. The switching cost from Nintendo to its competitors are not high to the extend where one is unable to afford. Due to technology advancements, Ipad users could download applications to play games from Nintendo. There are no concentrated buyers which make up a huge share of Nintendo's revenue Power of suppliers – low. Electronic components are generally inexpensive unless being customized. With globalization, Nintendo could easier find suppliers which have a lower producing cost with the same quality. Nintendo suppliers would try to use all means and ways to keep Nintendo as their customers as Nintendo produces their consoles in a global scale. Competitive rivalry – Medium. Although Nintendo been introducing unique and cutting edge technology to have a competitive advantage over competitors such as the Nintendo 3DS where consumers are able to play 3D games without wearing 3D glasses, competitors such as Sony and Microsoft have been steadily improving on their technology to increase their competitiveness in the gaming industry. Nintendo is constantly trying to differentiate their products in the gaming industry however technology advancement have been trying to integrate the gaming industry where consumers can play the games using just one console such as computers or tablets.
Value –
Rarity – Nintendo 3DS
Inimitability –
Non-substitutability –