Strategic planning and quality management
Published:
23 September 2015
Remember! This is just a sample.
You can get your custom paper by one of our expert writers.
Get custom essay
101 writers online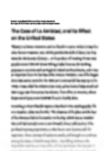 Strategic planning process is a tool that is used to ensure quality management within branch-smith organisation. For the success to be achieved in business management, strategic planning must be involved. In branch-smith Company, strategic planning occurs formally each year with updates and tracking conducted monthly during the management reviews. Branch-smith ensures that their strategic planning process is effective in many ways.
To ensure an effective strategic planning, Branch-smith conduct a research through its print leadership team members and gather information that is needed for strategic decision-making. Strategic decisions are the top-level decisions that focus on the expansion, growth and increased profitability of the business (Garcia, 2009, p. 23). To come up with the strategic plan, Branch-smith gathers information through customer survey. In customer survey, they get to listen to their complaints and try to improve on their service delivery. Lost revenues from the previous periods also guide branch-smith in developing a plan that curtails potential losses in the current business operation period. Involvement in professional associations provides industry knowledge and benchmarks concerning customer needs and competitor actions, including emerging tools and competitors.
Their prosperity in business depends on customer satisfaction. Branch-smith tries to gather information about the problems and the taste of the customers as much as possible to stand a chance to satisfy them. Competitors contribute mainly in strategic planning for branch-smith, the company conduct research to study competitors' directions for them to increase their competitive advantage by strategic approach of the market. Trade magazines and discussions with key suppliers provide additional input about customer needs, competitors' directions, and supplier capabilities. To ensure strategic planning, branch-smith try to study their supplier capabilities, this help them plan about production. Planning in the production is very vital as it ensures consistent and availability of goods and services in the markets.
From the case study, are provided with a diagram that details the process of strategic planning by Branch-smith Company. The initial most stage in this process is the conduct of formal planning activity by print leadership team through a series of meetings on and off sites. The print leadership team analyses the effectiveness of the overall planning and deployment process to determine and implement improvements. The effectiveness of the leadership system is evaluated and parts of improvement for the next year are determined. The improvements are then documented to keep possible actions for the strategic plan. In step two, the focus of the company is reviewed. This goal is ensured through reviews of its vision, values, and mission to ensure that they still consider the current environment. In this stage still, management reviews and revises the purpose of the business. This reviewing of vision, mission, values and revision of objectives is the purpose to communicate to employees and all stakeholders on what the company anticipates achieving in about three to five years.
The third stage in the strategic planning process, the company conducts an operational review to analyse the results of the company's key performance measures for the prior year. The company then review and incorporate information into the plan from annual Baldrige-based self-evaluation or external review feedback. It is after this review that the company acquires an understanding of the key strengths and weaknesses for their review in stage five of the strategic planning process. Step in this planning process involves market analysis to forecast changing trends and gain business conditions. Business analysis is the critical examination of a business to evaluate its profitability. Print leadership team members bring forward defined inputs, including literature and studies of scanning the environment and identifying new opportunities for products, services, competitive advantage, marketing, and technology approaches. Once this information has been reviewed, the print leadership team comes up with a list of potential opportunities for each environmental element.
In stage five, a critical evaluation of the available strengths, opportunities, weaknesses and threats is conduct. Based on this review, the print leadership comes up with both long and short-term strategies and actions to move the company towards its vision and objectives. The print leadership plan add in actions plans that are still in the process from the prior year to allow them to also be prioritized, set appropriate measures and goals for objectives and strategies, sort and prioritize the action plans. Action plans are then assigned to print leadership team members to update steps, timeliness, resources, costs, and measures of success. These plans are then entered into the quality improvement database for tracking and review. A last balancing meeting is held to review the plans and financial and human resources requirements to balance the plan to resource constraints. The company, therefore, creates document and methods to support deployment of the method in step six. In step seven, financial resource requirements to achieve the action plans are rationalized into short and long-term budget projections. While in the final step eight, on-going tracking of actions plans is conducted through monthly management review of overall progress to plans and key measures. Throughout the year as needed, the strategic plan is updated with new or modified action plans to reflect the changes to the environment.
There are many strategic challenges that face branch-smith Company, research to get information about customer satisfaction from their products is one of the major challenges. The process of conducting research about customers is costly and consumes time. It is also hard to gather ideas on how to reach them in a better way. Reaching costumers in a better way, means introducing new lines of production, improved products of higher quality and reliable product delivery. These measures that aim at improving customers' satisfaction are expensive to initiate. Due to this, the company is faced with the challenge of resource constraints to achieve total customer satisfaction.
Competitors are other major challenges that the branch-smith Company faces. Competitors act as a challenge to the business by reducing market share of company's product. Branch-smith set strategic techniques on how to deal with competition. Through intensive market research, the company get to identify the direction of its competitors. These details about the competitors guide them to determine the ways of attacking them. A business is always successful if it can strategically deal with its competition. Keeping her employees motivated is a challenge that the company faces. For good service delivery, employees ought to be associated and feel the company as part of them. Branch-smith has addressed this issue through various ways. The company provides her employees with better remunerations and benefits, give them a chance for growth in career through training systems and action caring to them through better compensations. The company's goal of becoming the customer's choice for all print materials would be achieved by selling their products at prices that are relatively smaller as compared to those of its competitors. A company could deploy efforts such increased training to its employees on quality improvement. It would contribute in ensuring that employees increase in their performances (Gitlow & Gitlow, 2005, p. 81). By employing new technologies and innovations in their production departments, the company would reduce the costs of production. It would ensure the consistency in availability of its products in the markets
References
Garcia, D. (2009). Quality management. Chandni Chowk, Delhi [India: Global Media.
Gitlow, H. S., & Gitlow, H. S. (2005). Quality management. Boston: McGraw-Hill/Irwin